Model Book of Giovannino de Grassi
Description
Model Book of Giovannino de Grassi
The Model Book of Giovannino de Grassi is a milestone of Italian Gothic book art and was a templet for many succeeding artists. With perfect execution, the work shows exotic animals, individual faces, and groups of people in typical postures and activities and was an indispensable resource for many later artists. The work attained its exceptional fame from the depictions of the 24 letters of the alphabet formed from human and animal figures.
Model Book of Giovannino de Grassi
Model books were popular in the Late Middle Ages for assistance in painting, sculpting, and other artistic endeavors. In them, drawings and paintings from various objects and creatures are to be found, the most famous model book was produced by the university educated Giovannino de Grassi. The architect of the cathedral in Milan, who was also active as a painter and sculptor, produced this pioneering work for artists at the close of the Middle Ages. In 77 drawings he depicted exotic animals such as gazelles, lions, and leopards, in typical activities and painted individual persons in their typical posture or groups of people performing various activities and so created realistic models for his contemporaries and successors.
The Genre of Model Books
Many artists in the late Gothic and early Renaissance did not have the financial means to travel and learn about foreign cultures. In order to make it possible for artists to reproduce authentic buildings, exotic animals, and other cultural elements, so-called model books were created. Not only people and animals were depicted, but also artistic literary elements for decoration such as calligraphic initials. These templates would not be missing from any artist's studio.
De Grassi, a True Master of the Renaissance
Giovannino de Grassi is the architect of the famous cathedral in Milan. He is not only known for his activity as an architect, but also his graphic and sculptural works have established his place in the late Gothic art world. He partook in regular correspondence with other architects and artists of his time, among them were famous masters such as Ulrich Parler and Heinrich von Einsingen. Numerous European artists influenced the Italian, who opened himself up to all the stylistic trends of his time. At the time that he completed his model book at the end of the 14th century, de Grassi found himself at the court of the Visconti in Milan.
Famous and Coveted Templates
With his model book, the versatile wunderkind de Grassi created an incomparable masterwork and an immaculate template for generations of artists. Every page of the book can be considered as an artwork in its own right. He drew various life forms such as lions, sheep, porcupines, ostriches, or apes, he painted female figures playing the lyre or groups of people reading together. His creativity and realistic attention to detail knew no bounds. The work was especially famous for its 24 letters of the alphabet. This was contained in five pages of the book, which showed the alphabet in a totally new way. The perfectly executed gothic letters are formed from figures of people and animals. He employed musical and angelic entities, such as realistic predators like lions or leopards. This depiction of the alphabet is unique in the history of book painting and is a part of the cult of the model book.
Codicology
Alternative Titles

Musterbuch des Giovannino de Grassi




Il Taccuino dei disegni di Giovannino de' Grassi

Size / Format

62 pages / 22.7 × 17.0 cm

Origin

Date

1390s

Epochs

Style

Language

Illustrations

77 drawings and 24 letters of the alphabet

Artist / School

Giovannino de' Grassi (1340/50–1398)
---
Available facsimile editions: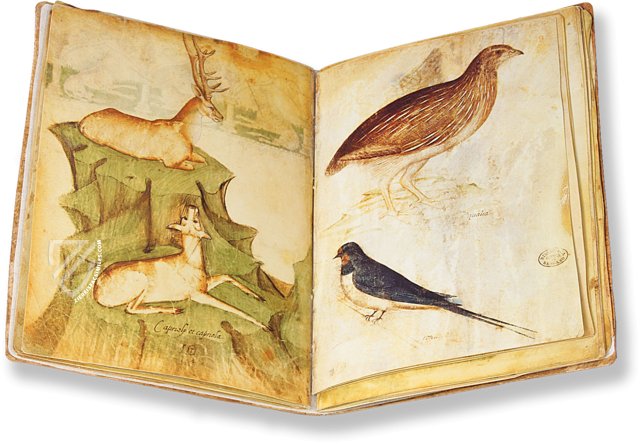 Faksimile Verlag
– Lucerne, 1998
Limited Edition:
333 copies
---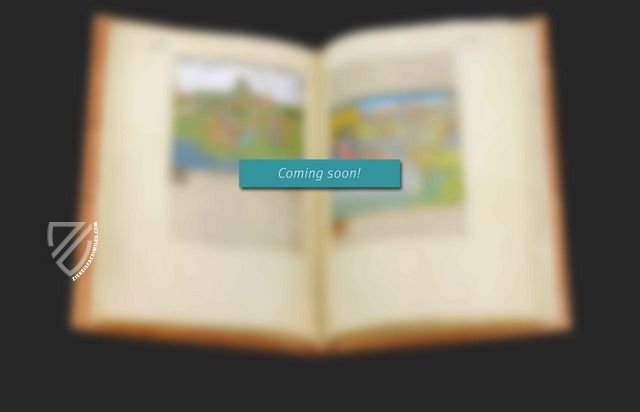 Il Bulino, edizioni d'arte
– Modena, 1998
Limited Edition:
999 copies, of which 333 copies are reserved for Il Bulino, edizione d'arte
Detail Picture
Model Book of Giovannino de Grassi
Young Stag
This page presumably served as a template for hunting scenes or similarly themed marginalia. Relaxing on the grass with its front legs folded underneath its body, we see a four-point stag, still too young to be a real trophy, but handsome and well-muscled nonetheless. Its eyes are sharp and inquisitive, its ears perked to sense any danger. The artist has realistically recreated the deer's fur by using various shades of brown and tan as well as countless brushstrokes.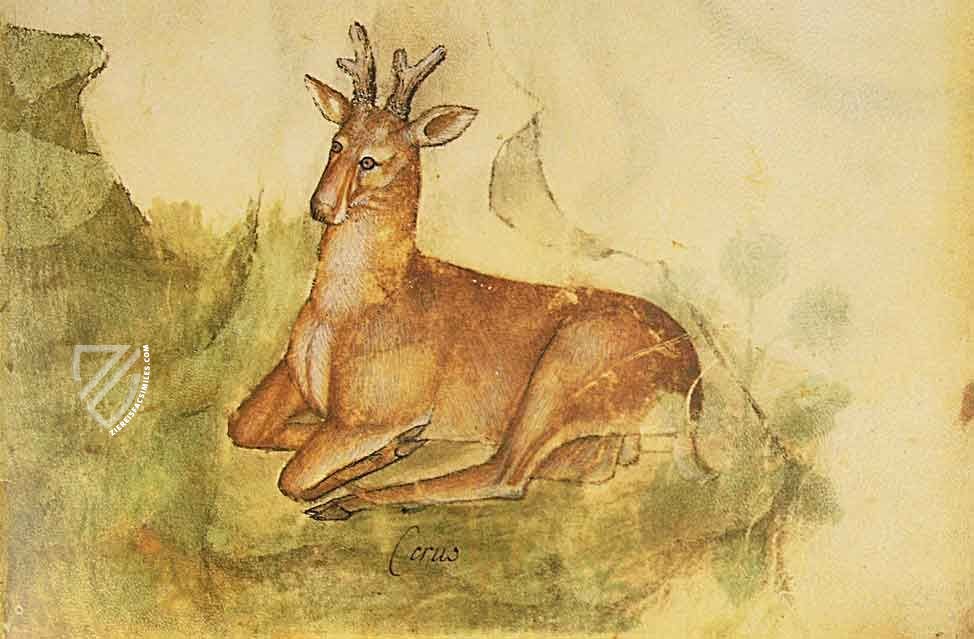 Single Page
Model Book of Giovannino de Grassi
Study of a Peacock
It is no wonder that this manuscript came to be a template for generations of succeeding artists when one gazes upon this spectacular Indian peacock. No architectural frame, floral marginalia, or sweeping landscape is necessary to present the wonderful fowl, only an outcropping large enough for him to stand on.
The white lines around the peacock's eyes are clear and detailed, contrasting beautifully with the shimmering blue of his face, neck and chest. Flourishes of reddish brown appear on his wings, but the image is overwhelmed by the magnificent plumage of the train, which almost envelopes him. Countless brushstrokes give depth and volume to this sea of green with eyespots. De Grassi likely observed his subject up close in a princely menagerie.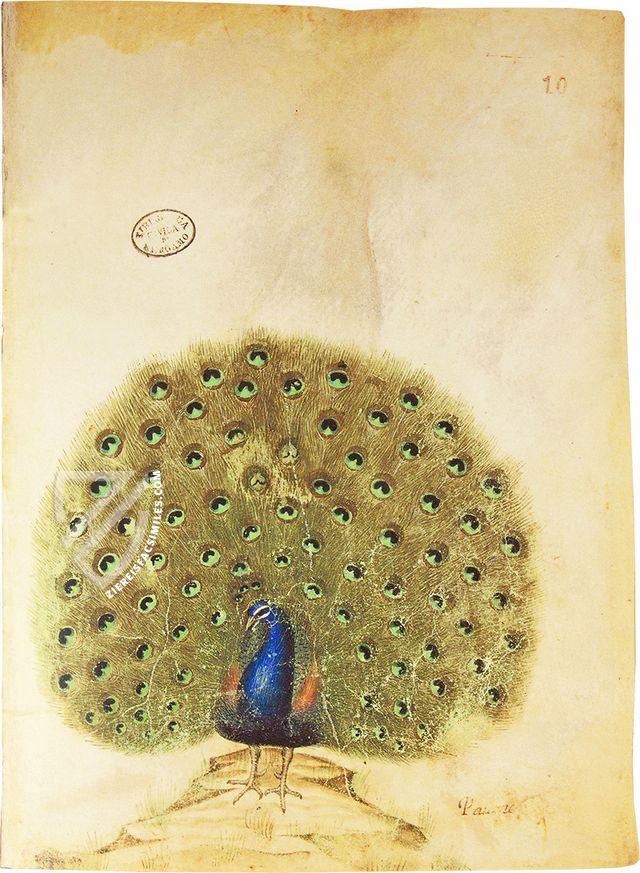 Facsimile Editions
#1

Musterbuch des Giovannino de Grassi

Limited Edition:

333 copies

Binding:

The binding is a faithful imitation of the original binding in stiff cardboard. The leaves are individually trimmed according to the original; the individual gatherings are stitched by hand, as in medieval times without the use of glue. The model book is protected by an etui of the finest rust coloured velours. The full set, consisting of a facsimile volume in the velours etui and a commentary volume, is available in a representative book case.

Commentary:

1 volume (64 pages) by Giulio Orazio Bravi, Maria Grazia Recanati, Maria Grazia Vaccari, Letizia Montalbano and Chiara Rossi Scarzanella
Languages: German, Italian

1 volume: Exact reproduction of the original document (extent, color and size)

Reproduction of the entire original document as detailed as possible (scope, format, colors). The binding may not correspond to the original or current document binding.

Facsimile Copy Available!

Price Category: €
(under 1,000€)
---
#2

Il Taccuino di disegni di Giovannino de' Grassi

Limited Edition:

999 copies, of which 333 copies are reserved for Il Bulino, edizione d'arte

Commentary:

1 volume (64 pages) by Orazio Bravi, Maria Grazia Recanati, Maria Grazia Vaccari and Letizia Montalbano
Languages: German, Italian

1 volume: Exact reproduction of the original document (extent, color and size)

Reproduction of the entire original document as detailed as possible (scope, format, colors). The binding may not correspond to the original or current document binding.

Facsimile Copy Available!

Price Category: €€
(1,000€ - 3,000€)
You might also be interested in: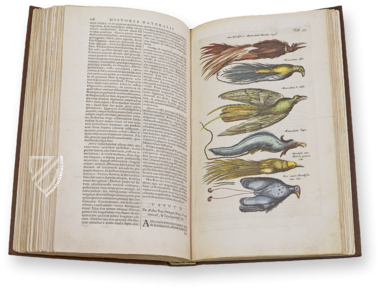 Historia Naturalis: De Avibus
Amsterdam (Netherlands) – 1657
The major work of early modern zoology with fascinating copperplate engravings by the gifted Matthäus Merian: John Johnston's influential encyclopedia on birds
Experience More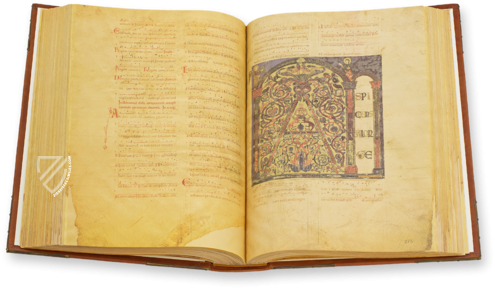 Liber Magistri
1146
An encyclopedia of the Middle Ages: over 900 pages addressing subjects such as history, liturgy, music, theater, occultism, medicine, and agriculture
Experience More
Blog articles worth reading