Moscow Book of Hours
F. 183 Nr. 446
National Library of Russia (St. Petersburg, Russia)
Description
The Moscow Book of Hours is an imposing parchment manuscript originating in Paris in the 1470s. With a total of 17 large-format miniatures and a 24-picture calendar cycle, it invites the beholder into an inventive world of enchanting landscapes with castles and lovingly-designed interior spaces. Furthermore 200 pages with gold print and 357 pages with 23 karat gold create a glamorous overall impression of the book for private devotion. Two painters, who evince a close relationship with Dutch and French miniature painting, took part in creating this masterpiece. The identity of the illuminated manuscript's patron remains unclear because of the coat of arms and crown contained in it have been scraped off.
Moscow Book of Hours
The breathtaking Moscow Book of Hours, which contains 17 large-format miniatures, a 24 picture calendar cycle, and lavish bordures on 173 of its 470 pages, originated in Paris in the 1470's. Additionally, there are 200 pages adorned with glimmering gold print and 357 pages with real 23 karat gold. Such a splendidly furnished book of hours served as a devotional and prayer book for the canonical hours. This book type emerged in the 13th century and was initially intended for laymen, but was later used by clerics. Especially popular with the rich and literate aristocracy, it was disseminated as a private devotional book in the late Middle Ages.
The Question of Patronage
Always interesting, yet never easy to answer, is the question of who patronized precious manuscripts during the Middle Ages. Regarding the Moscow Book of Hours, hidden evidence indicates that it must have been someone of high rank. This is indicated by a coat of arms and, within the miniatures, recurring symbols of wealth and nobility. For example, a painting shows a patron saint kneeling on a stool with a crown on it. Unfortunately, both the crown and the coat of arms have been scraped so that no further insights can be gained from them. This often occurred when later owners of manuscripts wanted to delete the memories of the predecessor. Thus, the name of the person who commissioned the multifaceted Moscow Book of Hours remains forever unknown.
Impulses from France and the Netherlands
At least two illuminators were involved with the marvelous miniatures. The fairytale landscapes with their castles and forests as well as the lovingly-designed interior spaces clearly bespeak an influence from the Coëtivy Master, who was counted among the leading Parisian illuminators of the time and was known for his proximity to Dutch painting. References to Rogier van der Weyden (1399/1400–1464) can also be recognized in the miniature of Mark the Evangelist. Such an elaborate architectural design was especially popular with the Dutch masters. Such similarities probably came about through the use of a sample collection containing a variety of drawings and templates and was accessible in the workshop of the two painters.
A fragmentary Cycle Since the 19th Century
Each part of the book of hours contains a miniature cycle of considerable size, but unfortunately, 12 depictions are missing altogether, among them the Adoration of the Magi, the Flight to Egypt, and almost the entire Passion cycle. It may be that collectors in the 19th century, when medieval art and illumination came into vogue in Western Europe, ruthlessly tore the pages out of their context in order to market them individually.
Codicology
Alternative Titles

Moskauer Stundenbuch

Size / Format

470 pages / 18.5 × 13.5 cm

Origin

Date

Around 1475

Epochs

Style

Genre

Language

Script

Textura

Illustrations

17 large scale miniatures, 24 calendar miniatures, 357 pages with 23kt gold and more than 1200 gold initials

Artist / School

Coëtivy Master
Rogier van der Weyden
---
Available facsimile editions:
Detail Picture
Moscow Book of Hours
Portrait of Luke the Evangelist
Luke is shown sitting before a window as he paints a portrait of the Virgin Mary. Fine strokes of gold ink highlight his cloak and its stylized fall of folds. Aside from being one of the Twelve Apostles and the first icon painter, Luke is credited with writing some of the most accurate and reliable works in the New Testament, making him both a historian and an artist. However, the masterful artist who created this scene has confused the Evangelist Symbols, showing a lion instead of a bull.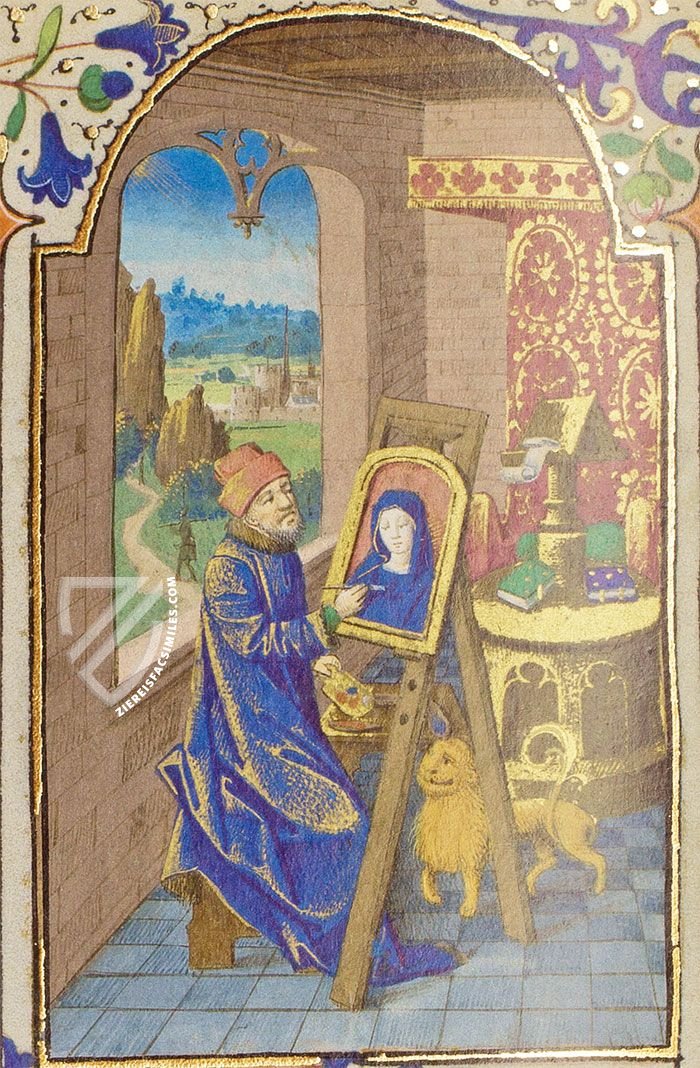 Single Page
Moscow Book of Hours
September: The Wine Crush
This is an exemplary calendar page written in red, blue, and gold ink with a small miniature and a colorful frame of intertwining tendrils, fruits, and flowers. The important saint's days and other holidays for the month of September each have a tiny gold leaf initial. A blue and gold "KL" initial in the upper left corner stands for Kalendarium.
This miniature shows a vintner in a red cap and blue shirt stomping grapes, a common activity in September. The interior space is portrayed with stone walls, a wooden roof, and a wonderful sense of perspective that draws the eyes to the serene blue sky outside. Gold leaf is masterfully applied to the scene, forming the frame while also highlighting the wine barrels and roof.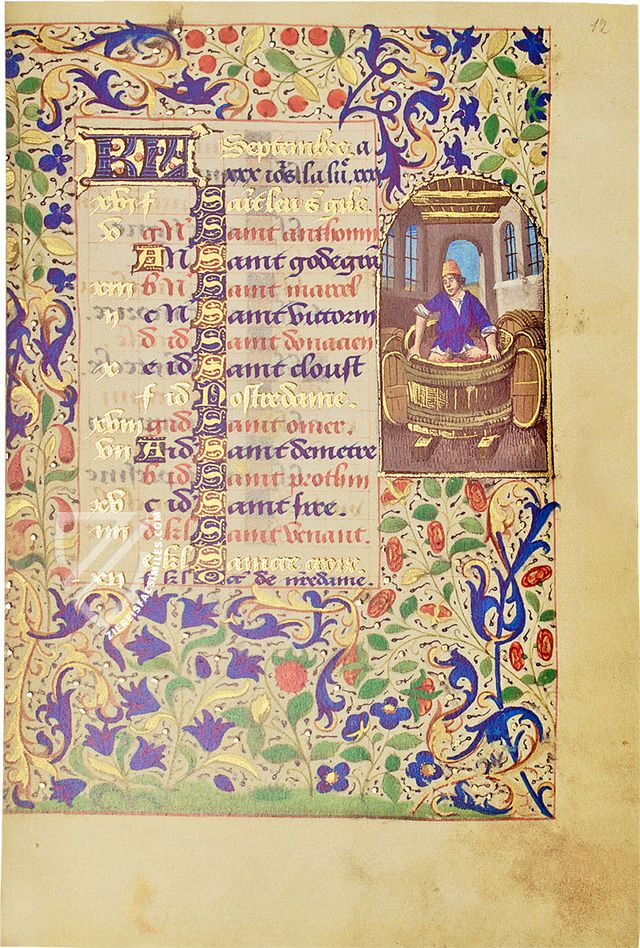 Facsimile Editions
#1

Moskauer Stundenbuch

Limited Edition:

980 copies

Binding:

Brown leather binding with rich gold ornament and seven raised spines, gilt edges Noble leather book case with gold applications

Commentary:

1 volume (88 pages) by Ekaterina Zolotova and Gisela Hack-Molitor
Languages: German

1 volume: Exact reproduction of the original document (extent, color and size)

Reproduction of the entire original document as detailed as possible (scope, format, colors). The binding may not correspond to the original or current document binding.