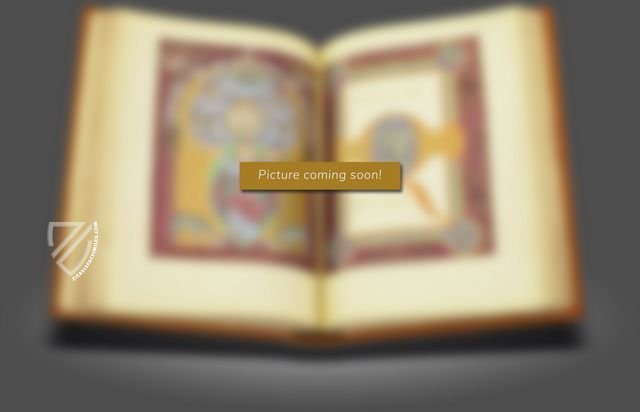 Murasaki Shikibu Nikki Ekotoba
Japan — Mid-13th century
Murasaki Shikibu (ca. 973/975 – ca. 1014/1031) is the famous author of The Tale of Genji

Her series of vignettes from court life were illustrated by Fujiwara Nobuzane (1176–1265)

The fukinuki yatai or "blown-off roof" technique reveals interior scenes from a bird's-eye view
Murasaki Shikibu Nikki Ekotoba
Alternative Titles:
Illustrated Handscrolls of the Diary of Lady Murasaki
Murasaki Shikibu Diary Emaki
Short Description
A fantastic inside look at court life in the Heian period from the diary of one of Japan's most important authors: Murasaki Shikibu, a poet and lady-in-waiting at the Imperial Court in Heian. Her diary, the so-called Murasaki Shikibu Nikki Ekotoba, reveals her innermost feelings concerning court life, which ultimately left her disappointed and unfulfilled. The mid-13th century manuscript makes use of innovative techniques to depict both grand festivities and intimate interior scenes.
Murasaki Shikibu Nikki Ekotoba
Famous for writing The Tale of Genji, arguably the world's first novel, Murasaki Shikibu (ca. 973/975 – ca. 1014/1031) was a poet and lady-in-waiting at the Imperial Japanese court during the Heian period. Her diary is an invaluable resource for anyone interested in a glimpse into the mind of someone involved in the highest levels of Japanese society one thousand years ago. These four emaki or "picture scrolls" were created in the mid-13th century at the behest of the regent Kujō Michiie (1193-1252). They contain 23 text passages adorned by 24 miniatures and represent a precious historical artifact. The renowned poet Gokyōgoku Yoshitsune (1169-1206) is believed to have served as calligrapher for the scrolls, which were divided up amongst various clans in the early 17th century and are divided among various public and private collections today but have been reunited here for the first time in centuries.
Life at the Imperial Court
The diary presents a series of vignettes from court life including important events such as the births of new heirs and more mundane details like the garments worn by noblewomen, the interactions of courtiers, and their often drunken and uncouth behavior. Furthermore, it details her own feelings of disappointment with life at court and the lack of education and sophistication of the other ladies-in-waiting. Murasaki Shikibu was a pen name and it is theorized that she was in fact Fujiwara no Takako, an imperial lady-in-waiting at the turn of the 11th century.
Painting in Three Stages
Fujiwara Nobuzane (1176–1265) has been identified as the artist likely responsible for the manuscript. The miniatures are purely narrative in nature and designed to make the story easy to follow for the reader. A rich opaque color palette is executed using the Tsukuri-e or "built painting" technique: a line drawing is first made in ink and then filled in with layers of paints made from crushed minerals before the details, like facial features, are enhanced by lines in ink. The miniatures possess a distinct angularity, especially the architecture, which contrasts with the soft lines used to create trees and other plants. Interior scenes are made possible by using the fukinuki yatai or "blown-off roof" technique, showing scenes in a downward perspective from above and the walls of the building on a diagonal. Garments and other textiles are presented with various patterns ranging from floral to geometric – even mundane object from daily life were depicted in detail.
Codicology
Alternative Titles

Illustrated Handscrolls of the Diary of Lady Murasaki




Murasaki Shikibu Diary Emaki

Type

Origin

Date

Mid-13th century

Epochs

Style

Genre

Language

Content

Hachisuka, Matsudaira, Hinohara scrolls, and Fujita scroll from the Diary of Lady Murasaki
1 available facsimile edition(s) of "Murasaki Shikibu Nikki Ekotoba"
Murasaki Shikibu Diary Emaki Facsimile
Murasaki Shikibu Diary Emaki Facsimile
1 volume: Exact reproduction of the original document (extent, color and size)
Limited Edition

Not limited

Binding

Wooden Box

Commentary

1 volume by Midori Sano
Language: Japanese

More Information

Reproduction of the entire original document as detailed as possible (scope, format, colors). The binding may not correspond to the original or current document binding.
Matching Works
Shigisan-engi
Popular folk tales for common people: miraculous stories of the monk Myōren, who lived at the Chōgosonshi-ji temple on Mount Shigi
Experience More