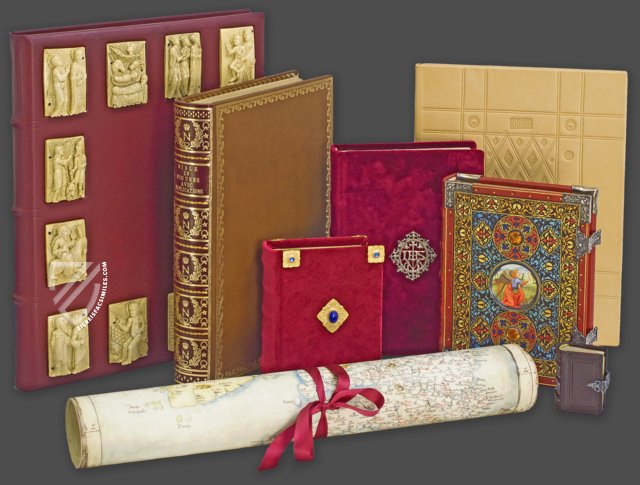 New Book of Flowers
Short Description
Maria Sibylla Merian was a German naturalist and artist devoted to the illustration of scientific texts who was one of the first Europeans to closely study insects. However, she first distinguished herself has a botanical illustrator with a three-volume series of books that was united into a single volume in 1680, the Neues Blumenbuch or New Book of Flowers. The 36 plates depicting individual flowers, wreaths, nosegays, and bouquets would go on to serve as models for other artists and patterns for embroiderers.
Codicology
Alternative Titles

Neues Blumenbuch

Origin

Date

1680

Epochs

Style

Language

Content

Botanical treatise

Artist / School

Maria Sibylla Merian
1 available facsimile edition(s) of "New Book of Flowers"
Neues Blumenbuch - New book of flowers Facsimile
Neues Blumenbuch - New book of flowers Facsimile
1 volume: Exact reproduction of the original document (extent, color and size)
Publisher

Prestel Verlag – Frankfurt, 1999

Commentary

1 volume by Marina Heilmeyer and Thomas Bürger
Languages: English, German

More Information

Reproduction of of the entire original document as detailed as possible (scope, format, colors). The binding may not correspond to the original or current document binding.
Matching Background Articles
Botany / Herb Books

Are you interested in botany and herbal pharmacology? These manuscripts represent a bridge between the wisdom of...

Experience more

Medicine

Eye of newt, and toe of frog? Hardly. Botanical remedies were the backbone of medieval medicine, and these recipes are...

Experience more

Alchemy

What is the philosopher's stone and what other secret knowledge of the alchemists has been passed down in enigmatic and...

Experience more