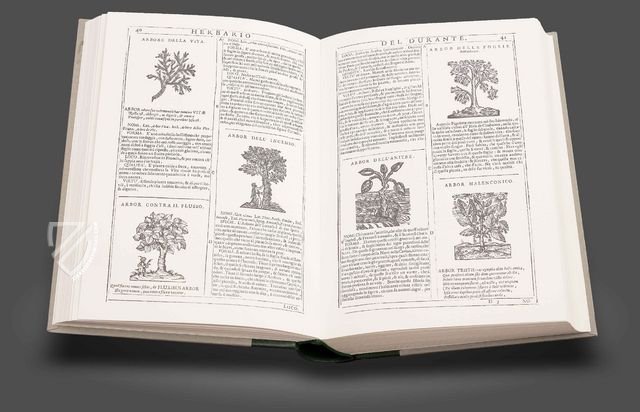 New Herbarium by Castore Durante
Venice (Italy) — 1717
This herbal-medical text was composed ca. 1580 and revised, expanded, and reprinted until 1718

The astonishingly modern work contains 900 detailed descriptions and illustrative woodcuts of plants

Alphabetically listed in Italian, their scientific terms are given in Latin and Greek, among other languages
New Herbarium by Castore Durante
Alternative Titles:
New Herbal by Castore Durante
Erbario nuovo di Castore Durante
Herbario nuovo di Castore Durante
Neues Herbarium von Castore Durante
Herbario Nuovo
Short Description
The medicine of the Middle Ages was largely based on healing agents made from plants and herbs. One of the most important guidebooks regarding herbal medicine was composed ca. 1580 by Castore Durante of Italy. His Herbario Nuovo was continuously revised, expanded, and reprinted until 1718. The astonishingly modern guidebook contained descriptions of plants, some of which still hold true today. The detailed descriptions were completed with the help of illustrative woodcuts.
New Herbarium by Castore Durante
The Herbario Nuovo, composed by the Italian botanist Castore Durante, is the most comprehensive work on medieval botany and medicine. The text possesses astounding worth, not only scientifically, but also with respect to literary history. It was published for the first time in 1585 and constantly expanded until 1718 and republished many times. The specimen at hand is a 1717 edition, which was only published in a very limited quantity. It is a special rarity among the numerous book treasures of the Italian Middle Ages.
A Modern Edition
The 1717 version of the herbarium contains revisions and new findings, which were still unknown at the time of the first edition. New technical processes and new discoveries of exotic animals and plants, which first occurred after 1585, were included here. With his New Herbarium, the author Durante disseminated scientific facts about efficacious plants and herbs, which already existed since antiquity. In order to clearly understand his medical handbook and also to make it comprehensible for laymen, he used simple but precise descriptions, which were supported by detailed pictures.
The Scientific Durante
The author of the Herbario Nuovo was the Italian Castore Durante. He came into the world in 1529 in Gualdo Tadino in the Italian province of Perugia. The physician and botanist earned the status of "honorary citizen of the city of Rome". Durante was active as a scholar in the cities of Viterbo and Rome in the name of the Popes Gregory XIII and Sixtus V. It was particularly during his time in Rome that he distinguished himself in his profession. He was one of the most famous authors of scientific and literary manuals in Italy. He died in 1590 in his adopted home of Viterbo.
A Guidebook That Holds True Today
The herbarium describes over 900 species in alphabetical order in their colloquial names. The description is accompanied by their scientific designation in Latin and Greek. In some parts the Arabic, French, Spanish, and German titles are also named. The precise yet comprehensible descriptions in the text were completed by astoundingly realistic illustrations. Many of the plants depicted still exist today and still possess the same medicinal worth that they did in the Middle Ages, The botanical handbook still serves today as a guidebook for alternative medicine.
Codicology
Alternative Titles

New Herbal by Castore Durante




Erbario nuovo di Castore Durante




Herbario nuovo di Castore Durante




Neues Herbarium von Castore Durante




Herbario Nuovo

Size / Format

640 pages / 33.0 × 23.0 cm

Origin

Date

1717

Epochs

Style

Language

Illustrations

900 species presented in alphabetical order with illustrations

Artist / School

Author: Castore Durante (1529–90)
1 available facsimile edition(s) of "New Herbarium by Castore Durante"
Herbario nuovo di Castore Durante Facsimile
Herbario nuovo di Castore Durante Facsimile
1 volume: Exact reproduction of the original document (extent, color and size)
Publisher

Priuli & Verlucca, editori – Scarmagno, 2000

Limited Edition

1349 copies

Binding

Calfskin, with raised bands and gilding on the spine and a handmade slipcase.

Commentary

1 volume by Giuliana Forneris, Annalaura Pistarino, Pierangelo Lomagno, and Paola Lanzara
Language: Italian

More Information

Reproduction of the entire original document as detailed as possible (scope, format, colors). The binding may not correspond to the original or current document binding.
Matching Background Articles
Botany / Herb Books

Are you interested in botany and herbal pharmacology? These manuscripts represent a bridge between the wisdom of...

Experience more

Medicine

Eye of newt, and toe of frog? Hardly. Botanical remedies were the backbone of medieval medicine, and these recipes are...

Experience more

Alchemy

What is the philosopher's stone and what other secret knowledge of the alchemists has been passed down in enigmatic and...

Experience more