Discorsi di P. A. Mattioli Illustrated by Gherardo Cibo
Description
Discorsi di P. A. Mattioli Illustrated by Gherardo Cibo
The Discorsi by Pietro Andrea Mattioli represents a milestone in the art of botany, which was then emerging for the first time. Mattioli's text is based on the tradition of the ancient botanical-pharmaceutical work of Dioscorides and expands upon it with descriptions of 100 new plant species. This particularly beautiful edition of the landmark work was embellished with miniatures and other décor by the great artist Gherardo Cibo, whose achievement Mattioli himself was very impressed with. The work was printed in 1568 by the Venetian publisher Vincenzo Valgrisi and is of great importance for both the history of art and science.
Discorsi di P. A. Mattioli Illustrated by Gherardo Cibo
A masterpiece of medical-botanical literature, enriched by the colors and miniatures of a great master: the Discourses by Pietro Andrea Mattioli in the famous large print version published by Valgrisi in Venice in 1568. The specimen, now residing at the Alessandrina Library in Rome, is renowned for the magnificent decorations by Gherardo Cibo, who, in addition to coloring the engraving, completed the backgrounds with evocative landscapes produced by his fertile imagination.
A Gorgeous Specimen of a Vital Scientific Text
Presented in a magnificent manner, this text is a document of the progress of scientific thought during the genesis of modern science. Mattioli's work not only commented on the Materia Medica by Dioscorides, he also described 100 new plants, not all of which necessarily had medical applications, making it one of the first works that examined botany outside of medicine. The numerous copies of the original to have been produced, as well as the quality of this individual specimen, speak to its importance. This specimen united the work of a great botanist with a master painter, presumably at the behest of a high-ranking bibliophile and lover of gardening. Thus, it represents a significant specimen of Renaissance art and science simultaneously.
The Author's Impression of the Artist
This is how Mattioli expressed himself concerning Cibo's art and, in particular, his botanical illustrations, in a letter dated 24 June 1565: "It really seems to me that they are so alive and natural, that one could not ask for anything better; and most importantly that one can perceive an elegance afforded to them by the decoration with pleasant village landscapes that cannot be felt in the presence of natural images alone. For this reason I tell you that even though I have received colored drawings of plants from many different places, there is such a difference between these and the former, as one can see between lead and silver or, even better, between lead and gold" (Siena Municipal Library, cod. miscell. D, vii, 2. c. 15 r.).
Codicology
Alternative Titles

Pietro Andrea Mattioli's Discorsi




Discourses by Pietro Andrea Mattioli




Discorsi di P. A. Mattioli illustiert von Gherardo Cibo

Size / Format

1,728 pages / 35.8 × 25.0 cm

Origin

Date

1568

Epochs

Style

Language

Illustrations

Large, sometimes almost full-page colored copperplate engravings for almost every lemma

Artist / School

Gherardo Cibo (1512–1600)
Detail Picture
Discorsi di P. A. Mattioli Illustrated by Gherardo Cibo
Shearing Sheep
This pleasant pastoral scene depicts a prosperous farmer in a red cap with a feather harvesting wool with the help of his wife, who wears a flowing orange dressed, and his dog, who lays on the ground watching. His buildings are enclosed by a wattle fence and the hills where he grazes his sheep can bee seen in the background. The other sheep wander about munching on grass awaiting their turn while a large ram with long horns seems to look out from the page at the beholder.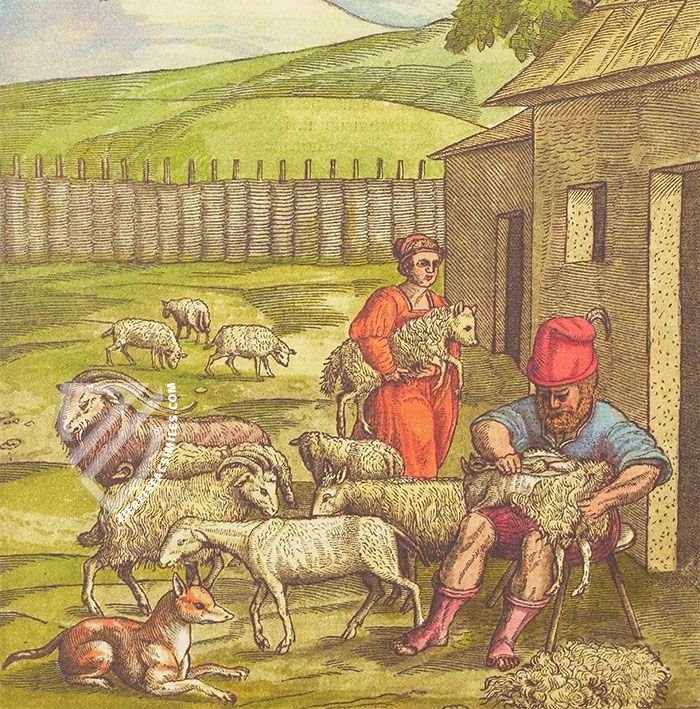 Single Page
Discorsi di P. A. Mattioli Illustrated by Gherardo Cibo
Lavander
Popular as an ornamental plant, used as a culinary herb and in the making of essential oils, Lavandula is a genus of 47 different species of flowering plants that are actually part of the mint family. Commonly referred to as lavender, Lavandula angustifolia is the most widely cultivated variety and the distinct purple color of its flowers is also referred to as lavender, even if they are depicted as blue here.
Lavender has been used in traditional medicine and cosmetics since ancient Greece, soap in particular – its late Latin name lavandārius comes from the verb lavāre meaning "to wash". As herbal medicine, lavender has been used to treat intestinal discomfort, restlessness, insomnia, anxiety, and may have other applications.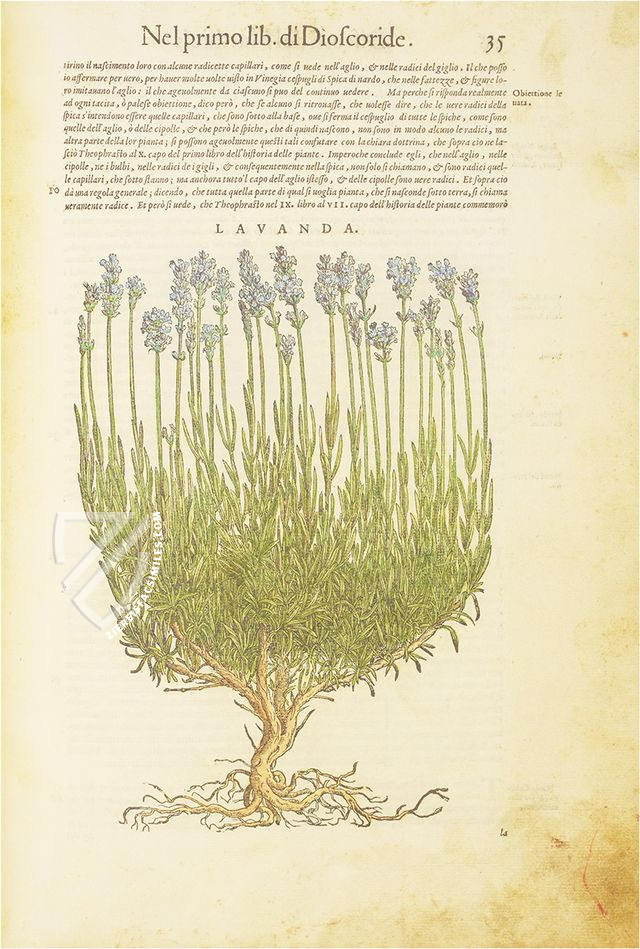 Facsimile Editions
#1

I Discorsi di P.A. Mattioli

Binding:

Gold-printed Leatherette (heat- and dry- printed)

Commentary:

1 volume by Duilio Contin, Lucia Tongiorgi Tomasi and Flavia Cristiano
Language: Italian

1 volume: Exact reproduction of the original document (extent, color and size)

Reproduction of the entire original document as detailed as possible (scope, format, colors). The binding may not correspond to the original or current document binding.