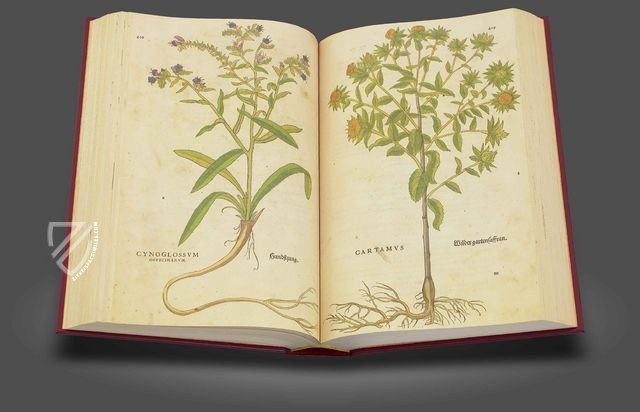 De Historia Stirpium - Leonhart Fuchs
Basel (Switzerland) — 1542
Illustrated with over 500 colored woodcuts of plants from roots to flowers

The text by the German physician and botanist Leonhart Fuchs (1501–1566) was the standard in Europe for centuries

The "Father of Botany" brings the exciting genesis of biology to life in a fascinating and artful way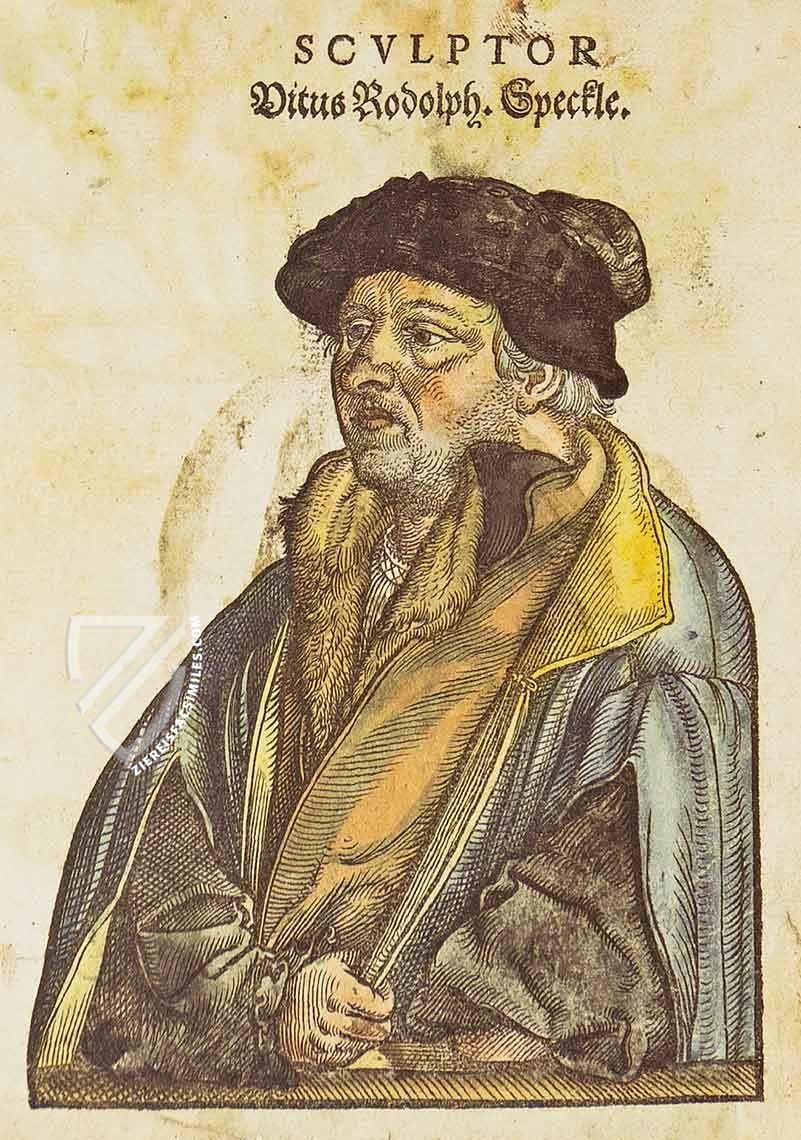 De Historia Stirpium - Leonhart Fuchs
Alternative Titles:
On the History of Plants by Leonhart Fuchs
Kräuterbuch des Leonhart Fuchs
Short Description
The famous herb book by the German physician and botanist Leonhart Fuchs was the standard botanical work in Europe for centuries. Printed in Basel in 1542, it is wonderfully illustrated with over 500 colored woodcuts, which visually present the plants depicted from their roots to their flowers. This fascinating document from the "Father of Botany" brings the exciting world of the beginnings of biology to life.
De Historia Stirpium - Leonhart Fuchs
Leonhard Fuchs (1501–1566) is considered to be the "father of botany". The 16th-century German physician and botanist attained fame as the author of the standard botanical reference De Historia Stiripium commantarii insignes. Fuchs additionally composed numerous other scientific works and was active in Munich, Ingolstadt, Ansbach, and above all at the Universität Tübingen, where he initiated one of the first botanical gardens.
The Famous Latin Herb Book
Leonhart Fuch's famous masterpiece was published in Basel's Officina Insingriniana in 1542: the fascinating herb book with the title De Historia Stiripium commantarii insignes. This comprehensive botanical work contains botanical and medical descriptions of 343 plants both common and exotic, and is richly illustrated with 517 gorgeously colored woodcuts. These captivatingly naturalistic depictions – executed by gifted masters according to the author's instructions – presents the plants in every detail, from the roots to the leaves and flowers.
The Basis of his Fame
After the publication of De Historia Stiripium commantarii insignes in Latin, Leonhart Fuchs made his botanical treasure chest accessible to the general public in a German edition: one year later the "New Kreüterbuch" was published, thereby laying the foundation for the dissemination of his work. Subsequently, De Historia Stiripium was widely disseminated across Europe – in numerous translations as well. Nonetheless, Leonhart Fuchs is most authentically tangible as a passionate botanist and plant expert in the work's original Latin edition.
Codicology
Alternative Titles

On the History of Plants by Leonhart Fuchs




Kräuterbuch des Leonhart Fuchs

Size / Format

898 pages / 35.0 × 28.5 cm

Origin

Date

1542

Epochs

Style

Illustrations

517 xylographic illustrations of 343 species (Stirpi)

Artist / School

Leonhart Fuchs (1501 – 1566)
1 available facsimile edition(s) of "De Historia Stirpium - Leonhart Fuchs"
De Historia Stirpium di Leonhart Fuchs Facsimile
De Historia Stirpium di Leonhart Fuchs Facsimile
1 volume: Exact reproduction of the original document (extent, color and size)
Publisher

Aboca Museum – Sansepolcro, 2003

Binding

Wine-colored imitation leather embossed with reliefs of Fuchs and his collaborators. Spine strengthened by seven bands.

Commentary

1 volume by Duilio Contin and Alessandro Menghini
Language: Italian

More Information

Reproduction of the entire original document as detailed as possible (scope, format, colors). The binding may not correspond to the original or current document binding.
Matching Works
Theatrum Sanitatis
Created to improve hygiene standards among the nobility: more than 200 large miniatures illustrating the famous text by the physician Ibn Butlan in an illuminated manuscript from Lombardy
Experience More
Matching Background Articles