Sloane Tractatus de Herbis
Description
Sloane Tractatus de Herbis
The Tractatus de Herbis is a polyglot lexicon of medieval herbal medicine that originates from Italy ca. 1440. It contains every medicinal plant, mineral, and animal part used during the Middle Ages with their terms in various languages and is illustrated with colorful miniatures on each page numbering nearly 500 in total. The inclusion of names from various languages was meant to avoid any confusion between plants, which was common in part due to the wide local variations in their names. These miniatures adorning the neatly written passages inserted among them are characterized by their charming figures and incredible color palette including bright sumptuous reds and subtle variations of green. The manuscript is a splendid specimen of Italian Gothic illumination and a wonderful example of attempts at standardization in medieval medicine.
Sloane Tractatus de Herbis
The Tractatus de Herbis, a treatise about the healing plants of the Middle Ages, is presented in one of the legendary splendid codices of the British Library, the oldest library in England. It contains descriptions of the various healing plants that were used for the healing of illnesses in the Middle Ages. The corresponding pictures of the illuminated manuscript make it an incomparably charming work for every art-lover. The stylish Gothic book adornment leads to the conclusion that the manuscript was produced in Italy in the 15th century.
Botany of the Middle Ages
The medieval culture was characterized by a variety of societal influences from across the world. The medicine of the Middle Ages was based on findings by Latin, Arab, Byzantine, and other scholars from the most remote regions of the world. These findings were brought together and translated into the world language of Greek, in order to make them universally accessible. Medical remedies were mostly produced on the basis of animal poisons and floral or mineral substances. Since the terms for plants varied widely worldwide, precise lexica of plants for guidance were made. These lexica contained pictures of all medicinal plants, described their effects and applications, and were listed with their term in all common languages. The present codex is the most popular work of this type.
Colorful Design
The medicinal handbook was furnished with a variety of colorful miniatures. The pictures serve for the identification and differentiation of the known plants. In the case of disease it was very important to apply the correct remedy for the treatment of the illness. Otherwise, it contained many plant-based poisons that in those days could easily cause death, as medieval medicine was still far from knowing an anecdote for each poison. Alongside the practical applications of the pictures, these account for the incomparable artistic charm of the lexicon. The miniatures not only show different plants, but are also adorned with high-quality depictions of animals and people. Each page of the work is adorned with a picture and all of the pictures show a bright palette of lively colors.
Codicology
Alternative Titles

Tratado de plantas medicinales




Tractatus de Herbis




Abhandlung über Heilpflanzen -  Sloane 4016




Tractatus de Herbis -  Sloane 4016

Size / Format

218 pages / 38.0 × 26.5 cm

Origin

Date

1440

Epochs

Style

Language

Script

Gothic Textura Semiquadrata

Illustrations

All 218 pages are illuminated

Previous Owners

Nicholas Joseph Foucault
Hans Sloane
---
Available facsimile editions:
Detail Picture
Sloane Tractatus de Herbis
Asinus
Donkeys have been used as working animals for at least 5,000 years and were very important as beasts of burden during the Middle Ages. They range in size greatly with smaller breeds weighing as little as 80 kg (180 lbs.) while larger ones can weigh in excess of 480 kg (1,060 lbs.) and can be twice as tall as other donkeys. These famously stubborn working animals were ridden by clergymen as a sign of their piety and were also an important source of parchment for making manuscripts.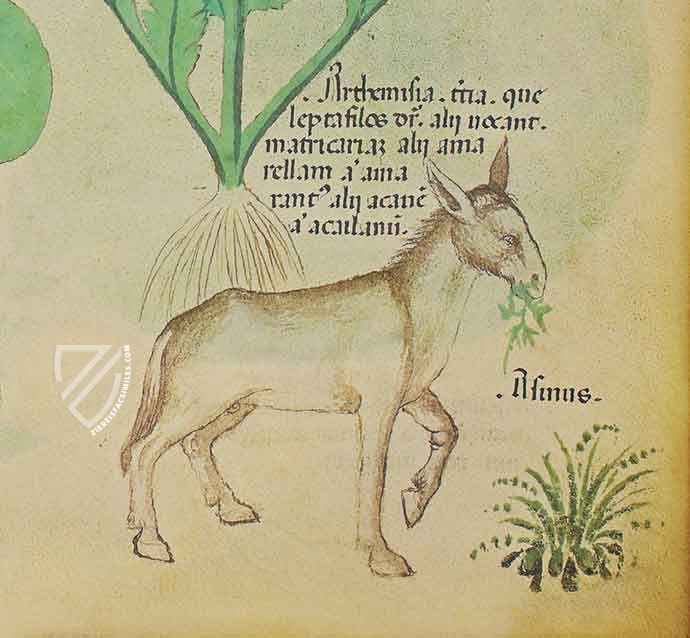 Single Page
Sloane Tractatus de Herbis
Eagle, Tree, and Spider
Beginning at the top, we see a proud eagle posed as though for a coat of arms with its wings outstretched and its tongue sticking out from its open beak. Its feet and talons are exaggerated in size in order to demonstrate them to the beholder. Below, there is a perfectly round spider web with a six-legged insect, which is either the spider's prey or the artist simply neglected two of the spider's legs.
A lollipop-shaped tree with a long slender trunk, most likely an orange tree, takes up most of the page and features a fine variety of green shades. Large distinct leaves are rendered in the yellowish-green of new growth while the rest of the tree is Kelly green. At the base, it is drawn as though the tree is standing on a valley floor.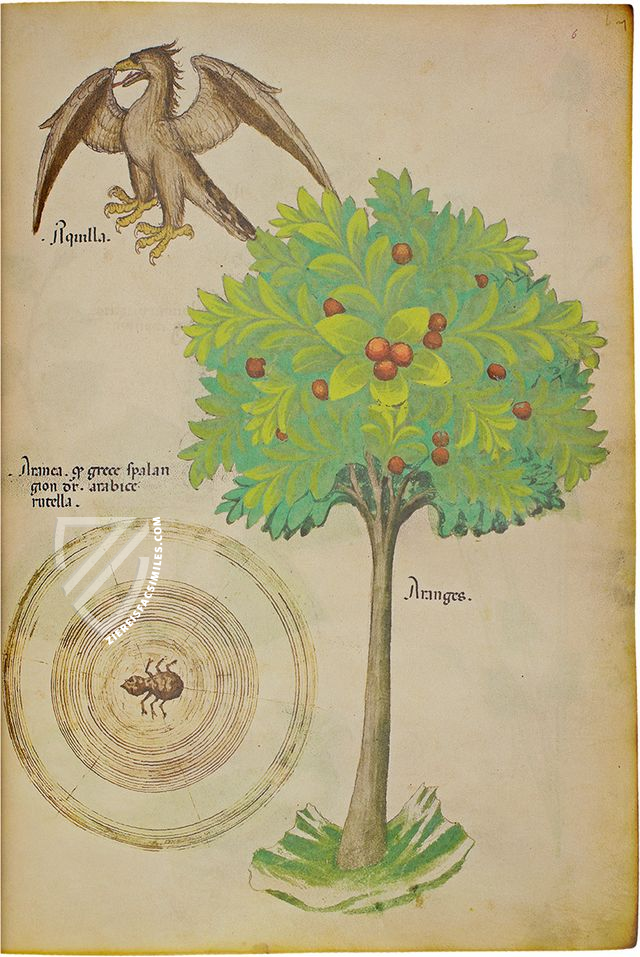 Facsimile Editions
#1

Tratado de plantas medicinales

Limited Edition:

987 copies

Binding:

Bound in embossed, dark green leather

Commentary:

1 volume (218 pages) by Alain Touwaide
Language: Spanish

1 volume: Exact reproduction of the original document (extent, color and size)

Reproduction of the entire original document as detailed as possible (scope, format, colors). The binding may not correspond to the original or current document binding.
You might also be interested in: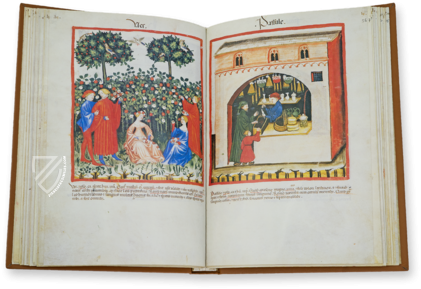 Tacuinum Sanitatis in Medicina
Probably Milan (Italy) – End of the 14th century
Made for an Italian noble family: 206 large miniatures accompanying the text of the famous physician Ibn Butlan with many scenes from everyday life, botany, and medicine
Experience More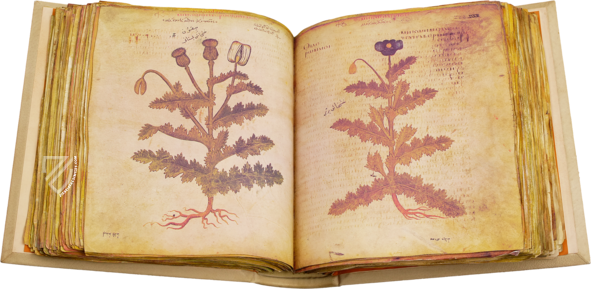 Vienna Dioscorides
Istanbul (Turkey) – Ca. 512
A milestone of medicine created 1500 years ago in Byzantium: Dioscorides' significant work on herbal medicine in a magnificently illuminated manuscript with almost 500 depictions of plants and animals
Experience More
Blog articles worth reading