Nicandri Colophoni - Theriaca
Description
Nicandri Colophoni - Theriaca
A splendid Spanish printed edition of the legendary medical text by the 2nd century BC Greek poet, physician, and grammarian Nicander of Colophon. It is one of only two complete works of his to survive to the present and is concerned with the nature and treatment of bites and stings from poisonous animals. The medical information was composed in the form of didactic poems to further aid in the memorization of the information at hand. It features both the original Greek text and a Latin translation by Pedro Jaime Esteve (ca. 1500–1558) and is complete with a commentary. This is an outstanding specimen of the scientific classics that were being translated and disseminated by Spanish scholars and publishers during the Renaissance.
Nicandri Colophoni – Theriaca
A wonderfully printed 16th century edition of a treatise written some 1,800 years earlier by Nicander of Colophon, a Greek poet, physician, and grammarian. Along with his Alexipharmaca, the Theriaca represents the only complete surviving work written by the 2nd century BC author. The medical knowledge contained in these texts is largely based on the writings of the ancient physician Apollodorus of Egypt. Called Nikandros in Greek, his treatise is concerned with theriac, a panacea used for the treatment of stings and bites from poisonous animals like snakes and scorpions. This fine specimen features engraved initials and was published in 1552 by Johannes Mey Flandrus in Valencia. It features both the original Greek text and a Latin translation and commentary by Pedro Jaime Esteve (ca. 1500–1558), a professor at the University of Valencia and the founder of its school of doctors and naturalists oriented on Renaissance Humanism. This milestone of Spanish scientific classics is considered to be one of the finest specimens of its kind.
Memorable and Forceful
In the text, the nature of various venomous animals and the wounds they inflict are examined in detail. Nicander deliberately recorded his findings about the substances of nature in rhymed verses. Through the use of verse form he made the scientific facts memorable so that they could be easily memorized and applied in an emergency. His works are clearly structured. The personal physicians of the Roman Emperors Trajan and Nero were guided by the insights of Nikandros in the treatment of their most important patients and spread his floral and faunal forms of treatment through the use of opium and other pain-relieving and stimulating substances. Nicander's writings were highly praised by Cicero (106-43 BC), imitated by Ovid (43 BC – AD 17) and Lucan (39–65), and often quoted by Pliny the Elder (23–79). With such a resume, it is no wonder that this work was still highly regarded as a practical medical textbook during the 16th century.
Codicology
Alternative Titles

Nicandri Colophoni (Theriaca)

Size / Format

204 pages / 16.0 × 10.5 cm

Origin

Date

1552

Epochs

Style

Illustrations

Decorated initials

Content

Treatise on animal poisons

Artist / School

Nicandro of Colophon (author)
Pedro Jaime Esteve (translator)
Johannes Mey Flandrus (printer)
---
Available facsimile editions: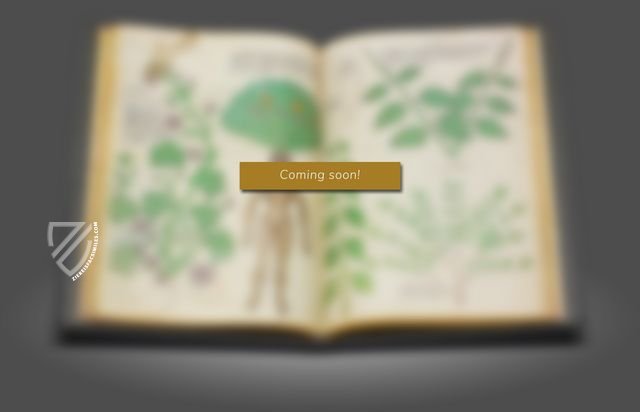 Vicent Garcia Editores
– Valencia, 1999
Limited Edition:
3160 copies
Facsimile Editions
#1

Nicandri Colophoni (Theriaca)

Limited Edition:

3160 copies

Binding:

Parchment on wooden board. The facsimile edition comes in a cloth-lined presentation case with gold engraved leather spine.

Commentary:

1 volume by Josè M. López Piñero
Language: Spanish

1 volume: Exact reproduction of the original document (extent, color and size)

Reproduction of the entire original document as detailed as possible (scope, format, colors). The binding may not correspond to the original or current document binding.
You might also be interested in: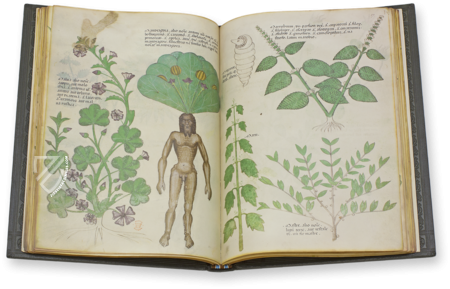 Sloane Tractatus de Herbis
Lombardy (Italy) – 1440
With realistic plant illustrations on all 218 pages: a lexicon of medieval medicinal plants in the possession of the doctor and botanist Sir Hans Sloane
Experience More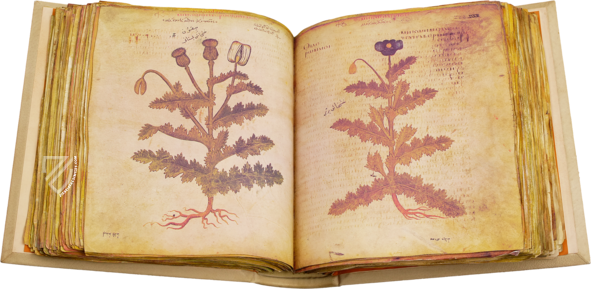 Vienna Dioscorides
Istanbul (Turkey) – Ca. 512
A milestone of medicine written 1500 years ago in Byzantium: the largest and most influential work on herbal medicine in history
Experience More
Blog articles worth reading