Compendio de los Boticarios
Description
Compendio de los Boticarios
This early-16th century codex is a pharmacological handbook. Printed in Spanish and concerned with Spanish flora, it gives detailed instructions for the production of various remedies. The treatise includes the names and classification of many Spanish plants and explanations of several chemical operations. It was authored by Saladinus Asculanus, a Jewish-Italian doctor active in the mid-15th century who drew on numerous sources including some from antiquity. Originally dated the 25th of November 1515, there is evidence that the codex was appended with additional elements sometime after the arrival of Charles V in Spain during the autumn of 1517.
Compendio de los Boticarios
The Compendio de los Boticarios or "Compendium of the Apothecaries" was published on November 25th, 1515, but some typographic details indicate that it was not put on the market until a later date. Some elements appear to have been printed at a later time, specifically after the arrival of Charles V (1500–58) in Spain in the autumn of 1517. The identity of the translator remains unknown, although he is believed to be a doctor from Tudela who was also responsible for translating the Servidor by Albuchasis. The treatise, concerned with the manufacture of remedies, contains the names and details of many plants found in Spain and explains several of the chemical processes involved. Detailed instructions are given for their harvesting, preparation, storage, and shelf-life as well as clear orientation tables, actual harvesting and collecting calendars are set up for plant harvesting. Remedies include love potions and aphrodisiacs, sleeping pills and other narcotics; even recipes for causing an abortion are expressly referred to.
A Systematic Pharmacological Handbook
Saladinus found existing handbooks for apothecaries to be inadequate and thus sought to summarize the knowledge he acquired in his own studies and experience. For example, he suggests the widespread use of sugar in remedies and appears to be quite knowledgeable about the product. Saladinus created a systematic manual structured in the form of questions and answers in which he took into account all aspects of the profession of the apothecary from entrance exams to practice. In the introduction, he emphasizes how a pharmacist's ignorance could be detrimental to the doctor, devotes a separate chapter to the pharmacist's duties, and points out the need for a series of essential readings for a correct exercise of the profession. The sheer number of translations and reprintings of his Compendium, which continued with interruption until 1623, attests to its quality and enduring popularity.
Who Was Saladinus?
The author is alternatively known by the names Saladino d'Ascoli or Saladino Ferro and although neither the dates of his birth or death is known to us, there are concrete records of his life. Only recently has it been ascertained that he was not originally from Ascoli Satriano, but from Ascoli Piceno and nothing is known of his family. He has sometimes been confused with a doctor of a similar name from the 12th/13th centuries. What is known is that he studied in Padua for ten years under inter alia Cando Candi before he graduated on September 10th, 1431. He is recorded as living with his family in the seaside town of Monopoli in 1448 and would later patronize the construction of the chapel of St. Jerome in the cathedral. Saladinus found himself in nearby Bitonto in 1451, where he was given a position at the university and contracted by the mayors to provide medical services to the people. In addition to his salary, Saladinus was provided with a home cum aqua, was exempted from taxes, and could flee the city in the event of plague. He then entered into the service of the Prince of Taranto, Giovanni Antonio del Balzo Orsini (1401–63), who gained control of the city in February of 1460. Saladinus may have been alive first edition of his work was published in Bologna on March 12th, 1488 but would certainly have passed away by the time the present Spanish edition was published in 1515.
Codicology
Alternative Titles

Kompendium des Apothekers

Size / Format

120 pages / 21.0 × 15.0 cm

Origin

Date

November 25th, 1515

Epochs

Style

Language

Illustrations

Xylographic initials

Content

Botanical treatise on plants and their chemical-pharmaceutical usability

Artist / School

Saladinus Asculanus (author)
Alonso Rodríguez deTudela (translator)
Arnau Guillén de Brocar (printer)
---
Available facsimile editions:
Vicent Garcia Editores
– Valencia, 1998
Limited Edition:
3160 copies
Facsimile Editions
#1

El compendio de los boticarios

Limited Edition:

3160 copies

Binding:

Binding of parchment on wooden cover Cloth-lined presentation case with gold engraved leather spine

Commentary:

1 volume by Josè M. López Piñero
Language: Spanish

1 volume: Exact reproduction of the original document (extent, color and size)

Reproduction of the entire original document as detailed as possible (scope, format, colors). The binding may not correspond to the original or current document binding.
You might also be interested in: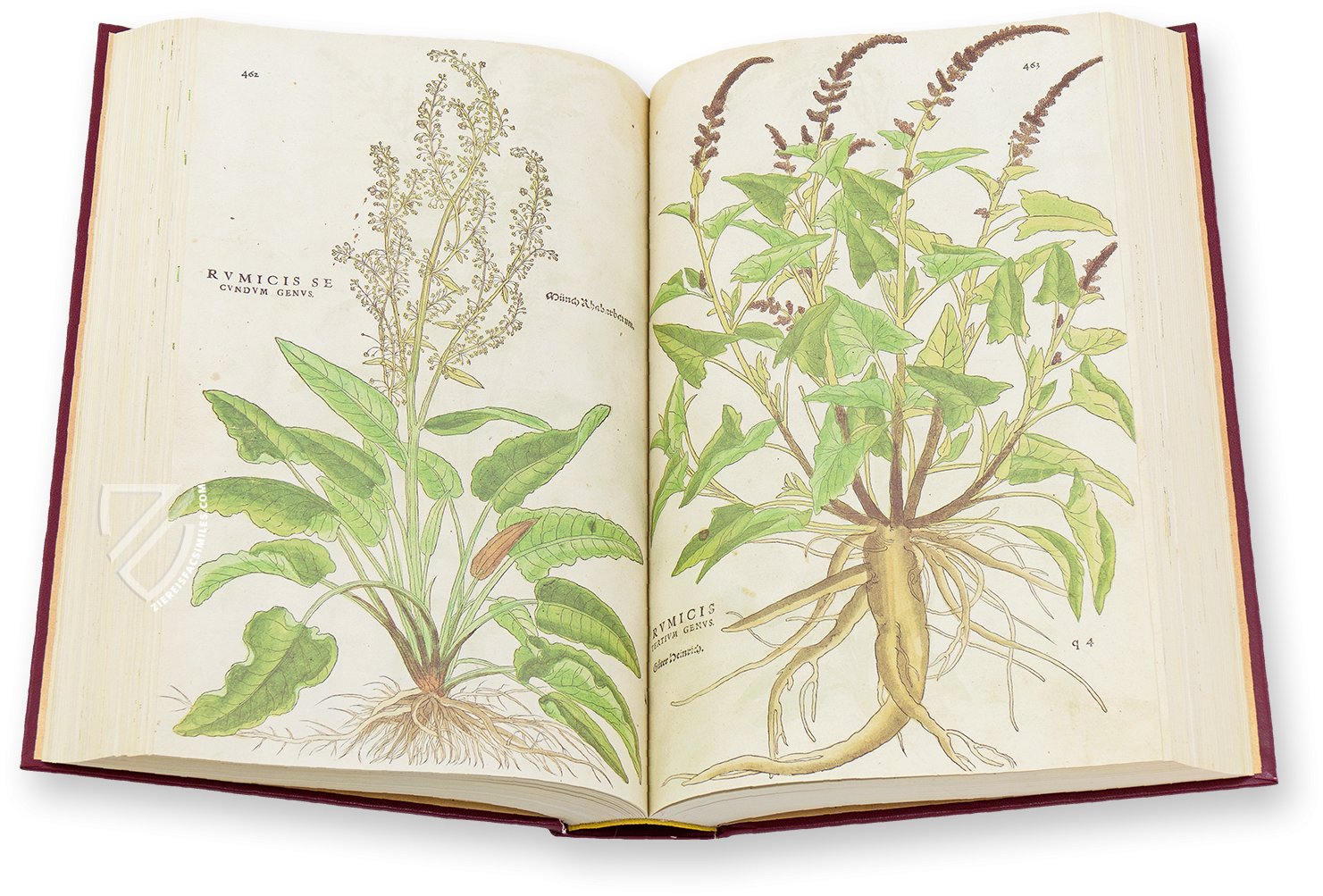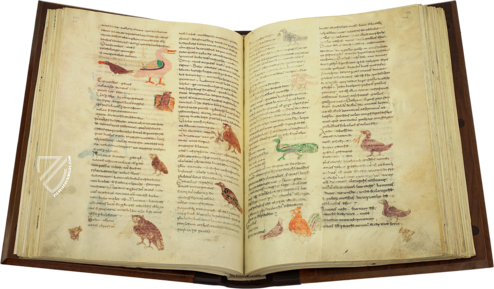 Hrabanus Maurus: De Universo - De Rerum Naturis
Montecassino Abbey (Italy) – 1022–1035
The first encyclopedia of the Middle Ages in a comprehensively illuminated manuscript from the famous monastery of Montecassino: Hrabanus Maurus' work on almost all aspects of early medieval life in 335 miniatures
Experience More
Blog articles worth reading