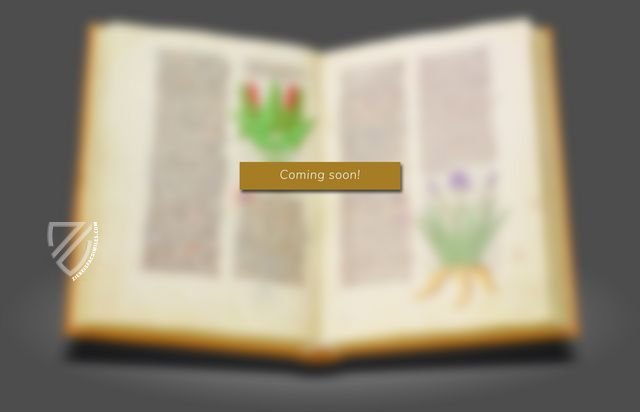 Compendio de los Boticarios
Although published on November 25th, 1515, typographic details indicate that it was not initially put on the market

Some elements were printed at after the arrival of Charles V (1500–58) in Spain in the autumn of 1517

The anonymous translator is believed to have been a doctor from Tudela who also translated the *Servidor* by Albuchasis
Compendio de los Boticarios
Short Description
This early–16th century codex is a pharmacological handbook. Printed in Spanish and concerned with Spanish flora, it gives detailed instructions for the production of various remedies.
Compendio de los Boticarios
The Compendio de los Boticarios or "Compendium of the Apothecaries" was published on November 25th, 1515, but some typographic details indicate that it was not put on the market until a later date. Some elements appear to have been printed at a later time, specifically after the arrival of Charles V (1500–58) in Spain in the autumn of 1517. The identity of the translator remains unknown, although he is believed to be a doctor from Tudela who was also responsible for translating the Servidor by Albuchasis. The treatise, concerned with the manufacture of remedies, contains the names and details of many plants found in Spain and explains several of the chemical processes involved.
1 available facsimile edition(s) of "Compendio de los Boticarios"
Compendio de los Boticarios Facsimile
Compendio de los Boticarios Facsimile
1 volume: Exact reproduction of the original document (extent, color and size)
Publisher

Vicent Garcia Editores – Valencia, 1998

Limited Edition

3160 copies

More Information

Reproduction of the entire original document as detailed as possible (scope, format, colors). The binding may not correspond to the original or current document binding.
Matching Background Articles
Botany / Herb Books

Are you interested in botany and herbal pharmacology? These manuscripts represent a bridge between the wisdom of...

Experience more

Medicine

Eye of newt, and toe of frog? Hardly. Botanical remedies were the backbone of medieval medicine, and these recipes are...

Experience more

Alchemy

What is the philosopher's stone and what other secret knowledge of the alchemists has been passed down in enigmatic and...

Experience more