Officiolum of Francesco da Barberino
Description
Officiolum of Francesco da Barberino
The Officiolum of Francesco da Barberino originated between 1304 and 1309 in Padua and is considered to be the oldest surviving Italian prayer book. Lost for centuries, it was auctioned by Christie's in Rome to an anonymous buyer in 2003 who even outbid the Italian State for the lost masterpiece. Today, its numerous miniatures allow us to immerse ourselves in the fascinating imagery of Dante's Divine Comedy. The text was originally written by Francesco da Barberino, a Florentine poet, contemporary and friend of both Giotto Dante Alighieri while he was in exile in Padua. It is an allegorical treatment of hope, an early Christian theme, and borrows heavily from the Divine Comedy. 70 full- and half-page miniatures created by illuminators active in Romagna and Veneto with a rich and diverse color palette and plenty of gold leaf adorn the manuscript, with some sections of text even written in gold ink.
Officiolum of Francesco da Barberino
Between 1304 and 1309, Francesco da Barberino devised and completed his Officiolum, a kind of prayer book. It is thereby considered to be the oldest Italian prayer book. This distinction would already be impressive in and of itself, but what's more, the prayer book was also exceptionally richly adorned with miniatures, which also mirror the world of ideas and imagery of Dante's Divine Comedy. The Officiolum of Francesco da Barberino therefore represents a true rarity that came within a hair's breadth of being lost forever…
Francesco da Barberino, Giotto, and Dante's Divine Comedy
Francesco da Barberino (1264–1348) was a Florentine poet. As a contemporary and friend of Giotto, the famous Italian painter, and Dante Alighieri in flowering 14th century Florence, he was naturally very familiar with their works. The text, recently rediscovered and unknown until recently, was composed by Francesco da Barberino himself, and consequently borrowed heavily from Dante's Divine Comedy, e.g. the reproduction of the famous Inferno with circles of hell. The 70 illuminated folios make this vividly recognizable. The textual level of Barberino's allegorical treatment of Hope, an early Christian theme, is especially noteworthy, which are naturally not absent from this prayer book. In his Latin commentaries on the Documenti D'Amore, Barberino had already previously spoken about the importance of elucidating a philosophical text with pictures. The reader at the time therefore profited as much from the imagery of the Officiolum as the modern beholder. Alongside numerous half- and full-page miniatures, the text was additionally embellished with a variety of golden initials and the rear portion of the text is written entirely in gold ink.
A Manuscript Believed to be Lost
It is thanks to a lucky coincidence that we are able to immerse ourselves today into the Florentine imagery of the early 14th century. The Officiolum of Francesco da Barberino was considered to be one of the lost masterpieces of the Middle Ages. Suddenly, it surfaced in 2003 at an auction by Christie's in Rome – a sensation! Naturally, a bidding war broke out for the famous and masterfully illuminated manuscript, during the course of which the Italian State had to forfeit. In the end, a bid from a still-unknown telephone-bidder was accepted. Twelve years later, he announced the creation of a facsimile of his treasure, which is counted among the great masterpieces of Tuscan and Italian culture altogether.
Codicology
Alternative Titles

Offiziolum di Francesco da Barberino




Officiolo di Francesco da Barberino




Offiziolum des Francesco da Barberino

Size / Format

348 pages / 14.0 × 10.5 cm

Origin

Date

1304–1309

Epochs

Style

Genre

Script

Gothic Textura

Illustrations

70 illuminated folios with full-page and half-page miniatures

Content

Book of Hours with allegorical treatise on hope

Artist / School

Francesco da Barberino (author)
Illuminators of Romagna and Veneto
---
Available facsimile editions:
Detail Picture
Officiolum of Francesco da Barberino
Author Portrait
Francesco da Barberino is depicted here seated in a window before a timeless and spaceless burnished gold background indicating that he is lost in the book he is reading. Dressed in a blue hat and flowing pink robes, Francesco is surrounded by books as though he were sitting on a pile of them. Despite the size of the depiction, which shows him in profile, the features of the young poet's face are still discernable.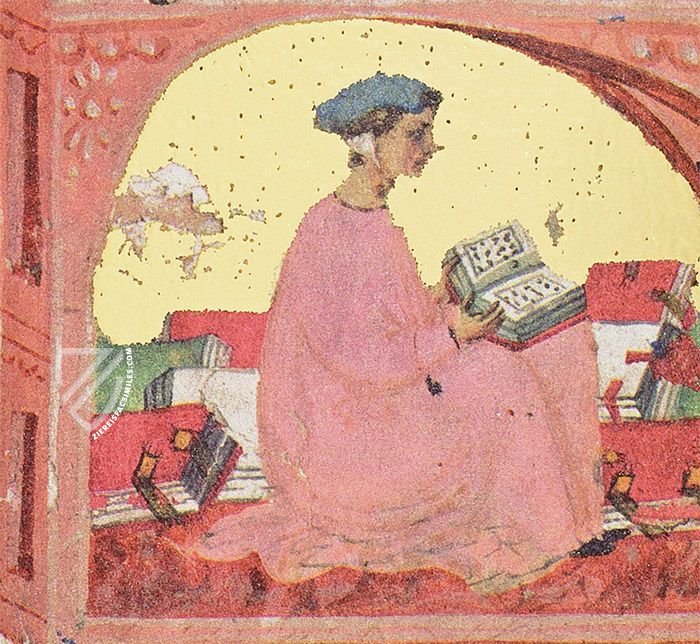 Single Page
Officiolum of Francesco da Barberino
Coronation of the Virgin
The Virgin Mary is shown leaning forward and receiving a crown from her son surrounded by the Four Evangelist Symbols and seated in a mandorla – Italian for "almond", Christ was often presented in these almond-shaped frames and the Virgin Mary was increasingly presented in this way as devotion to her grew in the Late Middle Ages. They are both dressed in rich flowing robes and resting their feet on pillows.
This scene is usually presented as the final episode in the Life of the Virgin and follows her Assumption. The title Regina Coeli or "Queen of Heaven" first appeared in the 12th century and this artistic theme first appeared in an English tympanum around that time. By the 16th century, it had an established iconography.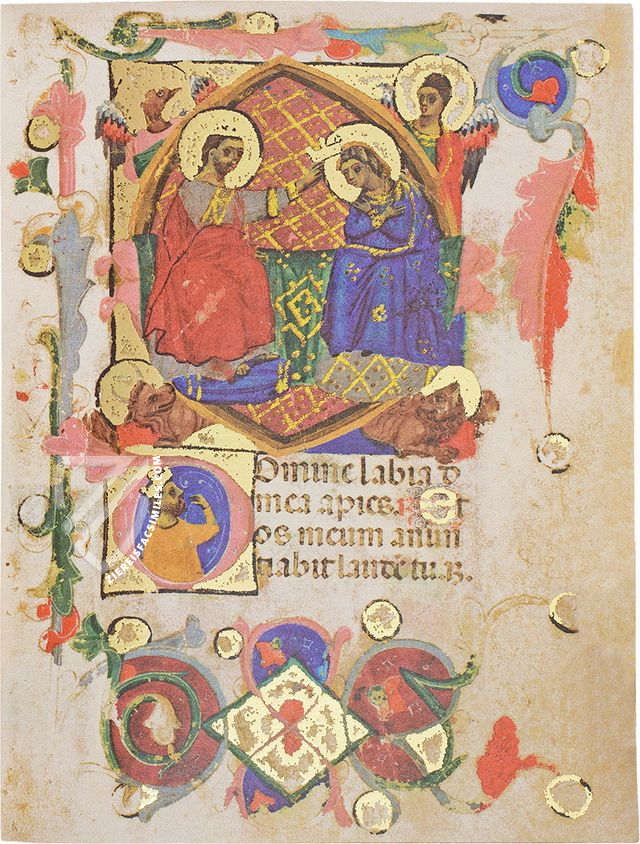 Facsimile Editions
#1

Officiolo di Francesco da Barberino

Limited Edition:

399 copies

Binding:

Handbound red velvet with gold tooling and gems Wooden case

Commentary:

1 volume by Luca Marcozzi
Language: Italian

1 volume: Exact reproduction of the original document (extent, color and size)

Reproduction of the entire original document as detailed as possible (scope, format, colors). The binding may not correspond to the original or current document binding.