Origen y Dignidad de la Caça
Description
Origen y Dignidad de la Caça
Hunting was one of the most prominent and prestigious features of aristocratic life in the Middle Ages. Hunting served a practical purpose as practice for war because it required many of the same skills. Killing a wild boar at close range with a spear was the closest possible approximation to peacetime combat that could be imagined. Moreover, the aristocratic hunt was also a social event, and this became more true as time went on: women participated in hunts in the Late Middle Ages and were still doing so in the 17th century when this text was published.
Origen y Dignidad de la Caça
The author of this work, a certain Juan Mateos, identifies himself as the King's greatest crossbowman, and is splendidly pictured on the architectural title page. He begins his treatise on the Origin and Dignity of Hunting by claiming that "The royal exercise of hunting was originated in order to defend men against the wild beasts and to protect their cattle, whose theft was the cause of their deaths" and "the dignity of this noble exercise is an activity for kings and princes, and the most prepared teacher who can best teach the military art, in both theory and practice".
The work is dedicated to the Conde Duque de Olivares and was printed in 1634 by Francisco Martínez (active 1627-45) in Madrid. The text, printed in an elegant Roman script, is adorned by three folded copperplates depicting hunting scenes, engraved initials, and other ornaments. Antonio Sancho Dávila y Toledo, Marqués de Velada (1590–1666) said of the wonderful work: "The treatise is a teacher of real exercises, and is robust, useful for all, and not easy; in this lesson entertained with decorum and illustrated with assisted successes of incomparable majesty, the author deserves praise and the book deserves a printing license to communicate it…"
Codicology
Alternative Titles

Herkunft und Würde von Caça

Size / Format

280 pages / 21.0 × 15.0 cm

Origin

Date

1634

Epochs

Style

Genre

Language

Illustrations

3 copper engravings and architectural title page, xylographic decorative initials

Content

Treatise on hunting

Artist / School

Juan Mateos (author)
Francisco Martínez (printer)
---
Available facsimile editions:
Facsimile Editions
#1

Origen y Dignidad de la Caça

Limited Edition:

3160 copies

Binding:

Parchment binding on wooden board; presented in a cloth-lined case with gold engraved leather spine

1 volume: Exact reproduction of the original document (extent, color and size)

Reproduction of the entire original document as detailed as possible (scope, format, colors). The binding may not correspond to the original or current document binding.
You might also be interested in: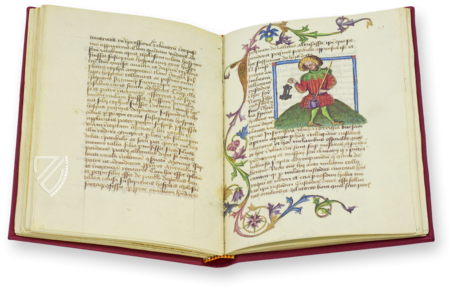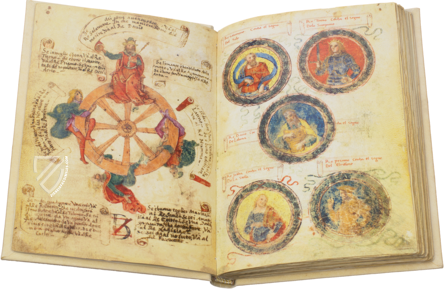 Book of Sorts
Perugia (Italy) – Written in 1482; Illuminated in the first decade of the 16th century
An illuminated parlor game and the first "best seller" in Italy: questions and answers about the fate of the players, conceived by the most prestigious scholar of Umbria at the time
Experience More
Blog articles worth reading