Paris Psalter
Description
Created during the mid-11th century in England, possibly Wessex, the Paris Psalter is distinguished from other Psalters because it is an unusually tall and thin codex that incorporates 13 pen and ink drawings in the text, which is also adorned by blue, green, and golden initials. The text is written in two columns: the left column has the Latin text of the Psalter with the first fifty Psalms paraphrased in West-Saxon prose while the rest of the Psalms are translated into a metrical form of Anglo-Saxon. The West-Saxon translation is traditionally attributed to King Alfred the Great and the Psalter's prose and poetic vernacular was influential and widely studied throughout England. In 1402, the coveted manuscript was listed in the inventory of the library of the famous bibliophile Duke Jean de Berry.
Codicology
Alternative Titles

Paris-Psalter




Psalterium duplex, latinum et anglo-saxonicum




Latin 8824

Size / Format

374 pages / 52.6 × 18.6 cm

Origin

Date

Second half of the 11th century

Epochs

Style

Genre

Language

Script

Carolingian minuscule

Illustrations

13 pen drawings; Large golden initials at the beginning of the psalms and hymns; Small golden, blue and green initials at the beginning of each verse

Artist / School

Wulfwinus (scribe)
Facsimile Editions
#1

The Paris Psalter
Commentary:
1 volume by Bertram Colgrave

1 volume: Exact reproduction of the original document (extent, color and size)
Reproduction of the entire original document as detailed as possible (scope, format, colors). The binding may not correspond to the original or current document binding.
You might also be interested in: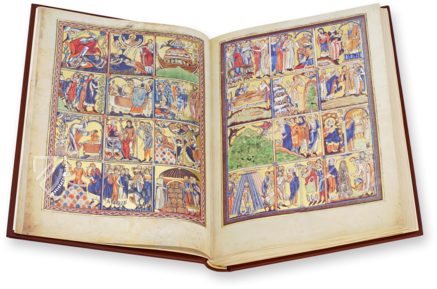 Great Canterbury Psalter
Canterbury (United Kingdom) and Catalonia (Spain) – Ca. 1200 and ca. 1350
Started in Canterbury, completed 150 years later in Spain: a large and magnificently illuminated Psalter in the transition from Romanesque to Gothic to the new Italian style
Experience More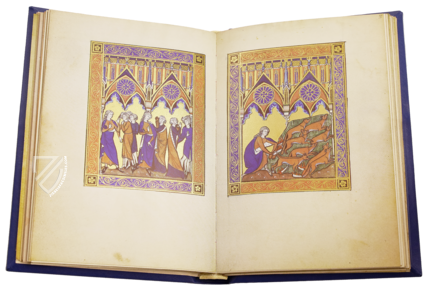 Psalter of Louis the Saint
Paris (France) – 1260–1270
Miniatures like luminous church windows of the Gothic period: the stained glass of Sainte-Chapelle in one of the most beautiful masterpieces of French illumination
Experience More
Blog articles worth reading