Pericopes of Henry II
Description
The Pericopes of Henry II is the most beautiful and extreme expression of the aesthetic of the Liuthar group, a collection of manuscripts produced between 990 and 1015 in the famous scriptorium of Reichenau Abbey, the largest and most important in Europe at the time. Emperor Henry II (973–1024), the only canonized German monarch, commissioned numerous luxury biblical manuscripts, a sign not only of his personal piety, but of the close ties between his imperial administration and the church. The last of the Saxon dynasty, his reign also saw the peak of Ottonian art, during which time some of the greatest masterpieces of medieval illumination were created, and which directly preceded the emergence of Romanesque art, Europe's first international artistic style. This large format manuscript is distinguished by dozens of large gold historiated initials and miniature pages with brilliantly burnished gold backgrounds, some of the first to appear in western illumination.
Pericopes of Henry II
Unlike a normal Gospel book, a pericopes only features the specific Gospel passages to be read during a mass, and are arranged according to the liturgical year so as to simplify finding the correct passage. The Pericopes of Henry II is one of the last and most outstanding specimens of Ottonian illumination, which is named after the Ottonian dynasty (919–1024), a line of German kings and emperors from Saxony, of whom three were named Otto. It was created between 1007 and 1012 in the scriptorium of Reichenau Abbey, the largest and most influential of the 10th and 11th centuries, which is located on Lake Constance. Measuring 42.5 x 32 cm, this is a large-format luxury manuscript intended for public display in church and processions, as well as a representation of the wealth, sophistication, and piety of its patron, Emperor Henry II (973–1024). The clear and elegant Carolingian minuscule in which the text is written is adorned by 28 full-page miniatures, 10 decorative pages, and 184 large historiated initials, all of which is housed in a binding that likely originated in Bamberg or Regensburg and consists of gold and silver with iconographic enamels and a detailed ivory plate. This is a magnificent medieval manuscript in every sense of the word!
Opulent Ottonian Illumination
Before the emergence of Romanesque art during the 11th century – the first international European style – Ottonian art consists of the manuscripts, metalwork, wood and ivory carvings, wall paintings, and sculptures produced in the 10th and early 11th centuries in Germany, northern Italy, the Low Countries and eastern France. Ottonian art united the aesthetics of Late Antique, Carolingian, and Byzantine art while also incorporating some elements of Insular art. The style is grand and monumental, sometimes excessively so, and although it was not initially as sophisticated as the Carolingian art that preceded it, ca. 1000 Ottonian art developed its own striking intensity and expressiveness, "a solemn monumentality is combined with a vibrant inwardness, an unworldly, visionary quality with sharp attention to actuality, surface patterns of flowing lines and rich bright colors with passionate emotionalism". Artistic production was limited to a few centers like Echternach, Lorsch, Trier, Reichenau, and Regensburg, working in the employ of the imperial family, other high ranking nobles, and princes of the church. However, what Ottonian art lacks in quantity, it makes up for in quality, as the best talent and materials were concentrated in these places and benefited from lavish commissions. As a result, Ottonian scribes and illuminators were responsible for the majority of the most magnificent illuminated manuscripts to be produced during the Middle Ages.
The Last Ottonian Emperor
At only 21 years of age, Emperor Otto III (b. 980) caught a fever and died in 1002 while on campaign in Italy. He had lived long enough to have some magnificent works of art created at his behest, but not long enough to produce a son and heir, thus his death created a dynastic crisis for the empire. Otto's second cousin, Duke Henry IV of Bavaria, was the great-grandson of Emperor Henry I (ca. 876–936) and outmaneuvered his rivals to become Henry II, King of Germany (1002), Italy (1004) and Holy Roman Emperor (1014). Having received a church education in his youth, Henry II was a learned and pious monarch who strengthened imperial ties with the church, employing large numbers of clerics as imperial officials to counter the nobles' ambitions. This helped to consolidate and strengthen imperial rule, as did the incorporation of Bohemia into the empire. Henry II was also a great patron of the arts, commissioning numerous splendidly illuminated manuscripts that include, aside from the specimen at hand, the so-called Sacramentary of Henry II, noteworthy for its lavish coronation page and splendidly-detailed ivory cover depicting the Crucifixion. Although Henry II like Otto III died without an heir and the crown would pass to the Salian dynasty of Franconia, he is remembered as Germany's only sainted monarch, canonized in 1146 by Pope Eugene (ca. 1080–1153).
Reichenau's Famous Liuthar Group
This group of manuscripts from Reichenau includes historic treasures produced between 990 and 1015 such as the Bamberg Apocalypse, the Gospels of Otto III, and the Liuthar Gospels, so named after the lead monk responsible and now more broadly applied to the whole. Unlike other schools of Ottonian art that attempted to adhere more strictly to classical forms, the group of manuscripts known as the "Liuthar Group" broke from this tradition in favor of an extremely transcendental style with "marked schematization of the forms and colors", e.g. monochromatic, symbolic backgrounds rather than naturalistic ones. Forms were flattened draperies were stylized, and with regard to figures, the "emphasis is not so much on movement as in gesture and glance" and their importance is indicated by their size. Furthermore, the Liuthar group introduced Byzantine-style backgrounds of burnished gold into western illumination, which are featured prominently in the Pericopes of Henry II, considered to be the most extreme expression of the group, where "the figure-style has become more monumental, more rarified and sublime, at the same time thin in density, insubstantial, mere silhouettes of color against a shimmering void". All of this results in an aesthetic that is as unique as it is beautiful.
Codicology
Alternative Titles

Perikopenbuch Heinrichs II.

Size / Format

412 pages / 42.5 × 32.0 cm

Origin

Date

1007–1012

Epochs

Style

Language

Script

Carolingian minuscule

Illustrations

28 gold-decorated full-page miniatures, 10 decorative pages with impressive gold initials against a purple background, and 184 other large decorative initials

Patron

Emperor Henry II

Artist / School

Liuthar group
---
Available facsimile editions:
Detail Picture
Pericopes of Henry II
Portrait of Luke the Evangelist
This fine Evangelist portrait has all the hallmarks of Ottonian illumination: classical forms, imperial purple, and gleaming a gold leaf background. As his Evangelist Symbol – the winged bull or ox – looks down approvingly and holding the Gospel about to be written, Saint Luke works diligently and uses both hands: his right hand holds a gold stylus and his left holds a pen-knife. The scene is remarkably Byzantine with respect to its burnished gold background and the rigidity of its forms.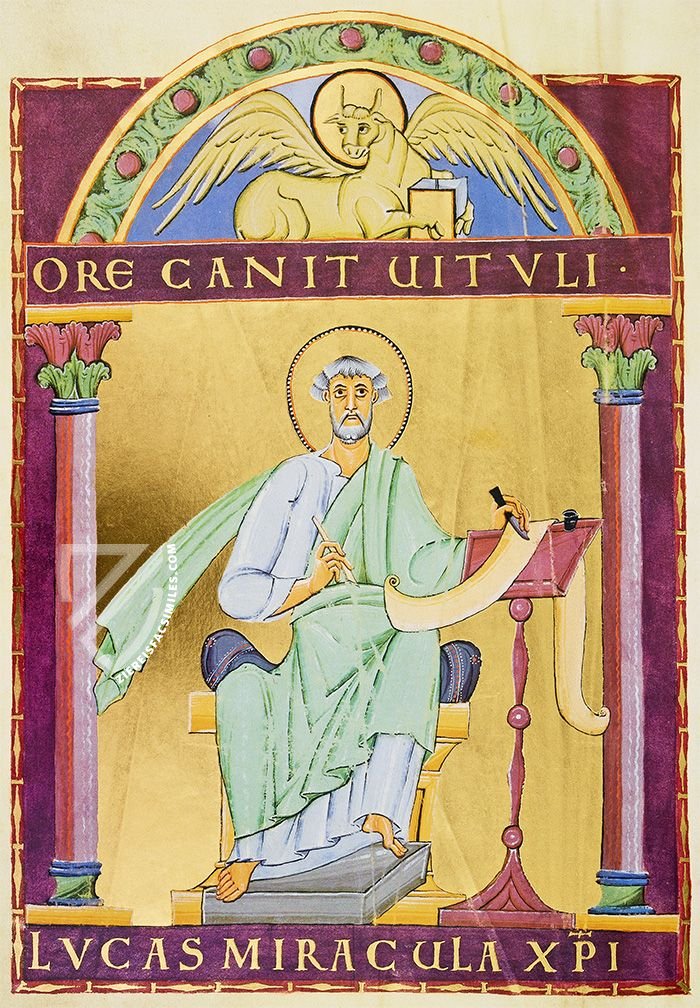 Single Page
Pericopes of Henry II
Nativity of Jesus
This Nativity scene is an exemplary Ottonian composition: static figures with large eyes and expressive gestures, classically-styled robes, and a background consisting of bands of monochromatic colors and Byzantine-style burnished gold leaf. The Holy Family is depicted wearing purple robes, a nod to this manuscript's origins from an imperial commission.
Two angels are depicted looking down from heaven and the upper half of a third pops up from the timeless and spaceless gold background as though just appearing in the room. An ox and donkey sticking their heads through the windows represent Jews and Gentiles. The scene is unusual for lacking the Magi, depicting Christ as a young man, and greatly upgrading the accommodations in which he was born to a castle.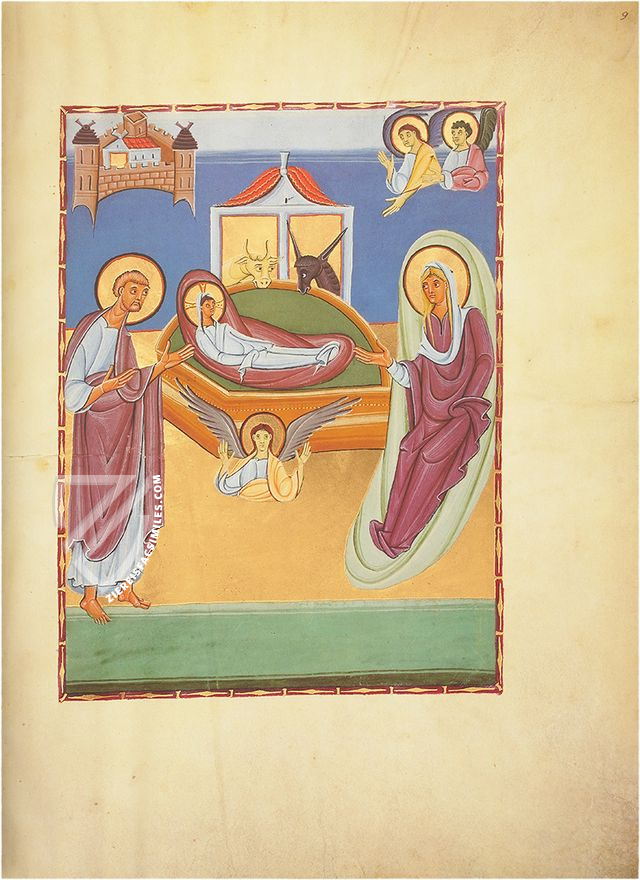 Facsimile Editions
#1

Perikopenbuch Heinrichs II.

Limited Edition:

500 copies

Binding:

Green raw silk. Metal applications of the back of the original manuscript as a replica on the front of the facsimile.

Commentary:

1 volume by Florentine Mütherich and Karl Dachs
Language: German

1 volume: Exact reproduction of the original document (extent, color and size)

Reproduction of the entire original document as detailed as possible (scope, format, colors). The binding may not correspond to the original or current document binding. Co-published with S. Fischer Verlag, Stuttgart.