Poems by Chaucer, Hoccleve and Lydgate
Description
Poems by Chaucer, Hoccleve and Lydgate
Likely originating from ca. 1450, this manuscript, considered the finest of the Oxford Group of Chaucer manuscripts, represents a compilation of minor works from leading English literary figures of the Late Middle Ages. They include Geoffrey Chaucer, the author of the famous Canterbury Tales, Thomas Hoccleve, and John Lydgate of Bury. The English text, a fascinating source for literary historians, is neatly written in a single column and is embellished by red and blue initials. A full-page miniature depicting Roman gods and a late-16th century sketch of an Elizabethan noblewoman adorn the opening pages of the codex.
Poems by Chaucer, Hoccleve and Lydgate
The fine mid-15th century manuscript stored under the shelf mark MS. Fairfax 16 in Oxford's Bodleian Library is a precious source of minor works from the most important English authors of the Late Middle Ages including Geoffrey Chaucer (ca. 1342/43–1400), Thomas Hoccleve (1368–1426), and Lydgate of Bury (ca. 1370 – ca. 1451). Overall, the contents are united by common themes of courtly love poetry. It appears to have been made from a series of booklets, all written in the same hand, which were bound together at the patron's request. It is the oldest collection of Chaucer's minor poems, which he seems to have never collected into an authoritative edition in his lifetime, publishing them instead in a set of booklets, none of which has survived due to their fragility.
The House of Fame
This manuscript is important as a witness to Chaucer's vision poems, The House of Fame in particular. Probably written between 1374 and 1385, it is one of his earliest works. It is a dream vision composed in octosyllabic couplets in which the poet finds himself in the glass temple filled with images of famous historical and mythological figures. Guided by an eagle, he contemplates the nature of fame and the credibility of records concerning the lives and deeds of the famous. The poem is also significant as a milestone marking the beginning of a period of Italian-influenced works in Chaucer's career and appears to parody Dante's Divine Comedy with respect to its tripartite structure and references to various personalities.
A Gothic Miniature and an Elizabethan Portrait
The text is preceded by a full-page miniature with a floral border and a coat of arms that hints at the secular nature of the poems. It is divided into three parts: dressed in red at the top, Jupiter looks down at Mars in full armor and an ermine-lined cape on the left, to the right of which a nude Venus crowned with flowers and surrounded by doves stands in a river, while in the corner Vulcan works at his anvil. The coat of arms belongs to John Stanley (d. 1469) of Hooton, Cheshire, Usher of the Chamber and Serjeant of the Armoury, but does not necessarily mean the manuscript was created for him. British illuminator William Abel, who was active between 1440 and 1460, appears to be responsible for the miniature. Sometime in the late 16th century, a sketch of an Elizabethan lady wearing an elaborate ruff or millstone collar and a diagram of an orrery with the motto Cor mundanum or "worldly heart" was added to one of the blank flyleaves at the beginning of the manuscript.
Codicology
Alternative Titles

Gedichte von Chaucer, Hoccleve und Lydgate

Origin

Date

Ca. 1450

Epochs

Style

Genre

Script

Littera bastarda

Content

62 works by Geoffrey Chaucer, Thomas Hoccleve, John Lydgate of Bury, and others

Artist / School

Geoffrey Chaucer (author)
Thomas Hoccleve (author)
John Lydgate (author)
William Abell (illuminator)
Facsimile Editions
#1

Bodleian Library, MS Fairfax 16

Commentary:

1 volume by John Norton-Smith
Language: English

1 volume: Exact reproduction of the original document (extent, color and size)

Reproduction of the entire original document as detailed as possible (scope, format, colors). The binding may not correspond to the original or current document binding.
You might also be interested in: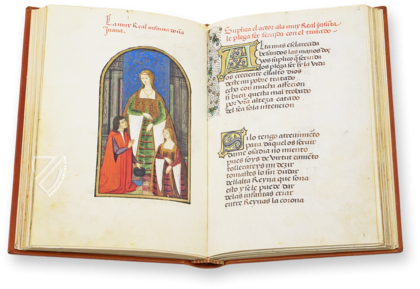 Collection of Tales, Fables, and Proverbs
France – 13th century
61 tales, fables, fabliaux, proverbs, romances, and Partenopeus de Blois including the popular Floire et Blanchefleur: no other copy exists for about twenty of the works, making this precious book treasure a true unicum
Experience More
Blog articles worth reading