Prayer Book of Elector Maximilian I of Bavaria
Description
Prayer Book of Elector Maximilian I of Bavaria
A gem from the court workshop of Rudolph II in Prague, which came into the possession of Prince-Elector Maximilian I of Bavaria and bears his name today and as such, the precious prayer book is presented in the full splendor of late illumination ca. 1600. Maximilian, occasionally called "the Great", was a powerful Catholic ruler during the 30 Years' War and a major patron of the arts. His splendid prayer book likely originated at the behest of Holy Roman Emperor Rudolf II, whose court was in Prague. It is filled with impressive depictions of flowers and animals in astonishing realism alongside the nine wonderful miniature pages. This book treasure is additionally crowned by its spectacular binding, a precious silver-enamel book jacket by Hans Lecker, the most important goldsmith from Nuremberg, created in the year 1574, which is considered to be a work of art in its own right.
Prayer Book of Elector Maximilian I of Bavaria
A mouse gnaws on an acorn, a large beetle crawls over a book page, and a splendid butterfly flutters between sweet fruits and colorful blossoms. Such pictures in astonishing realism make up the marginal adornments of the text pages in the Prayer Book of Elector Maximilian I of Bavaria. The motifs of flowers, fruits, and animals are depicted extremely true to nature, are subtly shaded, and visualize the entire skill of the miniaturist. Splendidly frilly initials of the finest gold ornamentation on powerfully luminous backgrounds complete this visual experience.
Prague Miniature Painting
Alongside this exuberant marginal decoration, one almost forgets the nine full-page miniatures that illustrate the religious texts of the prayer book. These are presented as wonderfully opulent depictions of biblical scenes. For example, the scene of the Annunciation is immersed in warm light, the angel shines amidst a sea of soft clouds, and astonishment is written all over the face of the Virgin Mary. An unknown painter in Prague ca. 1600 is responsible for this splendor. The manuscript originated presumably at the behest of Holy Roman Emperor Rudolf II (1552–1612) at his court in Prague.
From Prague to Munich
The magnificent manuscript finally came into the possession of Prince-Elector Maximilian I of Bavaria by unknown paths. Maximilian I (1573–1651), Duke of Bavaria, was a prince-elector of the Holy Roman Empire as of 1623. He exerted himself actively in the Counterreformation and the Thirty Years War and is considered to be the actual founder of the Catholic League. Aside from his political ambitions, Prince-Elector Maximilian was also a great patron of the arts. As a result, distinguished artists were active at his court in Munich, e.g. Peter Candid, Friedrich Sustris, and Adrian de Vries.
The Binding as a Stand-Alone Work of Art
This historical treasure, found today under the shelf mark Clm 23640 of the Bayerischen Staatsbibliothek, is protected by a splendid cover. This silver-enamel book jacket originates from the year 1574 and is a work by Hans Lenckers, the most import goldsmith from Nuremberg alongside Wenzel Jamnitzer. The splendid silver binding is adorned with florally-colored enamel and furnished with a gilded spine, claps, and eight studs. A worthy covering for this treasure of late illumination!
Codicology
Alternative Titles

Gebetbuch Kurfürst Maximilians I. von Bayern




Officium Mariae et defunctorum; psalmi graduales et poenitentiales

Size / Format

132 folios / 14.0 × 8.8 cm

Origin

Date

1574 (silver binding) 1604–1612 and 1623 (illumination)

Epochs

Style

Genre

Language

Script

Humanistic minuscule

Illustrations

9 full-page miniatures; numerous depictions of plants and animals; ornamented initials

Content

Prayers for different times of the day and night

Patron

Emperor Rudolf II (1552–1612)

Artist / School

Hans Lencker (goldsmith)
Giulio Clovio (illuminator)

Previous Owners

Prince-Elector Maximilian I of Bavaria (1573–1651)
---
Available facsimile editions: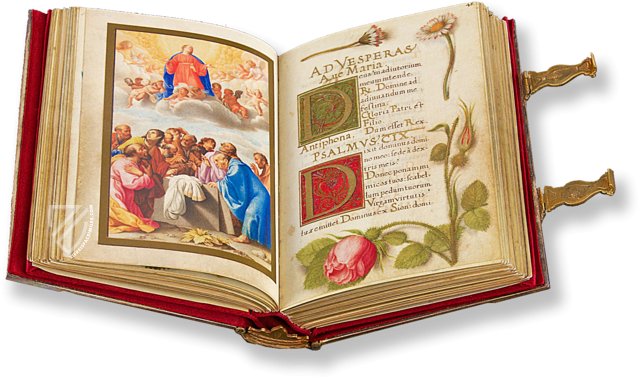 Coron Verlag
– Stuttgart, 1986
Limited Edition:
250 copies (of 980 copies)
---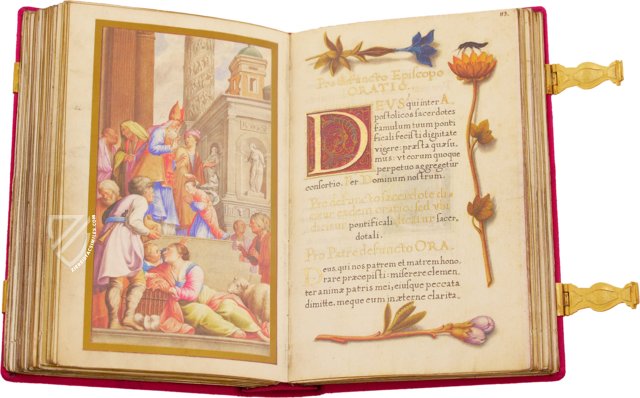 Müller & Schindler
– Stuttgart, 1986
Limited Edition:
730 copies (of 980 copies)
Detail Picture
Prayer Book of Elector Maximilian I of Bavaria
The Annunciation
Archangel Gabriel suddenly appears and kneels before the Virgin Mary: "Then the angel said to her, 'Do not be afraid, Mary, for you have found favor with God. And behold, you will conceive in your womb and bring forth a Son, and shall call His name Jesus. He will be great, and will be called the Son of the Highest; and the Lord God will give Him the throne of His father David. And He will reign over the house of Jacob forever, and of His kingdom there will be no end'." (LK. 1:30-33)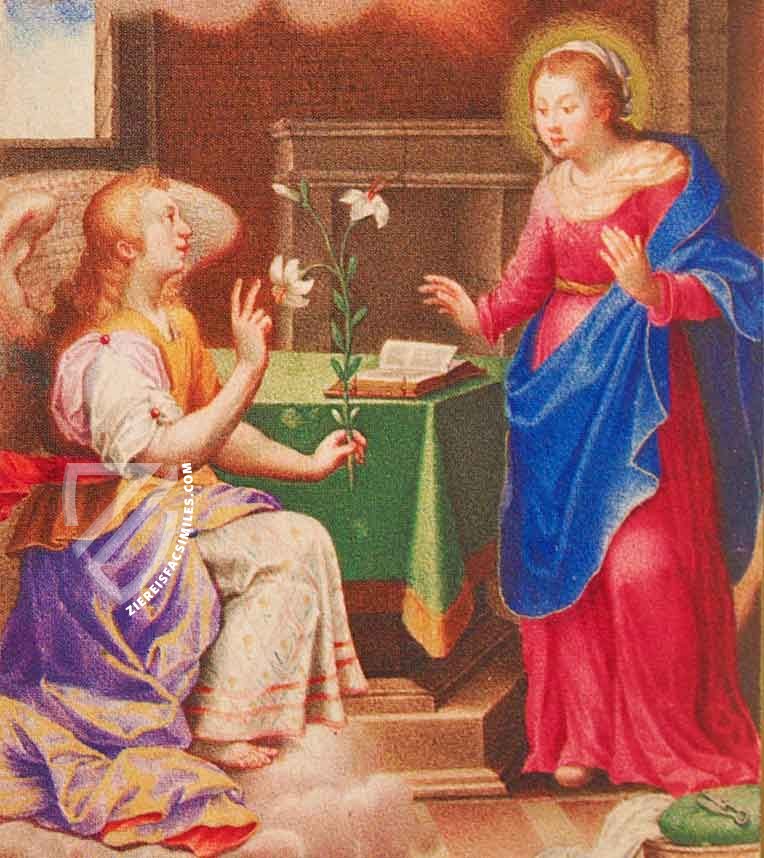 Single Page
Prayer Book of Elector Maximilian I of Bavaria
Incipit Page: Psalm 94
Presented with a splendid golden "V" initial set against a blue background with classically-styled tendrils, the opening lines of Psalm 94 are presented in a beautifully-executed Humanist miniscule with some letters and words enlarged and written in gold ink. While adornment from this period can be overly busy, the artist shows great restraint here, allowing for plenty of open space.
At the bottom of the page, the lovely depiction of a mouse nibbling an acorn is painted with such realism that it could almost be a photograph. The flowering tendril with a caterpillar climbing up it, as well as the ladybug to the left, are similarly naturalistic and charming in equal measure. Subtly-drawn shadows help the artist to create this lovely pastoral aesthetic.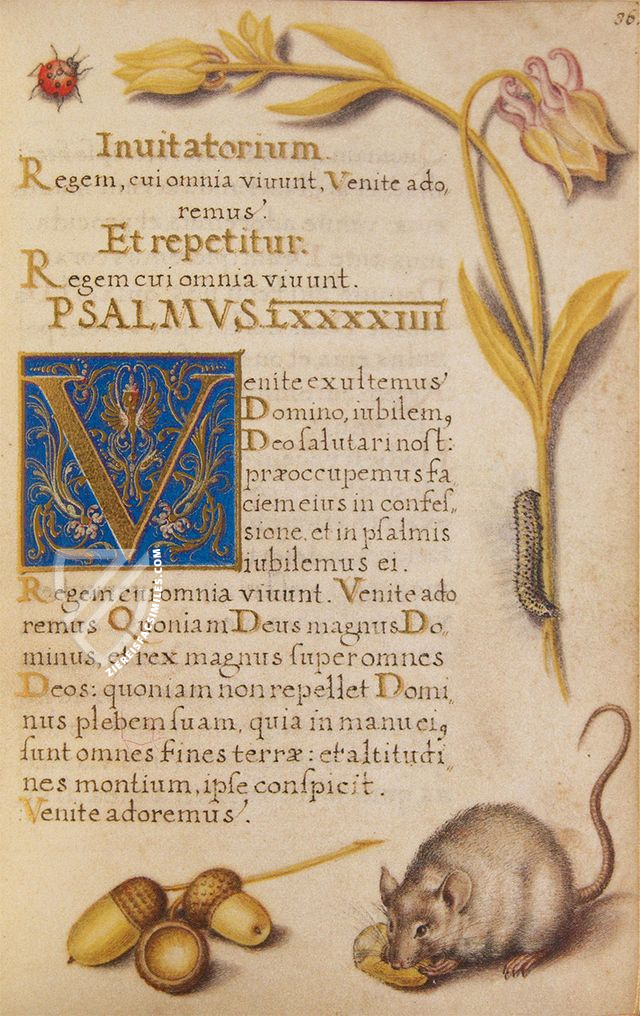 Facsimile Editions
#1

Gebetbuch Kurfürst Maximilians I. von Bayern (Deluxe Edition)

Limited Edition:

250 copies (of 980 copies)

Binding:

Red duchesse natural silk binding corresponding to the original; replica of the original silver enamel book cover by Hans Lencker from 1574

Commentary:

1 volume
Language: German

1 volume: Exact reproduction of the original document (extent, color and size)

Reproduction of the entire original document as detailed as possible (scope, format, colors). The binding may not correspond to the original or current document binding.

Facsimile Copy Available!

Price Category: €€€
(3,000€ - 7,000€)
---
#2

Gebetbuch Kurfürst Maximilians I. von Bayern (Standard Edition)

Limited Edition:

730 copies (of 980 copies)

Binding:

Red velvet binding with gilt fittings

Commentary:

1 volume by Rupert Hacker
Language: German

1 volume: Exact reproduction of the original document (extent, color and size)

Reproduction of the entire original document as detailed as possible (scope, format, colors). The binding may not correspond to the original or current document binding.

Special Offer until 01/31/2024 (like new)

1,499

€