Prophecies of Nostradamus
Description
Prophecies of Nostradamus
The name Nostradamus is synonymous with prophecy and the writing of the French astrologer and physician Michel de Nostredame has been consistently popular since it was first published in the 16th century. A particularly fine edition from 1594 is presented here, which is adorned with 54 colorful illustrations.
Prophecies of Nostradamus
Michel de Nostredame (1503–66), remembered by his Latinized name Nostradamus, is famous for his predictions of future events. The French astrologer and physician first published a work in 1555 titled Les Propheties. The fourth edition, published posthumously in 1568, is the most complete and is a collection of poems and quatrains organized into ten sets of verses consisting of 100 quatrains each. Nostradamus originally wrote the text in a mixture of French, Greek, Latin, and Occitan, with some scholars claiming this was done to purposefully make the text difficult to understand and thus evade the persecution of the Holy Inquisition. It has rarely been out of print since then and has been consistently popular across the centuries, with devotees throughout history claiming that the text has predicted recent historical events. The 1594 edition at hand was printed in Latin and Spanish, translated by Amadeo Taboada Cid, and features 54 colorful illustrations and charts. It is a part of the grand collection of the Royal Library Monastery of San Lorenzo de El Escorial. The work is nearly 1,000 pages long and is housed in an embossed brown leather binding. It is a wonderfully designed specimen of the most famous prophetic text in history.
Codicology
Alternative Titles

Tratado Apocaliptico 1594




Las Profecias de Nostradamus




Prophezeiungen des Nostradamus

Size / Format

988 pages / 35.0 × 24.0 cm

Date

16th century

Epochs

Style

Illustrations

54 illustrations

Artist / School

Amadeo Taboada Cid (author)
---
Available facsimile editions:
Facsimile Editions
#1

Las Profecías de Nostradamus

Limited Edition:

995 copies

Commentary:

1 volume by Manuel Mariño, Manuel Afonso Iglesias Otero, Eduardo Pardo de Guevara, and Darío Villanueva

1 volume: Exact reproduction of the original document (extent, color and size)

Reproduction of the entire original document as detailed as possible (scope, format, colors). The binding may not correspond to the original or current document binding.
You might also be interested in: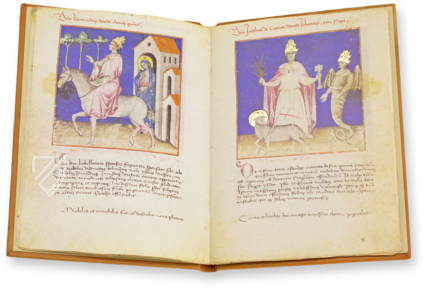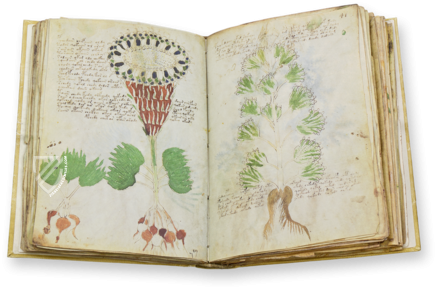 Voynich Manuscript
France, Italy or Spain – End of 15th century or during the 16th century
Secret teachings, a work of extraterrestrials, or just an elaborate joke: undoubtedly the most mysterious and puzzling manuscript in the history of book illumination
Experience More
Blog articles worth reading