Salerno Exultet Roll
Description
We're currently adding this record to our database.
Please contact us if you need further information about this manuscript. Thanks!
Codicology
Alternative Titles

Rotolo Salernitano dell'Exultet




Salerno Exultet Rotulus




L'Exultet di Salerno




Salerno Exultet-Rolle

Size / Format

1 scroll / 820.0 × 47.0 cm

Origin

Date

Late 12th century – first half of the 13th century

Epochs

Style

Genre

Language

Script

Gothic Textura

Content

Easter Proclamation, or hymns for the Easter Vigil's celebration
---
Available facsimile editions:
Istituto Poligrafico e Zecca dello Stato
– Rome, 1993
Limited Edition:
1000 copies
Facsimile Editions
#1

L'Exultet di Salerno

Limited Edition:

1000 copies

Binding:

The facsimile consists of 11 plates (format 57.5 x 92.5 cm) presented in a canvas folder.

Commentary:

1 volume by Giuseppe Zampino, Guglielmo Cavallo, and Antonia D'Aniello
Language: Italian

1 volume: Exact reproduction of the original document (extent, color and size)

Reproduction of the entire original document as detailed as possible (scope, format, colors). The binding may not correspond to the original or current document binding.
You might also be interested in: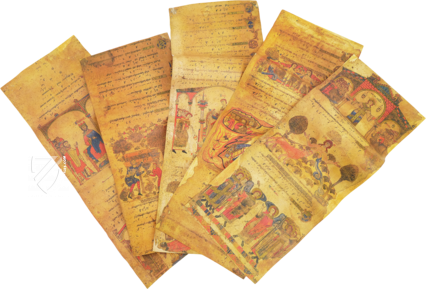 Barberini Exultet Roll
Montecassino Abbey (Italy) – ca. 1058
Created at the behest of Abbot Desiderius (1058–1087) from Monte Cassino: a Romanesque art treasure and one of the last scrolls ever made
Experience More
Exultet Roll
Benevento (Italy) – 981–987
Hymns for the Easter Vigil: The oldest surviving copy in the world of an "Exultet" role
Experience More
Blog articles worth reading