Seneca's Tragedies
Description
During the Middle Ages, Italian humanists rediscovered the works of Lucius Annaeus Seneca the Younger (ca. 4 BC – AD 65), a Roman Stoic philosopher, statesman, and dramatist. Among the most important were his tragedies, which were hugely influential on both the French neoclassical and Elizabethan tragedies. As such, Seneca's influence can be seen in both the works of Jean Racine (1639-99) and William Shakespeare (1564-1616). An exceptionally illuminated 14th century manuscript of the work was created by the so-called Master of the Seneca dei Girolamini, one of the most representative and skilled illuminators of the Angevin age. Tabular miniatures making use of dreamy blue backgrounds and glimmering gold leaf in the margins surround and illustrate the text along with extensive ornamentation and decorative friezes. An exceptional visual and emotional impact arouse in the reader some myths that Seneca recalls in his tragedies and that the illuminator accurately portrays, such as the descent of Hercules into Hades and the capture of Cerberus, or the poignant story of Orpheus and Eurydice.
Codicology
Alternative Titles

Tragedie di Seneca




Seneca Girolamini




Senecas Tragödien

Size / Format

458 pages / 32.0 × 23.0 cm

Origin

Date

Last quarter of the 14th century

Epochs

Style

Genre

Language

Script

Gothic

Illustrations

87 pages illuminated by miniatures, historiated initials and borders

Content

Hercules Furens; Troades; Phoenissae; Medea; Phedra; Agamemnon; Hercules Oetaeus; Oedipus, Thyestes; Hyppolitus

Artist / School

Master of the Seneca Girolamini

Previous Owners

Giuseppe Valletta
---
Available facsimile editions: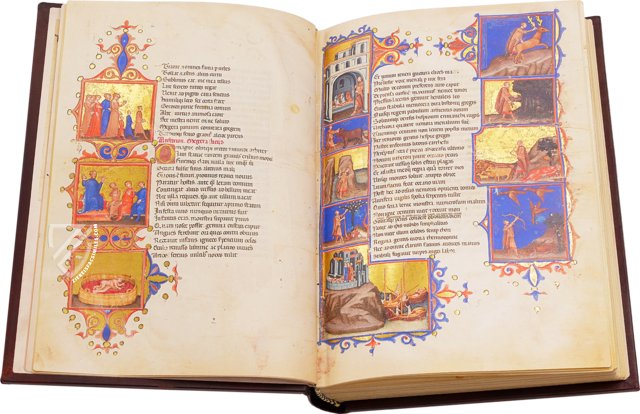 Istituto dell'Enciclopedia Italiana - Treccani
– Rome, 2018
Limited Edition:
290 copies
Facsimile Editions
#1

Seneca. Il Teatro

Limited Edition:

290 copies

Commentary:

1 volume by Marco Cursi, Carla Maria Monti, Maria Perriccioli Saggese, Massimo; Bray, and Alma Serena Lucianelli
Language: Italian

1 volume: Exact reproduction of the original document (extent, color and size)

Reproduction of the entire original document as detailed as possible (scope, format, colors). The binding may not correspond to the original or current document binding.
You might also be interested in: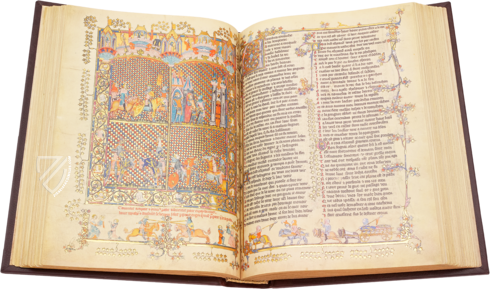 Alexander Romance - The Travels of Marco Polo
Tournai (Belgium); London (United Kingdom) – 1338–1410
Begun in Flanders, completed in London, and now a treasure of the Bodleian Library in Oxford: luminous miniatures and fascinating pas-de-page paintings in a large-format compendium of the most popular tales of the Middle Ages
Experience More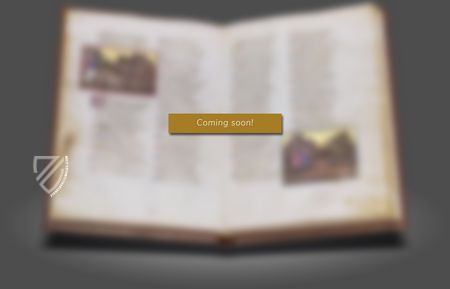 Petrarca: Trionfi - Rome Codex
Florence (Italy) – Second half of the 15th century
Grandiose art to embellish grandiose art: an accurately and filigree illuminated masterpiece of Renaissance illumination in honor of the most famous poem of the great Francesco Petrarch
Experience More
Blog articles worth reading