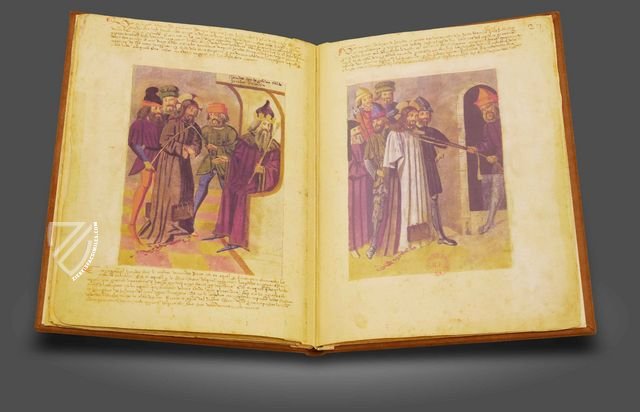 Speculum Animae
Valencia (Spain) — Late 15th century
The work by Sister Isabell de Villena (1430–90) addresses the Passion of the Christ and other religious themes

Sister Isabell was the illegitimate daughter of the Marqués de Villena (1384–1434), a high-ranking Spanish noble

No less than 75 miniatures illustrate this content in delightful, subtle pen drawings
Speculum Animae
Short Description
This wonderful Spanish manuscript of the Speculum Animae originated in the late 15th century as a work by Sister Isabell de Villena, who was from the highest social circles of the Kingdom of Castile. The Mirror of the Soul contains religious meditations about biblical themes, whereby the focal point lies on the Passion of the Christ. No less than 75 miniatures illustrate this content in wonderful pictures!
Speculum Animae
An enigmatic image composition is found immediately on the first pages of the manuscript: four medallions with mysterious scenes are always arranged around a simple red cross in the middle. Thus, we find depictions of Christ before the kneeling faithful, three men united by a halo – the Holy Trinity? –, a skeleton standing in a green field, or a wondrous monster. However, the motifs of these round picture tablets also include a gentle river landscape, a compass, and an angel.
An Impressive Testimonial to Catalonian Faith
All of these depictions illustrate a religious devotional book with the Latin title of Speculum Animae, Mirror of the Soul. Sister Isabell de Villena is considered to be the scribe and artist responsible for this impressive Catalonian manuscript. **Isabell de Villena (ca. 1430–1490) was the daughter of the famous Marqués de Villena, an important Castilian noble in the 15th century. She worked in the Real Monasterio de la Trinidad in Valencia, for which the Speculum Animae was made. The manuscript disappeared from there during the 18th century and finally reached the Spanish National Library in the 19th century.
63 Biblical Scenes
Aside from the enigmatic medallions already mentioned, the 88-page manuscript is also decorated with 63 full-page miniatures. These illustrate spiritual meditation on the Passion of the Christ with delightful, subtle pen drawings, which are also painstakingly colored. Alongside a depiction of Adam and Eve in Paradise, one primarily finds detailed scenes from the Life of Christ, from the Annunciation and birth to the Passion. Elegant, elongated figures are reminiscent of Gothic design vocabulary, and the colorful clothing and headdresses allow us to draw conclusions about the fashion of the period. As a result, the manuscript of the Speculum Animae by Isabell de Villena is an all-around impressive testimonial to Catalonian illumination and faith in the late 15th century!
Codicology
Alternative Titles

Soul´s mirror

Type

Size / Format

88 pages / 33.0 × 25.0 cm

Origin

Date

Late 15th century

Epochs

Style

Genre

Illustrations

75 miniatures, 63 of them at full-page

Artist / School

Isabel de Villena
1 available facsimile edition(s) of "Speculum Animae"
Speculum Animae Facsimile
Speculum Animae Facsimile
1 volume: Exact reproduction of the original document (extent, color and size)
Publisher

Edilan – Madrid, 1992

Limited Edition

1500 copies

Binding

Mudejar binding in leather

Commentary

1 volume by Albert Hauf i Valls and Daniel Benito Goerlich


More Information

Reproduction of the entire original document as detailed as possible (scope, format, colors). The binding may not correspond to the original or current document binding.
Matching Works
Liber scivias
Lost in World War II: one of the main works by the famous abbess and visionary Hildegard von Bingen with her theological-cosmological findings
Experience More
Matching Background Articles
15th Century

Come and explore an age of stark contrasts as Europe comes back from the brink: calamities like the Fall of...

Experience more