Statuta Collegii Sapientiae
8140 (A0105)
Universitätsarchiv Freiburg (Freiburg, Germany)
Description
Statuta Collegii Sapientiae
Founded by Johannes Kerer in 1495, the Collegium Sapientiae is the oldest dormitory in Freiburg im Breigau and one of the oldest in Germany. It was originally established to provide room and board for twelve destitute students because Kerer had benefitted from a similar scholarship in Heidelberg during his studies. After the original building was destroyed in World War II, a new dormitory was built in 1968, which incorporated a few surviving elements of the Gothic structure and houses one hundred students today. Kerer personally wrote the Statuta Collegii Sapientiae or Statutes of the Collegium Sapientiae in Freiburg University between 1496 and 1501. The 1497 version is preserved in this manuscript, nearly every page of which is beautifully illuminated with interesting vignettes and amusing marginalia.
Codicology
Alternative Titles

Statutes of the Collegium Sapientiae in Freiburg University




Statuten des Collegiums Sapientiae der Universität Freiburg

Origin

Date

1497

Epochs

Style

Genre

Language

Script

Gothic

Content

Regulations for the students at the Collegium Sapientiae of the University of Freiburg im Breisgau

Artist / School

Johannes Kerer (author)
---
Available facsimile editions:
Facsimile Editions
#1

The Statutes of the Collegium Sapientiae in Freiburg University
Commentary:
1 volume by Josef H. Beckmann
Language: German

1 volume: Exact reproduction of the original document (extent, color and size)
Reproduction of the entire original document as detailed as possible (scope, format, colors). The binding may not correspond to the original or current document binding.
You might also be interested in: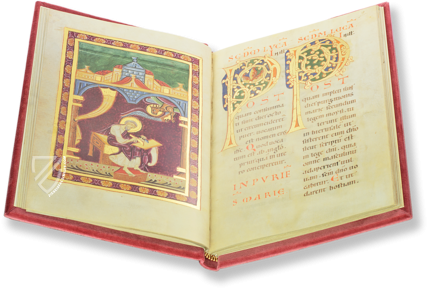 Golden Book of Pfäfers
Monastery of Reichenau (Germany); Pfäfers (Switzerland) – ca. 1070–1450
An ongoing work for centuries: splendid Romanesque and Gothic illumination and an important testimony to medieval monastic life
Experience More
Blog articles worth reading