The Art of Illumination
Description
We're currently adding this record to our database.
Please contact us if you need further information about this manuscript. Thanks!
Codicology
Alternative Titles

Die Kunst der Illumination

Origin

Date

14th–16th century

Epochs

Style

Language

Content

Five leaves from important manuscripts

Artist / School

Gothic and catalan style (1410)
Johannes Zurn of Nyposheim
Flemish artist inspired by Italian Renaissance (16th Century)
---
Available facsimile editions:
Facsimile Editions
#1

Die Kunst der Illumination

Limited Edition:

299 copies

Binding:

Cassette decorated with replica of a miniature in synthetic resin

1 volume: 5 leaves under passe-partouts: Exact reproduction of the original document (extent, color and size)

Reproduction of the entire original document as detailed as possible (scope, format, colors). The binding may not correspond to the original or current document binding.
You might also be interested in: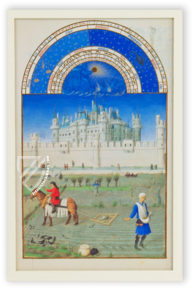 The Festive Year
Paris (France); Bruges (Belgium) and others – 9th–15th cemtury
How the sun calendar has determined holy days for millennia: the history of feast days in wonderful miniatures
Experience More
Blog articles worth reading