The Twelve Zodiacal Signs and Their Myths
Description
The Twelve Zodiacal Signs and Their Myths
The signs of the zodiac and the mythology surrounding them have been prominent in numerous civilization throughout history, enjoying tremendous popularity in the Late Middle Ages and Early Modern Period. Astrology continues to fascinate modern mystics and the gorgeous surviving specimens of medieval art concerning astrology are also a valuable source for historians and researchers from various disciplines.
The Twelve Zodiacal Signs and Their Myths
Astrology and the signs of the zodiac in particular were among the most popular subjects for book artists of the Late Middle Ages. Often appearing in the calendar pages of prayer books alongside labors of the month or in the margins of maps, the growing popularity of these mythological symbols reflects the increasingly secular culture of the emerging Renaissance and the embrace of classical, even pagan ideas by inquisitive Europeans. This selection of single sheets represents a survey of some of the finest and most famous astrology-themed miniatures and calendar pages created between the 12th and 16th centuries, and simultaneously represent the most prestigious collections of medieval manuscripts in the world from Vatican City to the City of Angels – Los Angeles.
1. Aries, Breviary of Mayer van den Bergh, 1510, Museum Mayer van den Bergh, Antwerp
2. Aquarius, Stammheimer Missale, Hildesheim, 1160–1180, The J. Paul Getty Museum, Los Angeles
3. Pisces, Hours of the Duke of York, Rouen, 1430–1440. Bibloteca Apostiloca Vatican, Rome
4. Scorpio, Les Très Riches Heures du Duc de Berry, Paris, 1413, Musée Condé, Chantilly
5. Sagittarius, Les Petite Heures du Duc de Berry, Paris, 1372–1390, Bibliothèque nationale de France, Paris
6. Capricorn, Book of Hours, Netherlands/Bruges (?), 1500, Bayerische Staatsbibliothek, Munich
7. Leo, French Book of Hours, 1500, British Library, London
8. Virgo, The Bedford Hours, 1420, British Library, London
9. Libra, Grandes Heures du Duc de Rohan, Paris, 1430–1435, Bibliothèque nationale de France, Paris
10. Taurus, Book of Hours of Isabella the Catholic, 1450–1460, Real Biblioteca del Palacio Real, Madrid
11. Gemini, Grandes Heures d'Anne de Bretagne, Paris, 1503–1508, Bibliothèque nationale de France, Paris
12. Cancer, Flemish Calendar, Bruges, 1525, Bayerische Staatsbibliothek, Munich
Codicology
Alternative Titles

Kasssette Herrscher des Himmels




Die zwölf Tierkreiszeichen und ihre Mythen

Origin

Date

12th–16th century

Style

Language

Illustrations

12 miniatures

Content

The Twelve Zodiacal Signs and Their Myths

Patron

Jean, Duc de Berry and others

Artist / School

Bedford Master, Limbourg Brothers, Simon Bening and others
---
Available facsimile editions:
Detail Picture
Mayer van den Bergh Breviary
March: Pruning and Digging
This splendidly colorful and atmospheric labor of the month shows the garden of a castle in March, when preparations were made for the coming of spring. Pruning away old, dead tree limbs allows for the flourishing of new ones while digging up and turning over the soil invigorates it with fresh nutrients. A female figure on the right tends to herbs and the noble lord leans against a wall observing and directing the work of the four gardeners while two ladies look on in the background.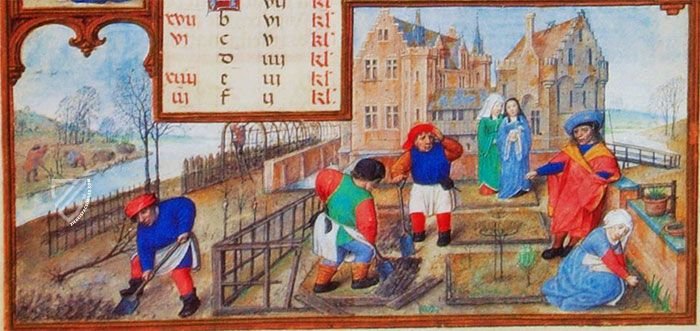 Single Page
Les Très Riches Heures du Duc de Berry
October: Sowing Winter Rye
Rye and other Winter crops are typically sown in autumn, germinate under the snow, and are among the first harvested in Spring. This calendar page from the esteemed Limbourg brothers features the gorgeous residence of this famous bibliophile as a background. This is an incredibly accurate and detailed depiction; it is not only a work of art but is also of immeasurable worth to historians.
Not only are the figure reliable depictions of contemporary people, they are portrayed with revolutionary realism, even with regard to their shadows. A farmer in a blue tunic spreads the seeds, and despite the scarecrow styled as an archer, birds flock to the field. Another farmer on a horse pulls a harrow with a stone on it to break up the soil.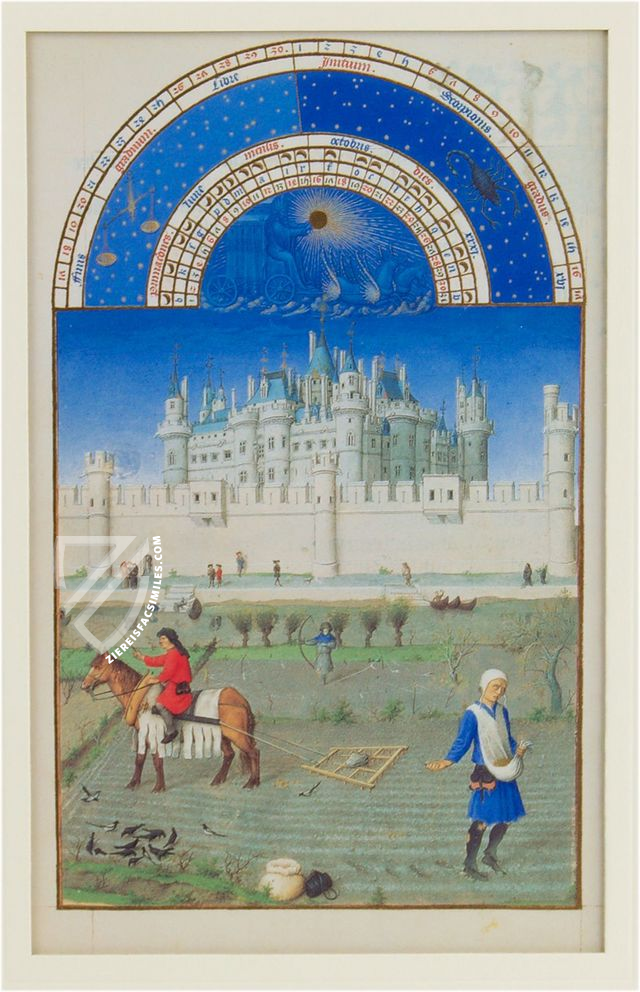 Facsimile Editions
#1

Kassette Herrscher des Himmels

Limited Edition:

1995 copies

Commentary:

1 volume
Language: German

1 volume: 12 leaves: Exact reproduction of the original document (extent, color and size)

Reproduction of the entire original document as detailed as possible (scope, format, colors). The binding may not correspond to the original or current document binding.
You might also be interested in:

The Festive Year
Paris (France); Bruges (Belgium) and others – 9th–15th century
How the sun calendar has determined holy days for millennia: the history of feast days in wonderful miniatures
Experience More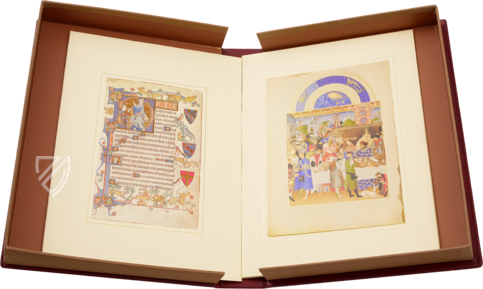 Leaves From Famous Books of Hours
Paris (France); Bruges (Belgium) and others – 14th–16th century
Stunning book art from libraries around the world: a diverse collection of masterful miniatures from some of the most famous and sophisticated books of hours of the Middle Ages
Experience More
Blog articles worth reading