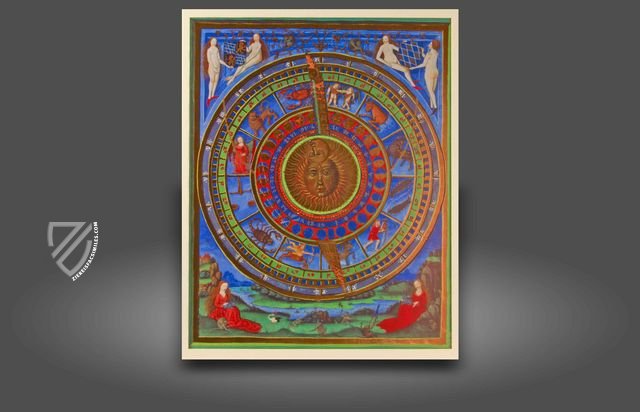 On the Stars
Paris (France); Bruges (Belgium) and others — 9th–16th cemtury
Astronomical models depicting planetary orbits in a series of concentric circles have their root in antiquity

By the Late Middle Ages, all seven planets would be depicted plus four more circles for fire, air, water, and earth

All is surrounded by a sphere of fixed stars held up by the angels – the medieval concept of the universe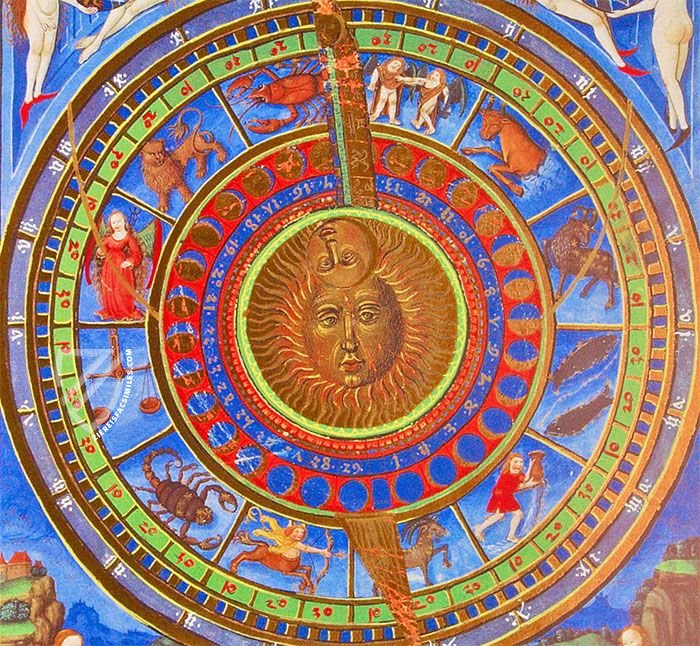 On the Stars
Alternative Titles:
Kassette Von den Gestirnen
Short Description
The ancients' knowledge of astronomy was mostly lost in the West after the Fall of Rome, but this spurred great interest in studying the stars. Although long outclassed by their counterparts in the Islamic World, medieval Europeans made important contributions to astronomy. Astronomical models depicting planetary orbits in a series of concentric circles have their root in antiquity but became common in the Middle Ages. By the Late Middle Ages, it was typical for all seven planets to be depicted, plus four more circles under the moon for fire, air, water, and earth. All of these were surrounded by a sphere of fixed stars held up by the angels. Astronomy manuscripts are counted among the finest examples of medieval miniature painting, they represent the splendid fusion of art and science.
On the Stars
Western astronomy stagnated after the Fall of Rome and began to revive during the Scholastic Renaissance of the 12th century. Nonetheless, the work was continued by people like Saint Isidore of Seville (c. 560–636), who attempted to reconcile the knowledge of ancient philosophers and scholars with that of the Church Fathers. Medieval astronomers sought to establish a symbiotic relationship between the principles of Ptolemy's astronomy and those of Aristotle's physics, and to reconcile the differences between them. Scholars from the Arab world were particularly distinguished as astronomers. Depicting the theories and findings of the great stargazers of history was the task of illuminators who created a genre of medieval manuscripts that boasts some of the most skillful and complex miniature painting to survive from the period. European treatises on the stars began to proliferate in the 15th century and took advantage of the more sophisticated techniques employed by Renaissance artists to represent the content of the texts being produced by astronomers at the time. Some of these works even sought to elucidate a connection between astronomy/astrology and health/medicine.
These ten pages offer an overview of splendidly illuminated medieval astronomical manuscripts:
1. Ursa Major and Ursa Minor
Aratea, Leiden University Library
Frankish Empire, 9th century
An Angel
Cosmography of Al-Kaswini, Staatsbibliothek, Munich
Iraq, 1280

Two Astronomers
Astronomical Manuscript of King Wenceslaus IV, Österreichische Nationalbilbiothek, Vienna
Prague, 1392–93

Alfonsine Star Tables
Astronomical Manuscript of King Wenceslaus IV, Österreichische Nationalbilbiothek, Vienna
Prague, 1392–93

January with the Zodiac Signs Capricorn and Aquarius
Tres riches heures de Duc de Berry, Musee Conde, Chantilly
Paris, ca. 1413

June with the Zodiac Sign Cancer
Bedford Hours, The British Library, London
London, ca. 1420

Venus
De Sphaera, Biblioteca Estense Universitaria, Modena
Upper Italy, ca. 1450–1470

The Sun
Natur des Weltalls, Herzog August Bibliothek, Wolfenbüttel
Utrecht, 1465–1470

Sundial with Zodiac Signs
Astrolabium Planum of Heidelberg, Heidelberg University Library
Regensburg, ca. 1491

The Anatomical Zodiac Man
Golden Calendar of Albert Glockendon from 1526, Staatsbibliothek, Berlin
Nuremberg, 1526
Codicology
Alternative Titles

Kassette Von den Gestirnen

Date

9th–16th cemtury

Genre

Illustrations

10 miniatures

Content

Ten leaves from important manuscripts
1 available facsimile edition(s) of "On the Stars"
Kassette Von den Gestirnen
Kassette Von den Gestirnen
1 volume: 10 leaves under passe-partouts: Exact reproduction of the original document (extent, color and size)
Publisher

Coron Verlag – Gütersloh, 2002

Limited Edition

1995 copies

Binding

Box

Commentary

1 volume
Language: German

More Information

Reproduction of the entire original document as detailed as possible (scope, format, colors). The binding may not correspond to the original or current document binding.
Matching Works
The Golden Calendar
From the most beautiful calendars of the Middle Ages: a collection of 13 calendar miniatures illuminated with monthly activities and zodiac symbols
Experience More
Matching Background Articles