The Golden Calendar
Paris (France); Bruges (Belgium) and others — 15th–16th cemtury
Many medieval manuscripts featured a calendar section, but they were particularly common in books of hours

One or more miniatures portrayed a typical labor of the month or activity along with the corresponding zodiac sign

The 13 single pages presented here represent some of the finest specimens of illuminated medieval calendars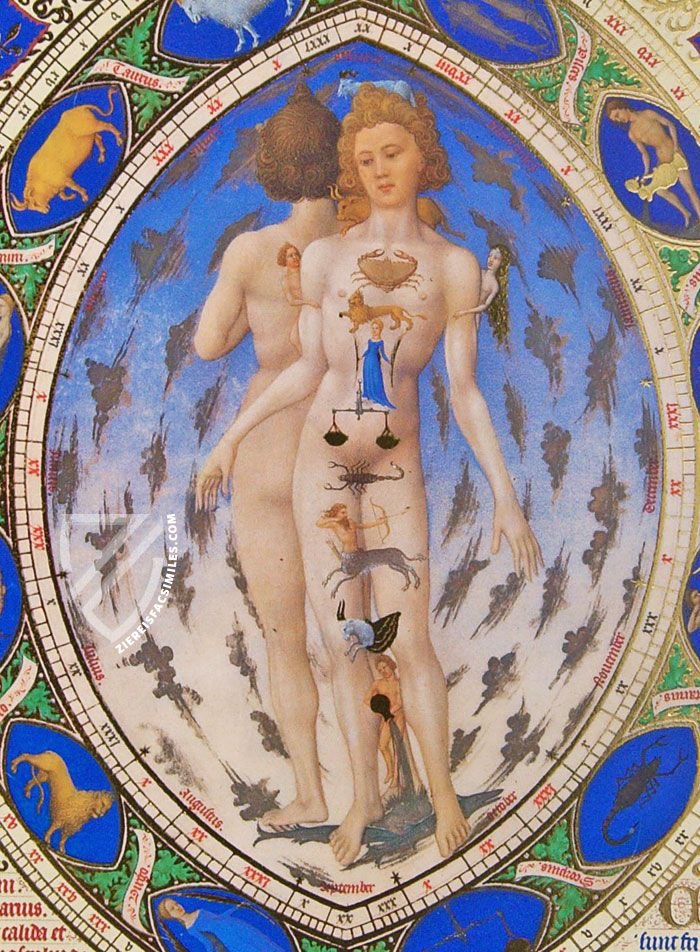 The Golden Calendar
Alternative Titles:
Kassette Der Goldene Kalender
Short Description
The calendar sections of medieval manuscripts gradually became more elaborate throughout the Middle Ages, with Late Gothic and Renaissance manuscripts often featuring elaborate scenic depictions. These presented an activity typical for the month, usually reflecting the region in which they were made, in addition to the respective zodiac sign or even constellations. In addition to their artistic value, medieval calendars are historically significant because of their evolution from the Roman calendar system to something resembling our modern system in manuscripts from the Late Middle Ages.
The Golden Calendar
The medieval calendar was different from the modern one, having more in common with the ancient Roman calendar until the end of the medieval period. Documents were dated according to regnal years, and the AD system was not introduced until the High Middle Ages. Many medieval manuscripts featured a calendar section, but they were particularly common in the books of hours that became popular during the Late Middle Ages. During the increasingly secular Renaissance, so-called calendar books emerged, which contained a calendar without prayer texts and might be appended by other helpful information in tables. These calendar pages often featured one or more miniatures rendered in expensive paints and gold leaf, usually in the form of medallions or marginalia, which would depict either a major holiday from the month, e.g. commemorating a saint's martyrdom, the corresponding zodiac sign, or a typical labor of the month, e.g. shearing sheep, harvesting grain, or pressing wine. This last decorative element makes these calendar pages a priceless resource on daily life in the Middle Ages, not only for the activities they portray, but also for the various tools and other objects which are detailed therein. As such, calendar pages are among the most beloved specimens of medieval art.
The 13 single pages presented here represent some of the finest specimens of illuminated medieval calendars to survive to the present:
1. January – Bedford Hours, Paris, ca. 1423–1430
Folio 2: February – Les Très riches Heures du Duc de Berry, Paris, ca. 1413

Folio 3: March – Rohan Hours, France ca. 1420

Folio 4: April – Book of Hours of James IV, Ghent (Bruges), ca. 1503–1513

Folio 5: May – Flemish Book of Hours, Flanders, ca. 1515

June – Les Très riches Heures du Duc de Berry, Paris um 1413

July – Golden Calendar of Albert Glockendon, Nuremberg, 1526

August – Breviarium Grimani, Bruges, ca. 1520

September – Black Prayer Book of Galeazzo Maria Sforza, Bruges, ca. 1466–1476

October – Hours of Mary of Burgundy, Ghent, ca. 1467–1480

November – Simon Bening's Flemish Calendar, Bruges, ca. 1540

December – Rohan Hours, France, ca. 1420

The Anatomical Zodiac Man – Les Très riches Heures du Duc de Berry, Paris, ca. 1413
Codicology
Alternative Titles

Kassette Der Goldene Kalender

Date

15th–16th cemtury

Epochs

Style

Genre

Illustrations

13 miniatures

Content

Thirteen leaves from important manuscripts
1 available facsimile edition(s) of "The Golden Calendar"
Kassette Der Goldene Kalender Facsimile
Kassette Der Goldene Kalender Facsimile
1 volume: 13 leaves under passe-partouts: Exact reproduction of the original document (extent, color and size)
Publisher

Coron Verlag – Gütersloh, 1990

Limited Edition

1495 copies

Binding

Box

Commentary

1 volume
Language: German

More Information

Reproduction of the entire original document as detailed as possible (scope, format, colors). The binding may not correspond to the original or current document binding.
Matching Background Articles