The Great Bird Book of Olof Rudbeck the Younger
Description
The Great Bird Book of Olof Rudbeck the Younger
Olof Rudbeck the Younger was the son of a distinguished scientist and writer in the fields of anatomy and linguistics of the same name. He carried on the family tradition by distinguishing himself as a pioneer in botany and ornithology and wrote extensively as a linguist. Rudbeckia is a genus of mostly perennial flowering plants that was named in honor of Rudbeck by his former student, the famous "father of modern taxonomy" Carl Linnaeus. The so-called Great Bird Book of Olof Rudbeck the Younger is a work begun ca. 1693 but was never published until a facsimile was made in 1985. Rudbeck went on to give a series of ornithological lectures between 1727 and 1731, which were the first of their kind in Sweden. Every page is adorned by full-page illustrations of various birds that are artful and realistic in equal manner.
The Great Bird Book of Olof Rudbeck the Younger
Olof Rudbeck the Younger (1660–1740) was born and educated in Uppsala, Sweden where he received an excellent education from his father and other skilled teachers. He studied medicine and his dissertation De propagatione plantarum, published in 1686, is considered to mark the birth of modern botany in Sweden. He received 100 ducats from Queen Ulrika Eleonora of Sweden (1656–93) for the work and was made an assistant professor at Uppsala University the same year.
Rudbeck spent the next few years studying botany in England, Germany, and Holland where he was promoted to Doctor of Medicine at Utrecht University in 1690 before returning to Sweden the following year to assume his responsibilities at Uppsala University, where he succeeded his father as professor of medicine. His thesis, Dissertatio de fundamentali plantarum notitia rite acquirenda, calls for a formalized system for naming plants, something that would be realized by a student of his a generation later: Carl Linnaeus (1707–78), inventor of the modern system of binomial nomenclature for naming organisms.
It was during this time that Rudbeck began work on his unpublished Great Bird Book and the incredibly accurate and naturalist drawings reveal his hidden talents as an artist. The book would serve as the basis for the revolutionary series of lectures he gave on ornithology between 1772 and 1731, the first of their kind in Sweden. Rudbeck is regarded as a pioneer of botany and ornithology and in recognition of his accomplishments and those of his deceased father, he was ennobled in 1719 by Queen Ulrika Eleonora the Younger (1688–1741).
Codicology
Alternative Titles

Das grosse Vogelbuch des Olof Rudbeck d. J.

Type

Size / Format

166 pictures / 44.0 x 28.0 cm

Origin

Date

Ca. 1693

Epochs

Style

Illustrations

Masterful full-page illustrations of various species of birds

Artist / School

Olof Rudbeck the Younger (1660–1740)
---
Available facsimile editions: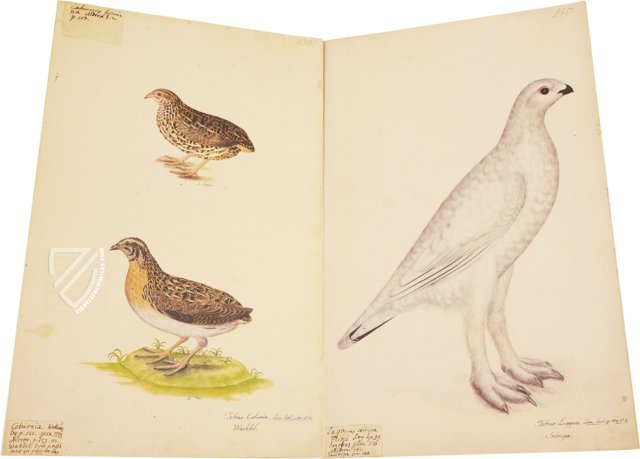 Belser Verlag
– Zurich, 1985
Limited Edition:
1000 copies
Detail Picture
The Great Bird Book of Olof Rudbeck the Younger
Great Spotted Woodpecker
The bane of homeowners or anyone trying to sleep in, woodpeckers are fascinating, if somewhat annoying creatures. This medium-sized woodpecker is found from Scandinavia to North Africa and as far east as Japan. Thanks partially to its omnivorous diet, this hardy bird enjoys a huge range and large population with no widespread threats. This is specifically a drawing of a juvenile male, which can be distinguished from adults by their bright red crown that shrinks as they mature.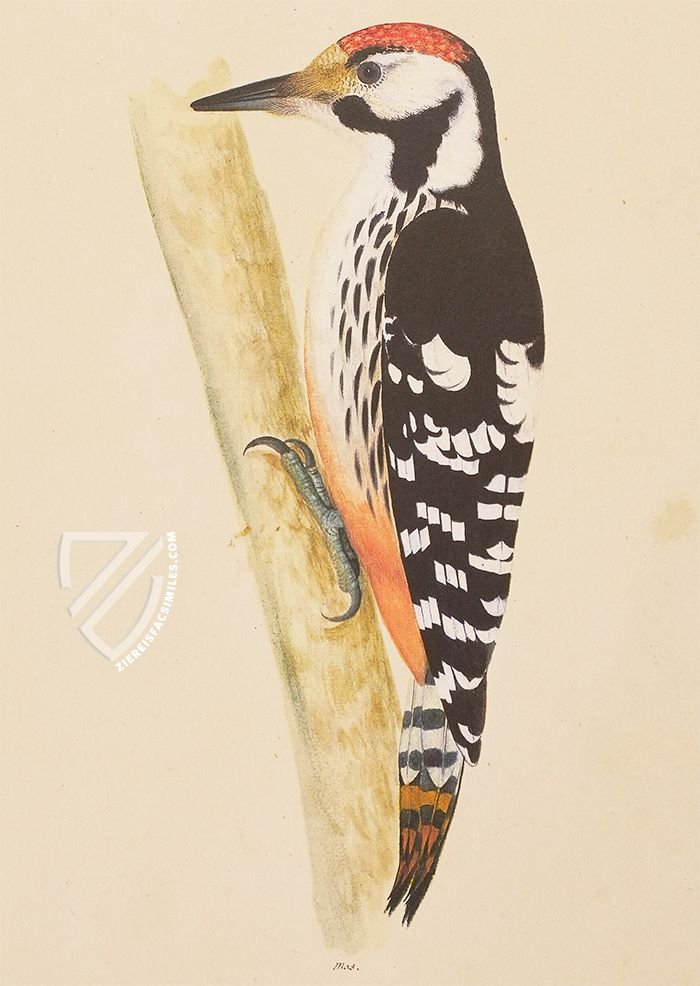 Single Page
The Great Bird Book of Olof Rudbeck the Younger
Long-Eared Owl
This medium-sized owl is a predator specializing almost entirely on small rodents and is depicted with detailed plumage grasping a mouse in its talons. It is partial to habitats along the edge of woodlands across Eurasia as well as North America that offer dense groves to roost in but are near open fields where they can hunt.
The object above its head and to the left is a pellet of undigested parts such as bones, fur, feathers, claws, and teeth that the owl regurgitates six to ten hours after a meal. Pellets also allow ornithologists to study the seasonal variation in owls' eating habits without resorting to dissection. Ornithologists have even found bird bands attached to other species, which were consumed by the winged predators.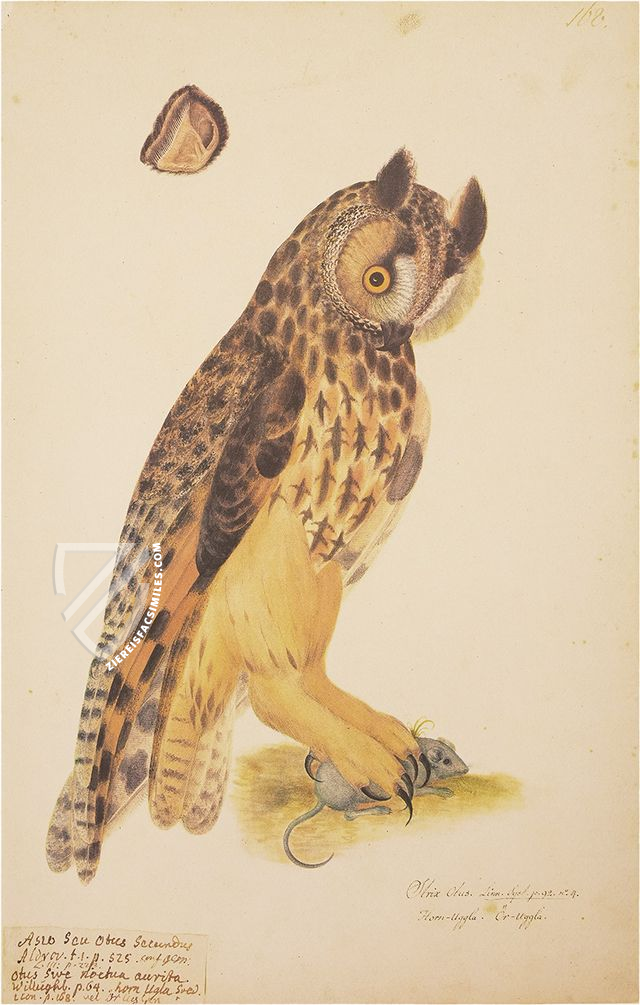 Facsimile Editions
#1

Das grosse Vogelbuch des Olof Rudbeck d. J.

Limited Edition:

1000 copies

Binding:

Facsimiles and commentary volume come in a representative cloth case

Commentary:

1 volume (122 pages) by Gunnar Broberg, Allan Ellenius and Gunnar Bruse
Language: German

1 volume: Exact reproduction of the original document (extent, color and size)

Reproduction of the entire original document as detailed as possible (scope, format, colors). The binding may not correspond to the original or current document binding.

Facsimile Copy Available!

Price Category: €€
(1,000€ - 3,000€)