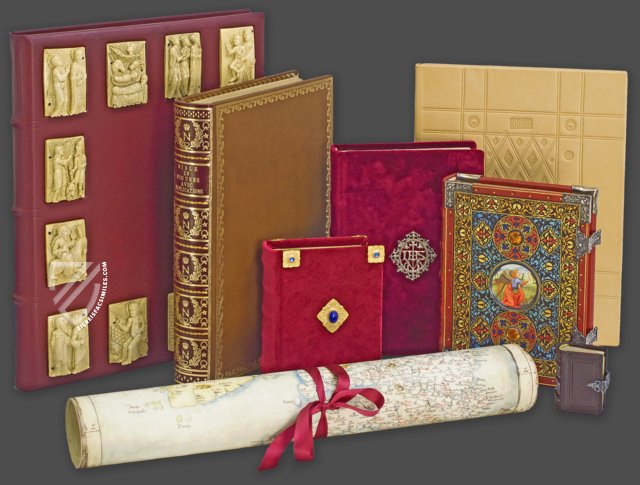 The Pageants of Richard Beauchamp
Short Description
We're currently adding this record to our database.
Please contact us if you need further information about this manuscript. Thanks!
Codicology
Alternative Titles

The Beauchamp Pageants

Size / Format

28 folios / 28.0 × 20.0 cm

Origin

Date

Last quarter of the 15th century

Epochs

Style

Language

Script

Gothic cursive

Illustrations

55 large pen drawings

Content

Biography of Richard Beauchamp, 13th Earl of Warwick

Previous Owners

Robert Glover
Sir Robert Bruce Cotton
Sir Thomas Cotton
Sir John Cotton
1 available facsimile edition(s) of "The Pageants of Richard Beauchamp"
The Beauchamp Pageants Facsimile
The Beauchamp Pageants Facsimile
1 volume: Exact reproduction of the original document (extent, color and size)
Commentary

1 volume by Alexandra Sinclair
Language: English


More Information

Reproduction of the entire original document as detailed as possible (scope, format, colors). The binding may not correspond to the original or current document binding.
Matching Works
Compilation of Oxford
A true unicum among medieval manuscripts: a blend of secular, religious, and practical texts written in Anglo-Norman French, Middle English, and Latin
Experience More
Matching Background Articles
Saints' Lives

How does one become a saint? Find out by reading about the lives of the saints and the example they set through their...

Experience more

Gothic

Gothic illumination is some of the most spectacular and iconic imagery of medieval art and first emerged in Northern...

Experience more

13th Century

Despite ongoing religious wars and the threat of Mongol invasion from the East, this is a time of great personalities,...

Experience more