Compilation of Oxford
Description
The Compilation of Oxford is a late-13th century commonplace book created between 1271 and 1283 and written in Middle English, Anglo-Norman French, and Latin containing nearly 100 texts of various genres including inter alia fabliau, romances, devotional and didactic texts, prognostications, charms, spells, and prayers. This manuscript was written by its owner and has amateurish scribal drawings and decoration, but also contains extremely rare and important examples of Early-Middle English. It is a priceless artifact for scholars of English and French linguistics as well as the history of literature.
Compilation of Oxford
With its marvelous variety of contents, the manuscript stored under the shelf mark MS Digby 86 in Oxford's Bodleian Library is completely unique. On its last folio, the scribe signs off with a self-portrait – a cartoonishly-drawn male head wearing a close-fitted hood – and an inscription: scripsi librum in anno et iii mensibus – "I wrote the book in a year and three months". His fifteen months' labor resulted in one of the most important miscellanies to survive from medieval England: quirky combinations of nearly 100 texts ranging from religion to science to secular literature and written in three languages: Middle English, Anglo-Norman French, and Latin. The so-called Compilation of Oxford includes medical recipes, charms, prayers, prognostications, magic tricks, pious doctrine, a liturgical calendar, religious songs, lively debates, poetry on love and death, proverbs, fables, fabliau, scurrilous games, and gender-based diatribes. Judging by the dialect used by the scribe, the manuscript originated in Gloucestershire or south Worcestershire from 1271-83.
A True Rarity
The fact that Digby is from the 13th century adds to its appeal, for English literary remnants from before 1300 are very rare. Scholars on both sides of the vernacular divide, French and English, are deeply intrigued by it. Some of its texts are found nowhere else, e.g. the French Arthurian Lay of the Horn and Strife between Two Ladies (a candid debate on feminine politics), and the English fabliau (comic, contrarian, and obscene tales originating from high medieval France) Dame Sirith and the fable The Fox and Wolf. It also contains the earliest surviving version of The Thrush and the Nightingale. The interpretations offered in this volume of its contents, presentation, and ownership, show that there is much to discover in Digby's lively **record of the social and spiritual pastimes of a book-owning gentry family. Aside from literary and religious texts, this is largely a handbook of practical information containing a calendar, a text on Arabic numerals, prognostications according to the day of the week on which Christmas falls, care of hunting birds, directions for calculating moveable feasts, and a list of English kings to Edward I. Two texts even deal with avoiding bad luck, one calculates lucky and unlucky days according to the moon, the other simply lists the unlucky days of the year – like feast days some are fixed and others are not.
History of the Manuscript
The manuscript was produced by the scribe Richard de Grimhill II (ca. 1263 – ca. 1308) for his own use and after his death seems to have passed to the Underhill family via his daughter Amice. Various marginal notes from members of the Underhill family along with a will appear in the manuscript. Thomas Allen (1540-1632) was a member of Trinity College, Oxford who acquired the book during the 16th century. The catalogue of his collection drawn up in 1622 lists Digby 86 as '80 A.I' with the reference number "I" written on f. 1r of the manuscript. The manuscript was bequeathed by Allen to Kenelm Digby (1603-65), who in turn donated it to the Bodleian Library in 1663.
Codicology
Alternative Titles

Sammelband von Oxford




Facsimile of Oxford, Bodleian Library, MS Digby 86

Size / Format

420 pages / 20.6 × 14.0 cm

Origin

Date

1271–1283

Epochs

Style

Genre

Script

Anglicana

Illustrations

About two dozen marginalia

Content

Compilation of 97 texts, including fables and romances, recipes, spells, as well as prayers and a calendar.

Patron

Richard de Grimhill II

Artist / School

Richard de Grimhill II (scribe)

Previous Owners

Richard de Grimhill II
Amice Grimhill
William Underhill
Thomas Allen
Kenhelm Digby
---
Available facsimile editions:
Facsimile Editions
#1

Facsimile of Oxford, Bodleian Library, MS Digby 86

Commentary:

1 volume by Judith Tschann and Malcolm B. Parkes
Language: English

1 volume: Exact reproduction of the original document (extent, color and size)

Reproduction of the entire original document as detailed as possible (scope, format, colors). The binding may not correspond to the original or current document binding.
You might also be interested in: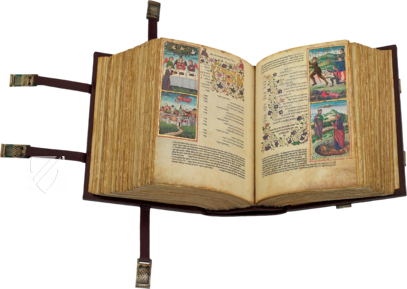 Rothschild Miscellany
Ferrara (Italy) – 1479
One of the most important testimonies of Jewish life in the Middle Ages and on the UNESCO World Heritage list today : a thousand-page anthology with 37 religious and secular Hebrew texts, magnificently illuminated in the Ferrara style
Experience More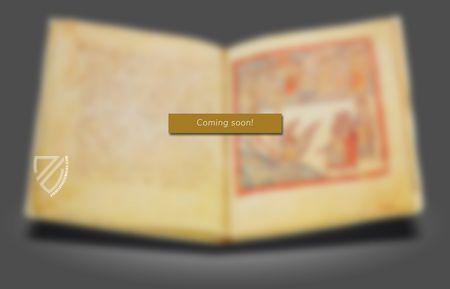 Blog articles worth reading