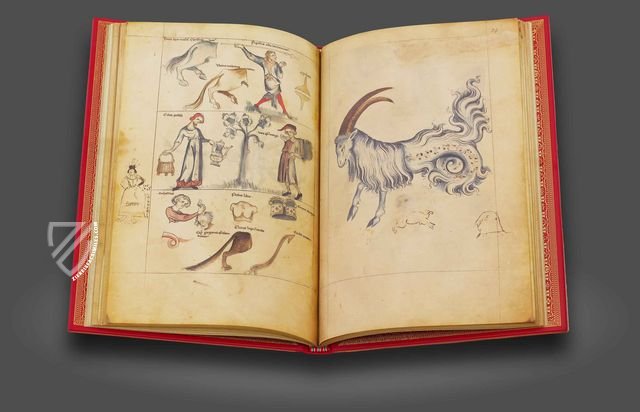 Treatise on Astrology by Albumazar
Netherlands — Ca. 1325–1375
Albumazar aka Abu Ma'shar (787–886) was a highly esteemed early Persian Muslim astronomer

The practical manuals he made for training astrologers were influential in both the East and West

This mid-14th century manuscript feature 72 dreamlike miniatures from the Netherlandish school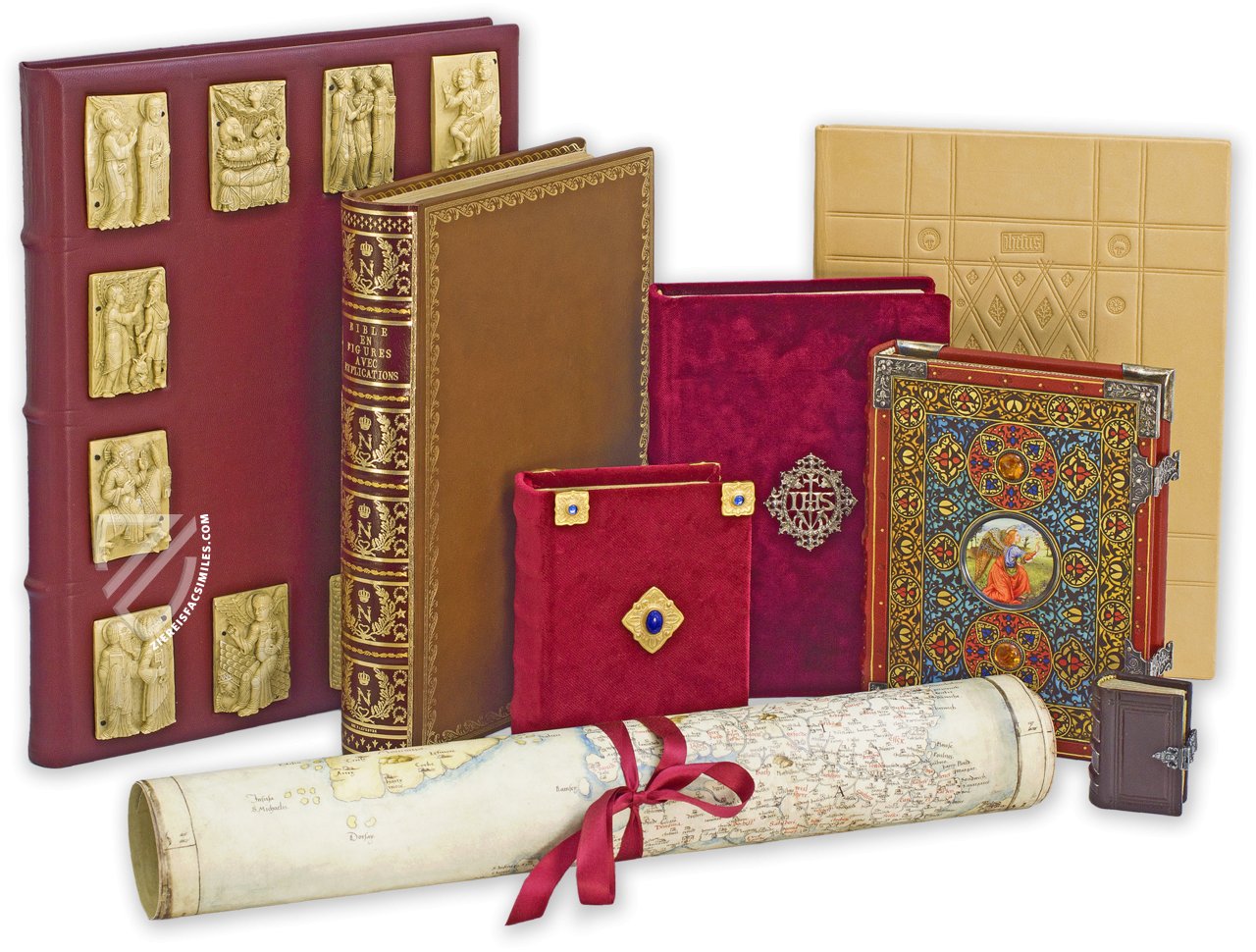 Treatise on Astrology by Albumazar
Alternative Titles:
Tratado de Albumasar (Liber astrologiae)
Abhandlung über Astrologie von Albumasar
Traktat der Sternbilder von Albumasar: Liber atrologiae
Short Description
Created in the mid-14th century, the Albumazar Treatise is one of the most fascinating picture books of the Middle Ages. Masterfully colored and shaded miniatures making use of delicate hues of green, purple, and blue adorn the manuscript, which is a testament to the contributions made by Arab civilization in the West and in Spain in particular. Its text consists of fragments from the writings of Albumazar, one of the greatest Muslim astronomers of all time, which was translated by the legendary Toledo school. The manuscript represents a sampling of the astral mythology of Egypt, Greece, Persia, and India. 72 splendid, dreamlike miniatures adorn the manuscript, which originate from unknown Netherlandish masters.
Treatise on Astrology by Albumazar
The stars reigned over all in the Middle Ages, at least in the minds of scholars who believed that astronomy/astrology had an influence over all other fields of medieval knowledge. Muslim scholars were particularly accomplished in the study of the heavens, and the splendidly adorned manuscript at hand contains the Latin translation of a work that summarizes various ancient traditions. This splendid mid-14th century manuscript presents the Treatise on Astrology by Albumazar with 72 dreamlike Gothic miniatures of the highest quality from Netherlandish school of illumination.
Who was Albumazar?
Often Latinized as Albumasar or Albumazar, Abu Ma'shar (787-886) was an early Persian Muslim astrologer regarded as the greatest astronomer of the Abbasid court in Baghdad. Although he did not personal make many new contributions to the field of astrology, his importance lies in his ability to interpret the knowledge of ancient astrology and translate that into practical manuals for training astrologers that proved to be hugely influential not only in the Muslim world but in Christendom as well. Abu Ma'shar commanded such respect as an authority on the stars that he was largely able to avoid religious persecution, save for one whipping as punishment for practicing astrology and another for foretelling an event that subsequently occurred. He also participated in a bitter dispute with the foremost Arab philosopher of his time, al-Kindi (ca. 796-873)
A Survey of Astral Mythology
Muslim civilization benefitted from the wealth of knowledge left behind in the Hellenistic libraries of the East, which came in the form of works from antiquity ranging from histories to poetry to medicine and astrology, which had a lasting effect on almost all fields of medieval knowledge. It was commonly believed since antiquity that there was a connection between astrology and medicine in particular, that the moon and stars had a similar effect on the human body as they did on the tides and other natural phenomena. As it happens, Muslim scholars excelled in both of these fields, and the work they did building on the ancient texts they inherited eventually made its way to the Greek-speaking Byzantines and the Latin West. This treatise is significant because it condenses the astral mythology of the great civilizations of Egypt, Greece, Persia, and India into a single lavishly illustrated book for the very first time. Its breathtaking iconographic cycle features not only unusual forms of the planets and the signs of the zodiac of Greek origin, but also a series of rather disconcerting images of constellations devised by different oriental cultures to pinpoint the position of the stars.
Codicology
Alternative Titles

Tratado de Albumasar (Liber astrologiae)




Abhandlung über Astrologie von Albumasar




Traktat der Sternbilder von Albumasar: Liber atrologiae

Size / Format

100 pages / 27.0 × 18.0 cm

Origin

Date

Ca. 1325–1375

Epochs

Style

Genre

Language

Script

Gothic Cursive

Illustrations

72 full-page miniatures; numerous colored drawings

Content

Treatise on astrology by Albumasar

Previous Owners

Sir Hans Sloane
1 available facsimile edition(s) of "Treatise on Astrology by Albumazar"
Tratado de Albumasar (Liber astrologiae) Facsimile
Tratado de Albumasar (Liber astrologiae) Facsimile
1 volume: Exact reproduction of the original document (extent, color and size)
Publisher

M. Moleiro Editor – Barcelona, 2020

Limited Edition

987 copies

Binding

Red Morocco leather binding with gold tooling

Commentary

1 volume
Language: Spanish

More Information

Reproduction of the entire original document as detailed as possible (scope, format, colors). The binding may not correspond to the original or current document binding.
Matching Background Articles
Astronomy / Astrology

Do the constellations capture your imagination the way they did the imaginations of medieval star-gazers? These beautiful...

Experience more