Tyrolean Fishing Book of Emperor Maximilian
Description
Tyrolean Fishing Book of Emperor Maximilian
This 500-year-old fishing book is not only one of the oldest of its kind, but also a masterpiece worthy of one of the greatest art patrons of the Renaissance: Emperor Maximilian I. He was not only a great military strategist and ruler, but also an enthusiastic hunter and fisherman. As such, he commissioned this magnificently illuminated book, which was intended to impart knowledge on the use, care, and protection of Tyrolean fish stocks both for the pleasure of fishing and to ensure the provisioning of the sovereign and his entourage. The descriptions of the Tyrolean Fishing Book of Emperor Maximilian I. are dedicated to specific types of waters, techniques, equipment, and seasons suitable for catching different species of fish. Richly detailed, colorful miniatures provide scenic illustrations to accompany the text. The fact that the text is legible for modern readers with a little practice adds to the manuscript's appeal. The book is not only interesting for anglers and fishermen, but also for biologists, historians, and art lovers.
Tyrolean Fishing Book of Emperor Maximilian
Maximilian I (1459–1519) Archduke of Austria and Holy Roman Emperor was one of the most influential figures of the Late Middle Ages. He combined the ideals of a medieval warrior-king, not only fighting personally in battle but placing himself in the front line, with that of a learned Renaissance prince, establishing himself not only as a great patron of the arts but an author in his own right. Although successful as a warrior, it was his marriage politics that allowed him to expand Hapsburg rule into much of the former Duchy of Burgundy, claiming the richness of the Netherlands, and into Bohemia and Hungary. His living descendants include King Felipe VI of Spain and Queen Elizabeth II of the United Kingdom. This policy has been described as: "Let others wage war, but thou, O happy Austria, marry; for those kingdoms which Mars gives to others, Venus gives to thee." When not occupied by affairs of state, Maximilian loved hunting and fishing. The Tyrolean Fishing Book of Emperor Maximilian was written by Wolfang Hohenleiter, an author specializing in hunting and fishing, and was illuminated by Jörg Kölderer (ca. 1465–1540), Maximilian's court painter and architect. Dated to 1504, it is a splendid manuscript that is of interest not only to anglers, but to biologists, historians, and art lovers as well.
Managing Tyrol's Fish Stocks
Maximilian's purpose in commissioning this manuscript was not merely to describe what kinds of fish lived where and how best to eat them, nor did he intend it purely for his own use. While his love of fishing certainly played a role, it was how best to exploit, manage, and protect these resources that motivated the Emperor for the nourishment of future sovereigns and their retinues. The fact that the names of the fish and bodies of water, as well as the dialect of Tyrol have not changed significantly in the last 500 years means that, with a little practice, the text of this work is quite accessible to modern readers. Specific bodies of water, techniques, equipment, and times of year for catching various types of fish are detailed both in the text and in the miniatures, which are remarkable for their detail and realism. Most of the bodies of water are small, including so-called "wild lakes", and although large lakes like the Achensee, Plansee, and Kalterer See are mentioned, large rivers like the Inn, Lech, and Etsch are not. With a few exceptions, only sovereign-owned bodies of water are depicted, 110 in all, with most no longer existing. Perhaps this is because the manuscript appears to be incomplete, which is indicated by some empty pages in various parts of the work. Aside from the fourteen miniatures, some of which are full-pages, gorgeous coats of arms and decorative initials in red and black adorn the text, which is written in an elegant hand. Today, the precious artifact, one of the oldest of its kind, is stored among the illustrious collections of the Austrian National Library under the shelf mark Codex Vindobonensis 7962.
Codicology
Alternative Titles

Fischereibuch Kaiser Maximilians I




Das Tiroler Fischereibuch Maximilians I




Fischereibuch of Emperor Maximilian I

Size / Format

112 pages / 33.2 × 23.2 cm

Origin

Date

1504

Epochs

Style

Genre

Language

Illustrations

14 miniatures, some of them full-page and many black and red initials

Patron

Maximilian I, Holy Roman Emperor (1459–1519)

Artist / School

Wolfgang Hohenleiter (author)
Jörg Kölderer (illuminator)
---
Available facsimile editions:
Detail Picture
Tyrolean Fishing Book of Emperor Maximilian
Duck Hunting with Falcons
Falconry was an important sport and status symbol among the medieval European nobility that required plenty of time, money, and space to practice. These three falconers are hunting for mallards, whose characteristic green heads can be clearly seen. One is richly dressed in black and yellow striped clothing, sitting on a horse, and holding out his arm as though he is about to unleash his falcon on the duck overhead. Another, dressed in a red tunic with knee-high boots, swings a lure in the air.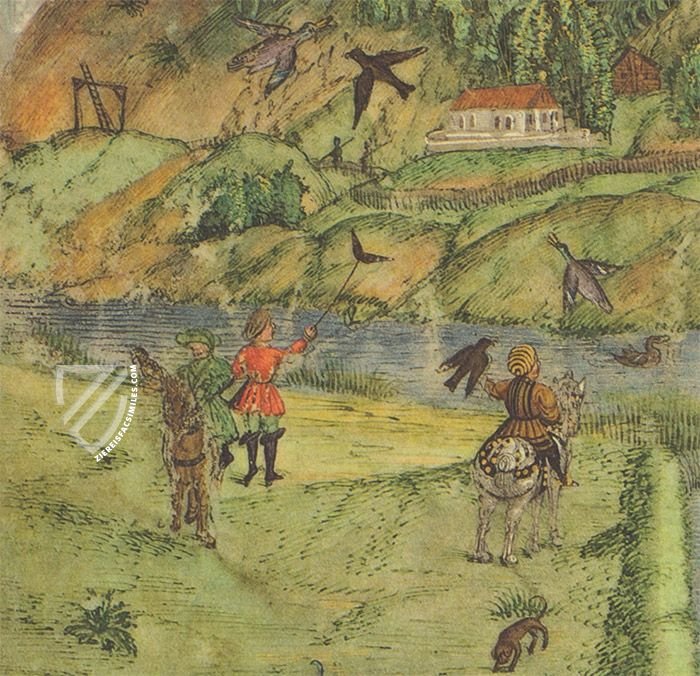 Single Page
Tyrolean Fishing Book of Emperor Maximilian
Fishing on Lake Achen
Called the Achensee in German, this deep Alpine lake is the largest in Tyrol and was a valuable fishery during the Middle Ages, which continues to boasts an extraordinary variety of fish today. It was also a favorite destination for the Austrian nobility to engage in elegant hunting and fishing parties and was beloved by Emperor Maximilian in particular.
A group of extravagantly dressed noblemen can be seen in the foreground of the miniature as fishermen pull in their catch with nets. Rams climb about the crags of the mountainside to the left while deer run through the woods to the right, both pursued by hunters. The Hapsburg coat of arms and Imperial Eagle seen above the front door indicate that the house is a residence of Maximilian's.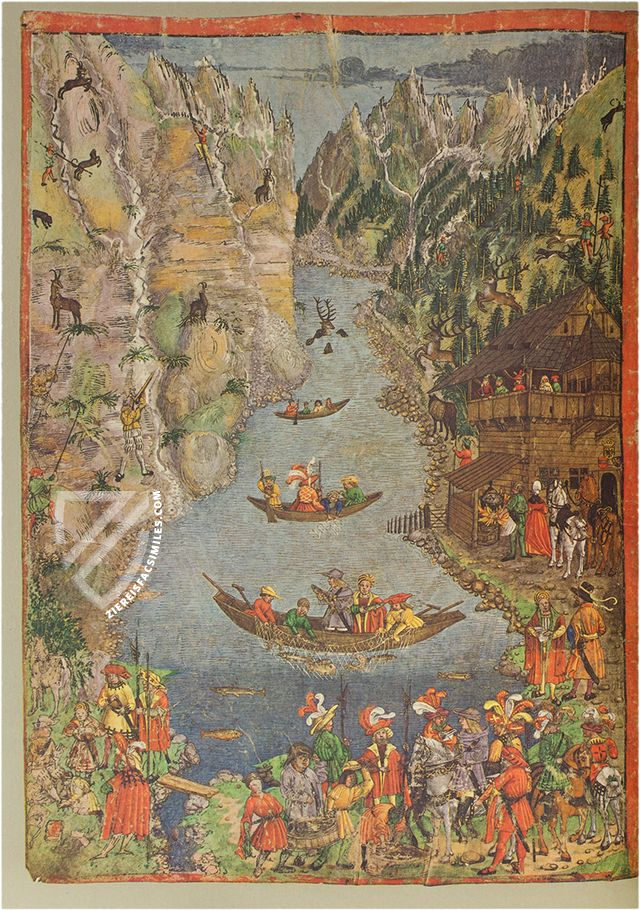 Facsimile Editions
#1

Tiroler Fischereibuch Maximilians I.

Limited Edition:

600 copies

Commentary:

1 volume (151 pages) by Franz Unterkircher, Josef Stummvoll, and Jörg Kolderer
Language: German

1 volume: Exact reproduction of the original document (extent, color and size)

Reproduction of the entire original document as detailed as possible (scope, format, colors). The binding may not correspond to the original or current document binding.

Facsimile Copy Available!

Price Category: €
(under 1,000€)