Vergilius Augusteus
Description
The epitaph of Virgil (70–19 B.C.), handed down by Suetonius, succinctly summarizes the subjects of his poetic life: "pastures, fields, and rulers." This refers to his pastoral poems, Eclogues, the verses on agriculture, Georgica, and above all the Roman national epic he wrote, the Aeneid. In all these genres he expressed himself in a total of almost 13,000 verses. In view of this, the 284 verses preserved in the manuscript of Vergilius Augusteus may at first seem few. Nevertheless, it is equally of interest for philologists, paleographers, and art historians. The reason is that this Late Antique manuscript from the 4th century is one of the closest in time to Virgil himself. While the script of the continuous text, the capitalis quadrata, represents only an interlude in the development of the Latin book script, the 15 decorative initials have become trendsetting for illumination.
Vergilius Augusteus
What makes the Vergilius Augusteus so famous? The philologist will answer that it is one of the oldest extant copies of Virgil's work. However, at the same time he will have to admit that the modest number of verses – 284 out of originally nearly 13,000 – limits its importance as a textual witness considerably. In fact, had the fragments never appeared, it would have made little difference to the current critical edition of Virgil's opera maiora.
The paleographer will uphold the Vergilius Augusteus as one of the few remains of a rare form of Late-Classical majuscule script, the Capitalis quadrata. However, being a somewhat artificial branch on the tree of Latin handwriting, this particular form of lettering was of short duration and did not notably influence the development that followed.
For the art historian the Vergilius Augusteus is a document of primary historical importance, since its fifteen decorated initials mark the beginning of the development that in due time would lead to the virtually numberless initials in thousands upon thousands of Medieval manuscripts. Thus, it may be said that the greatest importance of the Vergilius Augusteus resides in its decoration, for all the latter's seeming modesty.
Codicology
Alternative Titles

Augustus Vergil




Codex Augustus

Size / Format

14 pages / 42.0 × 34.5 cm

Origin

Date

Second half of the 4th century

Epochs

Style

Genre

Language

Illustrations

14 ornamental letters

Content

Fragments of Virgil's Georgica from Book I and Book III

Previous Owners

Claude Dupuy
Fulvio Orsini
Pierre Pithou
Georg Heinrich Pertz
---
Available facsimile editions:
Facsimile Editions
#1

Vergilius Augusteus

Commentary:

1 volume (32 pages) by Carl Nordenfalk
Languages: English, German

C. Nordenfalk, Stockholm. 32 pp. text, 5 illustrations.

1 volume: Exact reproduction of the original document (extent, color and size)

Reproduction of the entire original document as detailed as possible (scope, format, colors). The binding may not correspond to the original or current document binding.
You might also be interested in: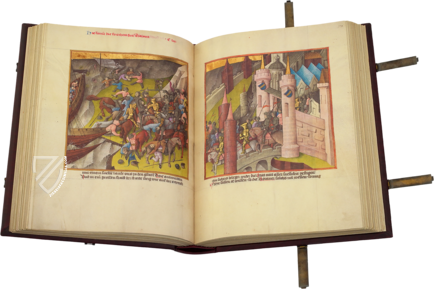 Guido de Columnis: The Trojan War
Regensburg (Germany) – 1432–1456
A magnificent codex from Regensburg, left to the city council for 15 kilograms of silver: golden miniatures depicting the Trojan War in a unique German translation
Experience More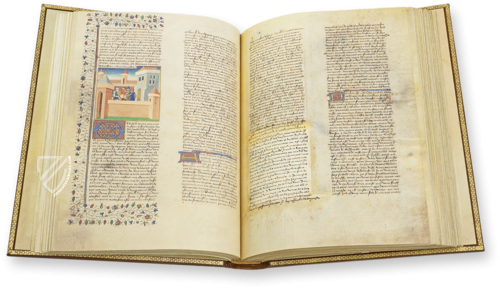 Quest for the Holy Grail
France – Ca. 1450–1460
Parzival and the knights of Camelot in search of the Holy Grail: the fifth and last Arthurian novel by Chrétien de Troyes in a splendidly colored 15th century illuminated manuscript
Experience More
Blog articles worth reading