Winchester Manuscript
Description
The legend of King Arthur is one of the most famous medieval legends and is inexorably intertwined with British identity. Middle French for "The Death of Arthur", Le Morte d'Arthur, once incorrectly spelled "Le Morte Darthur", is a 15th century work of Middle English prose by Sir Thomas Malory, which attempts to create a complete version of the Arthurian legend. Malory did this by compiling various French and English sources into what is now one of the best known and most authoritative works of Arthurian literature. It was created during his confinement in Newgate Prison between March 1469 and March 1470. The so-called Winchester Manuscript was discovered in 1934 by Walter Fraser Oakeshott, the headmaster of Winchester College, and was made by two skilled scribes between 1471 and 1483.
Winchester Manuscript
The only surviving manuscript of Le Morte d'Arthur likely originated in Southern England between 1471 and 1483, but it is not clear at whose behest it was created. Evidence of offset printing and a printed indulgence used to repair fol. 243 demonstrate that it was owned by the printer, merchant, and diplomat William Caxton (ca. 1422 – ca. 1491). An inscription on fol. 384r indicates it was owned by Richard Followell of Litchborough in the early 16th century. The manuscript found itself in the Winchester College Library by the 19th century, where it lay neglected until it was rediscovered in 1934. The manuscript was finally purchased by the British Library in 1976 and continues to reside there today. It is considered one of the most important medieval manuscripts to be discovered in the last century, one which upended what the scholarly community thought it new about Le Morte d'Arthur.
A Startling Discovery
The discovery of the manuscript by Walter Fraser Oakeshott (ca. 1903–87) showed that the version first published in 1485 by William Caxton was not exactly what Malory had originally written. Furthermore, a microscopic examination revealed that ink smudges on the Winchester manuscript are offsets of newly printed pages set in Caxton's own font, which indicates that the Winchester Manuscript was in Caxton's print shop and would likely have been consulted by him. The Winchester Manuscript is believed to be truer to Malory's original than any of the printed versions and lacks the divisions into books and chapters created by Caxton.
Author, Knight, Rogue?
Although identified as the author of Le Morte d'Arthur, little is known about Sir Thomas Malory (ca. 1415–71) aside from the fact that he was imprisoned for a year during the Wars of the Roses. It is believed he spent this time to write his famous work of Middle English prose, which attempted to unite and reconcile various literary traditions concerning the legendary King Arthur, Guinevere, Lancelot, Merlin, and the Knights of the Round Table. Although there is ample evidence that Malory had a career as a robber knight, he also fought for both sides during the Wars of the Roses and was likely a prisoner-of-war at the time he authored the work. Furthermore, the use of French sources points to a well-educated person from a wealthy family. Malory was clearly a complex individual who embodied the contradictions inherent to the medieval concept of chivalry, which was embodied by King Arthur and his Knights of the Roundtable.
Codicology
Alternative Titles

Winchester Manuskript




Winchester Malory




Le Morte Darthur by Sir Thomas Malory

Type

Size / Format

968 pages / 28.5 × 20.0 cm

Origin

Date

Ca. 1471–1483

Epochs

Style

Genre

Language

Script

Gothic cursive

Content

Le Morte Darthur by Sir Thomas Malory (Compilation of various tales from the Old French and Middle English Arthurian epics and own material)

Artist / School

Sir Thomas Malory (author)
Facsimile Editions
#1

The Winchester Malory

Commentary:

1 volume by Neil Ker Ripley
Language: English

1 volume: Exact reproduction of the original document (extent, color and size)

Reproduction of the entire original document as detailed as possible (scope, format, colors). The binding may not correspond to the original or current document binding.
You might also be interested in: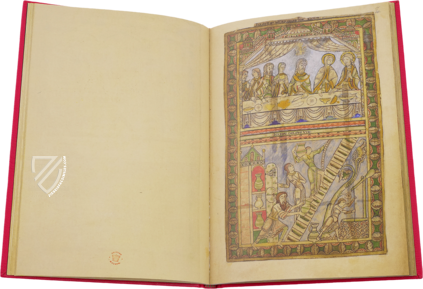 Winchester Psalter
Winchester Cathedral, Winchester (United Kingdom) – 1127–1171
An impressive Romanesque Psalter commissioned by the grandson of William the Conqueror: the stories of the Bible and the struggle of good versus evil in 38 miniatures as masterful as they are dramatic
Experience More
Blog articles worth reading