Act of the Court of Cervera
Description
Act of the Court of Cervera
This historic document from the 14th century documents a significant part of Catalonian history: the establishment of the of the Diputació del General under King Pedro IV in 1359. This commission for the administration of the tax system is the predecessor of the Generalitat de Catalunya, the government of the autonomous region of Catalonia with its seat in the historic Palau de Generalitat in Barcelona. A unique artifact of this exciting chapter of Spanish history that continues to this day!
Act of the Court of Cervera
This document was signed on December 19, 1359: the Acta de les Corts de Catalunya celebrada en Cervera en el año 1359. In doing so, the cornerstone was laid for the government of the still autonomous region of Catalonia. Today, this document of such historical significance, a piece of parchment measuring 76.5 x 64 cm, is stored in Cervera, a city in the central Lleida region of autonomous Catalonia.
From the corts to the Generalitat
At Cervera in the years 1358–9 in the so-called corts (Cortes catalanes), there was the annual meeting of representatives of all ranks – clerics, nobles, and peasants. At the time of the reign of King Pedro IV of Aragon (1336–1387), the establishment of a standing committee was agreed upon, which was supposed to fulfill the responsibilities of the tax system. This commission consisted of twelve members from the three orders and were led by a clergyman. Under the name Diputació del General, it marked an important event of Catalonian history and is even the precursor of the later Generalitat.
The First President
The historic document in the Arxiu Comarcal de la Segarra in Cervera documents this event in a charter with Latin text. The delegation chosen for the Diputació del General, which was responsible for the collection and administration of taxes, was headed by Berenguer de Crüilles, Bishop of Girona from 1359 to 1362. As such, he was the first president of the Generalitat of Catalunya, the body of the Catalonia government, which has administered political, financial, and legislative matters since the 15th century and continues to function today as the government of the autonomous region of Catalonia along with the presidents and the parliament.
Codicology
Alternative Titles

Die Tätigkeit des Gerichts von Cervera




Acta de la Cort de Cervera




Acta de la Cort General de Catalunya de l'any 1359 celebrada a Cervera

Size / Format

1 leaf / 73.0 × 64.0 cm

Origin

Date

December 19, 1359

Epochs

Style

Language

Script

Gothic

Content

Act of the Courts of Catalonia held in Cervera on December 19, 1359.
---
Available facsimile editions:
Facsimile Editions
#1

Acta de la Cort de Cervera

Limited Edition:

995 copies

Binding:

The facsimile was printed on specially aged paper and comes together with the commentary volume in an elegant case.

Commentary:

1 volume by Joan J. Busqueta Riu
Languages: Catalan, Latin

1 volume: Exact reproduction of the original document (extent, color and size)

Reproduction of the entire original document as detailed as possible (scope, format, colors). The binding may not correspond to the original or current document binding.

Facsimile Copy Available!

Price Category: €
(under 1,000€)
You might also be interested in: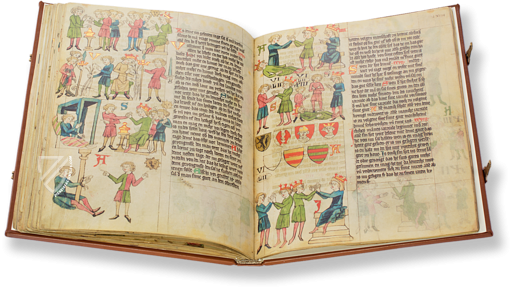 Wolfenbüttel Mirror of Saxony
Upper Saxonia - Germany – Third quarter of the 14th century
Everyday medieval law and the oldest German-language prose: the "predecessor of Basic Law", adorned with no less than 776 Gothic miniatures
Experience More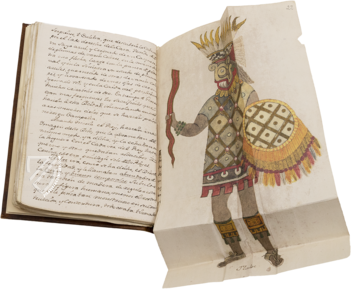 Codex Veitia
Mexico City – 1755
The calendars, counting methods, and festivals of a past culture: a rare and wonderfully illuminated testimonial to the disappearing culture of the Aztecs
Experience More
Blog articles worth reading