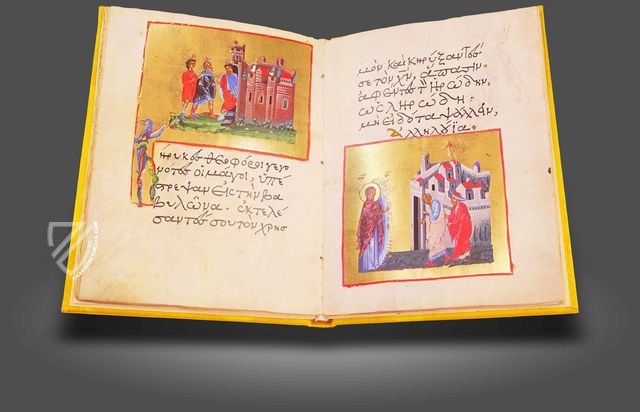 Akathistos hymnos
Spain — 16th century
One of the earliest recorded Marian prayers from Constantinople (AD 626)

Only two specimens of the historic work survive today

The 24 strophes of the hymn begin with all the letters of the Greek alphabet in order
Akathistos hymnos
Alternative Titles:
Greek Hymn Honoring the Virgin Mary
Poesías en loor de la Virgen
Akathistos: canto litúrgico para recitativo o declamado y schola a 2 v. p. y asamblea
El Hymno Akathistos
Poesías en loor de la Virgen
Akathistos (Hymno marial griego)
Short Description
This unique manuscript presents the Greek text of the famous Akathistos Hymnos, one of the early Christian prayers to the Virgin Mary from Constantinople. Originating from Constantinople in the late 14th or early 15th centuries, here the text is illustrated in a typical picture cycle, which only survives today in two specimens. The manuscript came into the possession of Philip II by mysterious means and is stored today in El Escorial, "one of the most precious works of art in Spain."
Akathistos Hymnos
The Akathistos Hymnos is considered to be one of the main components of the Orthodox liturgy. According to legend, the doxology of the Virgin Mary was first sung in Constantinople in the year 626, calling for the protection of the Mother of God against an attack by the Avars. Consequently, the Akathistos Hymnos, which is still sung today, is one of the oldest and most beautiful pieces of Marian poetry in Christendom. The important liturgical Hymnos has been celebrated primarily in the Eastern Orthodox Church, but has nevertheless had a large influence on the Christian church as a whole as a devout expression of Marian devotion.
Hail Mary, Full of Grace
The Greek hymn "to the holiest Theotokos and eternal Virgin Mary" originates from an unknown Greek poet and consists of 24 strophes. These follow an interesting principle: their initial letters yield all of the letters of the Greek alphabet in order. In terms of content, both of the first two sections deal with salutations of praise to the Mother of God following the incarnation of Christ from Mary.
A Late Manuscript from Constantinople
The significance of the Akathistos Hymnos is also demonstrated by this wonderful manuscript from the late 14th or early 15th century. The 60 pages of this treasure of illumination do not just contain the text of the Marian prayers. The wonderful picture cycle of the Akathistos Hymnos is considered to be a special feature. This has been handed down in only two Greek manuscripts, a manuscript in Moscow in addition to this one from El Escorial. The visual adornment consists of 23 miniatures in Byzantine style on a golden background and additionally comprises 15 pages with elegantly ornamented initials consisting of animal and plant motifs. Clearly discernable Italian influences on the painting have led to speculation that the manuscript originated from Venice or Crete. Nevertheless, the body of research still considers Constantinople as the point of origin of the Akathistos Hymnos from El Escorial.
Codicology
Alternative Titles

Greek Hymn Honoring the Virgin Mary




Poesías en loor de la Virgen




Akathistos: canto litúrgico para recitativo o declamado y schola a 2 v. p. y asamblea




El Hymno Akathistos




Poesías en loor de la Virgen




Akathistos (Hymno marial griego)

Size / Format

60 pages / 24.5 × 18.5 cm

Origin

Date

16th century

Epochs

Style

Genre

Illustrations

23 picture-like miniatures which take half of the page and 15 ornaments with vegetal motifs
1 available facsimile edition(s) of "Akathistos hymnos"
Akathistos himno Marial Griego Facsimile
Akathistos himno Marial Griego Facsimile
1 volume: Exact reproduction of the original document (extent, color and size)
Publisher

Edilan – Madrid, 1981

Binding

Dry-stamped yellow silk as the original

Commentary

1 volume (113 pages) by Gregorio de Andrés
Language: Spanish

More Information

Originally written in the 6th century in Bizantium and copied for Philip II on the event of his coronation
Matching Works
Joshua Roll
The Old Testament Book of Joshua is illuminated throughout: one of the last Christian scrolls and a unique art treasure from Byzantium
Experience More
Liber scivias
Lost in World War II: one of the main works by the famous abbess and visionary Hildegard von Bingen with her theological-cosmological findings
Experience More
Matching Background Articles
Renaissance

What does the word "Renaissance" bring to mind for you? Art, science, and culture of course! It was a "rebirth" and...

Experience more

16th Century

When did the Middle Ages end and the Early Modern Period begin? Most agree it was sometime in the course of the 16th...

Experience more