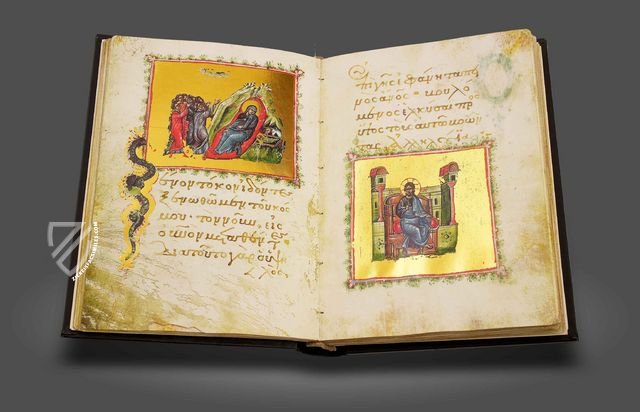 Moscow Akathistos
Written in Constantinople by an anonymous author in the year 626 as a call for protection from the Avars and Persians

An unexpected storm destroyed the fleet of the besieging armies resulting in their eventual defeat

This richly adorned 14th century manuscript is one of only two surviving medieval specimens of this historic prayer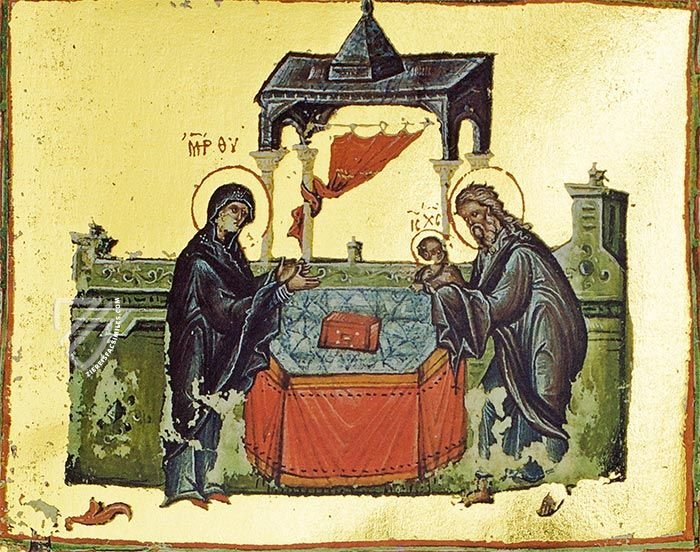 Moscow Akathistos
Ms. Synodal Gr. 429
State Historical Museum of Russia (Moscow, Russia)
Alternative Titles:
Akathistos de Moscú
Moskauer Akathistos
Short Description
Commonly known today as the Byzantine Empire, the surviving eastern half of the Roman Empire nearly collapsed in the year 626 as it was attacked on all sides by Persians, Avars, and their Slavic allies, culminating in an epic siege. Constantinople's defenders, inspired by an icon of the Virgin Mary that was paraded daily along the city's defensive walls, were able to resist despite being vastly outnumbered. The Empire was saved and endured for another 800+ years. It was believed on both sides that this was the result of divine intervention, the answering of a prayer that is now one of the oldest dedicated to the Virgin Mary in Christianity: the Akathistos Hymnos
Moscow Akathistos
This 14th century manuscript contains the famous Akathistos Hymnos. Consisting of 24 strophes, it is one of the early Christian prayers to the Virgin Mary. It was written in Constantinople by an anonymous author in the year 626 as a call for protection from the Avars and Persians, who were besieging Constantinople. An unexpected storm destroyed the fleet of the besieging armies, robbing them of supplies and resulting in their eventual defeat. This miracle was attributed to the Theotokos, a title for the Virgin Mary in the Eastern Orthodox tradition, and was commemorated with a yearly feast day. Akathistos translates to "unseated hymn" and refers to the fact that all are expected to stand during the chanting of the hymn, except for the old and infirm. The Moscow Akathistos is one of only two surviving medieval manuscripts of the hymn. Aside from its historic content, the manuscript is adorned with 24-half page miniatures boasting a gorgeous color palette dominated by deep blues, light greens, and luminous reds backed by brilliantly burnished gold backgrounds. Furthermore, the text is adorned with incredibly detailed initials with animal figures and other decorative elements. The adornment of this rare manuscript stands firmly in the accomplished tradition of Byzantine illumination.
Codicology
Alternative Titles

Akathistos de Moscú




Moskauer Akathistos

Epochs

Style

Language

Illustrations

24 mid-size miniatures
1 available facsimile edition(s) of "Moscow Akathistos"
Akathistos de Moscú Facsimile
Akathistos de Moscú Facsimile
1 volume: Exact reproduction of the original document (extent, color and size)
Publisher

AyN Ediciones – Madrid, 2006

More Information

Reproduction of the entire original document as detailed as possible (scope, format, colors). The binding may not correspond to the original or current document binding.
Matching Background Articles