Albrecht von Eyb's Little Book on Marriage
Ink. 232
Gutenberg-Museum Mainz (Mainz, Germany)
Description
Albrecht von Eyb's Little Book on Marriage
The so-called Ehebüchlein or "Little Book on Marriage" is a text in which the author debates whether or not a man ought to take a wife and in the end advocates for marriage. Curiously, the original manuscript was dedicated to Nuremberg's city council in 1472, perhaps a metaphor for families being the building blocks of society. It is the work of the Franconian nobleman and early German humanist Albrecht von Eyb, who received an extensive education in both Germany and Italy. Aside from translating Boccaccio's Decameron, Albrecht attained fame for his treatise on the benefits of taking a wife, which is evident from the numerous editions that were published in the decades after his death.
Albrecht von Eyb's Little Book on Marriage
This popular Ehebüchlein or "Little Book on Marriage" by Albrecht von Eyb (1420–1475) was dedicated to the city council of Nuremberg in 1472. This German text is actually based on an earlier work of Albrecht's from 1460 written in Latin on the same theme An viro sapienti uxor sit ducenda. The work discusses whether or not a man ought to take a wife and considers both the joys and sorrows of married life. Various moralizing or philosophical maxims are sprinkled throughout the work. In the end, the author advocates in favor of marriage and cites novellas by Giovanni Boccaccio (1313-75), which Albrecht personally translated from Italian. According to him, in marriage "all good and evil is held in common, the good all the happier, the adversity all the lighter because shared by two." By the end of the 15th century, no less than 9 editions had been published, with 12 editions printed by 1540 – a testament to the enduring popularity of Albrecht's work.
An Early German Humanist
Born into a Franconian noble family in 1420, Albrecht von Eyb was one of the earliest German humanists. After his initial education in theology and law in Erfurt, Albrecht continued his studies at the Universities of Bologna, Padua, and Pavia, where he received his doctorate on February 7th, 1459. In the same year he received the title of chamberlain from Pope Pius II (1405-64) before finally returning to Germany in the fall. In spite of the fact that he had spent most of the time in Italy. Albrecht became a canon in Eichstätt in 1444, in Bamberg in 1452, and in Würzburg in 1462. He spent the last years of his life in Eichstätt and Bamberg.
Codicology
Alternative Titles

Albrecht von Eyb: Ehebüchlein




Little Book on Marriage

Origin

Date

1472

Epochs

Style

Genre

Language

Illustrations

Numerous, colored initials

Content

Ehebüchlein: Ob einem manne sey zunemen ein eelichs weyb oder nicht' or Little Book of Marriage

Artist / School

Albrecht von Eyb (author)
Anton Koberger (printer)
---
Available facsimile editions:
Facsimile Editions
#1

Anton von Eyb Ehebüchlein

Limited Edition:

400 copies

Commentary:

1 volume
Language: German

1 volume: This facsimile is not complete.

Reproduction of the entire original document as detailed as possible (scope, format, colors). The binding may not correspond to the original or current document binding.
You might also be interested in: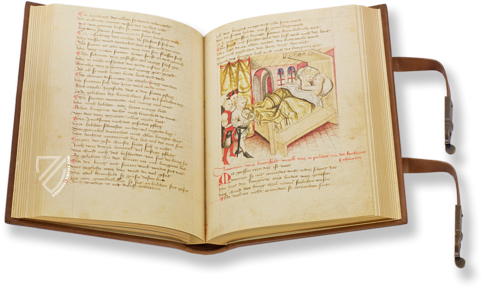 Nibelungenlied
Germany – 15th century
Decorated with 37 masterful pen drawings: the sole manuscript of the heroic epic of Siegfried and Hagen with a comprehensive image cycle
Experience More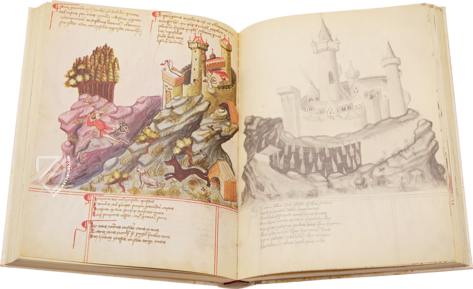 Bellifortis
Eichstätt (Germany) – 1402–1405
Military treatises by Roman strategists, designs for state-of-the-art military equipment in the 14th century, and reflections on the role of magic and astrology in war: the Bellifortis by Konrad Kyeser
Experience More
Blog articles worth reading