Bible of Nürnberg
Description
A beautiful graphic work, a collaboration of Baroque masters: the Bible of Nürnberg. Printed in 1712 in Nuremberg, home of great artists like Albrecht Dürer, is features 260 full-page etchings with captions in Latin and German. The illustrations in the work originate from the hand of the Dutch artists Jan (1649–1712) and Caspar Luyken (1672–1708), who collaborated with the engraver and printer Johann Christoph Weigel, known as Christoph Weigel the Elder (1654–1725), on the project. The work is stored today in the Archdiocesan Collections of the Kalocsa Cathedral Library in Hungary.
Codicology
Alternative Titles

Nürnberger Bibel




Bible of Nuremberg

Size / Format

264 pages / 41.6 × 29.4 cm

Origin

Date

1712

Epochs

Style

Genre

Illustrations

260 full-page engraved illustrations

Content

Old and New Testament

Artist / School

Christoph Weigel (engraver and printer)
Caspar and Jan Luyken (illustrators)
Single Page
Bible of Nürnberg
Expulsion from Paradise
This Baroque masterpiece of engraving depicts the final episode from the Fall of Man, i.e. the banishment of Adam and Eve from the Garden of Eden. Having eaten the forbidden fruit from the tree of knowledge, the first two humans are banished, and cherubim armed with flaming swords are set about the borders of Paradise to prevent them from returning to eat from the tree of life, and thus gain immortality.
One's eyes are immediately drawn to the image of the angel armed with a sword that literally turns to flame descending from Heaven in a burst of clouds and light. Both original humans are depicted in detail, and not only does Adam have a developed musculature, but Eve's abdominal muscles are also surprisingly well-defined.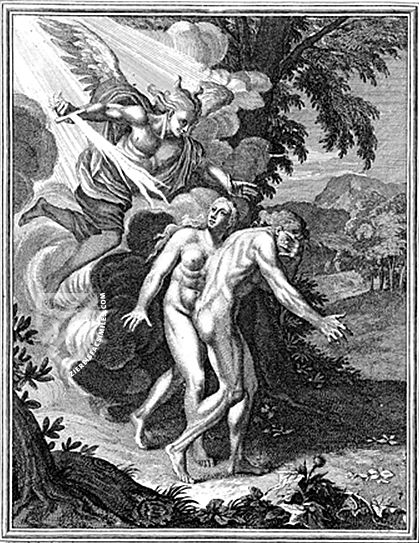 Facsimile Editions
#1

Bible of Nürnberg

Binding:

Black leather modelled on the original with gilded decoration on the spine

1 volume: Exact reproduction of the original document (extent, color and size)

Reproduction of the entire original document as detailed as possible (scope, format, colors). The binding may not correspond to the original or current document binding.