Bible of Pietro Cavallini
Civ. A. 72
Civica e A. Ursino Recupero (Catania, Italy)
Description
Bible of Pietro Cavallini
This magnificent Italian manuscript is considered to be one of the five most beautiful Bibles in the world and is adorned with an astounding array of illumination: over 100 miniatures, 167 decorated initials – almost all with gold leaf – and 270 calligraphic initials. The work was created at the behest of Cardinal Landolfo Brancaccio (d. 1312), a Neapolitan aristocrat and friend of King Charles II of Naples (1254–1309). The artist responsible for completing this commission was Pietro Cavallini (ca. 1250 – ca. 1330), an Italian painter and mosaic designer from Rome about whom little else is known. Nonetheless, numerous works of art are attributed to him including mosaics in various churches and cathedrals that blend Roman forms with Byzantine influences from the East and Gothic influences from the North. The Bible he created for Cardinal Brancaccio is one of the greatest memorials not only to his own artistic created, but to the emerging Renaissance style as a whole.
Codicology
Alternative Titles

Bibbia di Pietro Cavallini




Bibel des Pietro Cavallini

Size / Format

880 pages / 39.0 × 26.0 cm

Origin

Date

Ca. 1300–1320

Epochs

Style

Genre

Language

Script

Gothic

Illustrations

More than 100 miniatures; 167 decorated initials; 270 calligraphic initials

Content

Old and New Testament; Prologues and Epistles of Saint Jerome

Patron

Cardinal Landolfo Brancaccio

Artist / School

Pietro Cavallini
---
Available facsimile editions: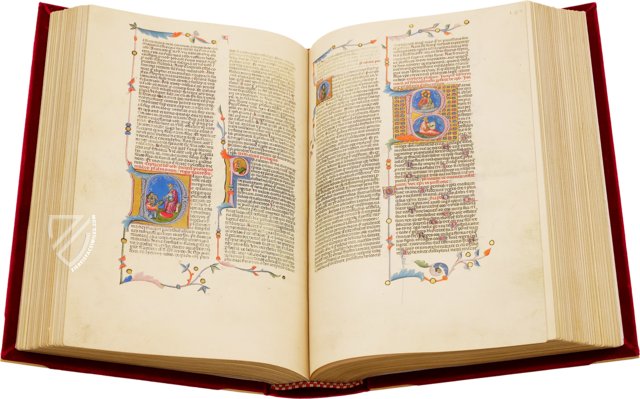 Istituto dell'Enciclopedia Italiana - Treccani
– Rome, 2018
Limited Edition:
699 copies
Detail Picture
Bible of Pietro Cavallini
Daniel in the Lions' Den
Jealous rivals have conspired to have Daniel tossed into a pit full of lions as punishment for defying a royal decree. King Darius, unable to change the law, reluctantly concedes but predicts Daniel's god will save him. He returns first thing the next morning and calls to Daniel asking if he is dead and Daniel responds: "My God sent His angel and shut the lions' mouths, so that they have not hurt me, because I was found innocent before Him; and also, O king, I have done no wrong before you." (Dan. 6:22)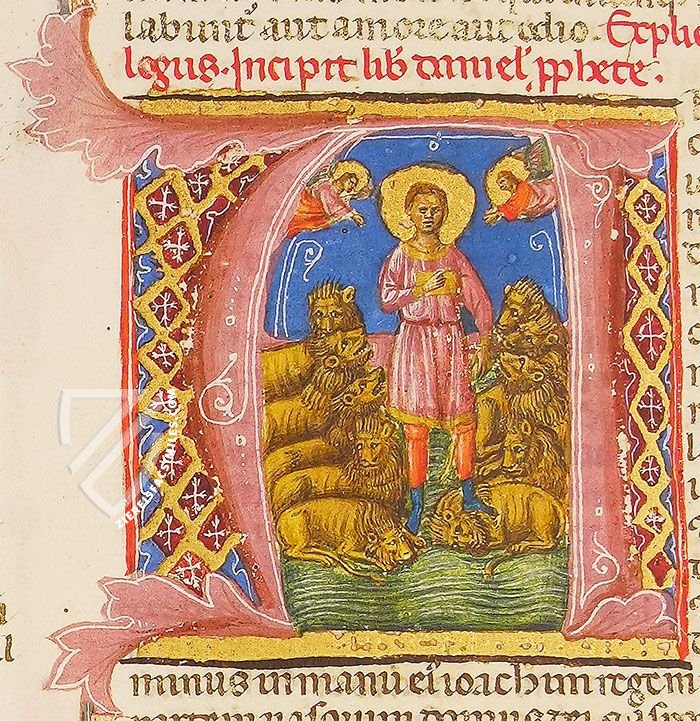 Single Page
Bible of Pietro Cavallini
Tree of Jesse
Flanked by two neatly written columns of text, the genealogy of Jesus Christ through his mother Mary is visually traced all that way back to Jesse, the father of King David, who is depicted in repose resting his haloed head in his hand at the root of the tree that grows from his side. The smaller figures are Old Testament prophets who foretold the coming of the Messiah.
Each figure is depicted in a golden medallion with red or pink leaves that contrast nicely with the cool blue background. The coat of arms at the bottom of the page flanked by two lions likely belonged to the patron of the manuscript, Cardinal Landolfo Brancaccio. Two figures on either side appear to have climbed up the marginal décor and reach out for golden coins.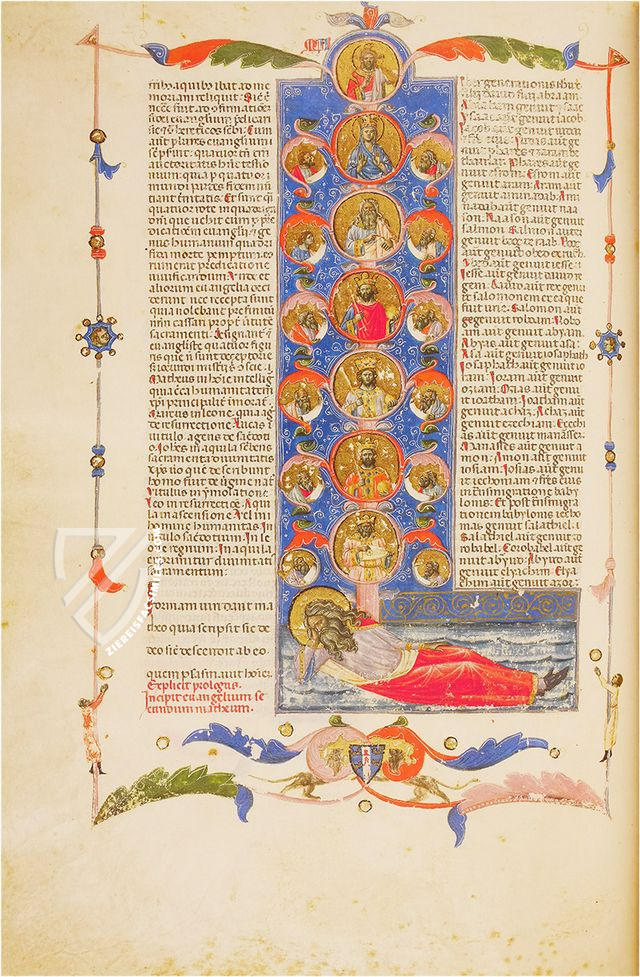 Facsimile Editions
#1

La Grande Bibbia di Pietro Cavallini

Limited Edition:

699 copies

Commentary:

1 volume by Alessandro Tomei, Enzo Bianco, Carlo Ossola, Rita A. Carbonaro, Gianluca M. Millesoli, and Massimo Bray
Language: Italian

1 volume: Exact reproduction of the original document (extent, color and size)

Reproduction of the entire original document as detailed as possible (scope, format, colors). The binding may not correspond to the original or current document binding.
You might also be interested in: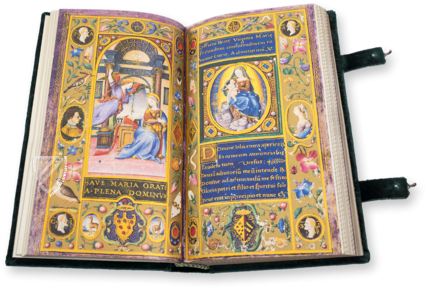 Bible of Marco Polo
France – 13th century
A European manuscript in China with an unbelievable story: Marco Polo's Bible, discovered by a Jesuit in a private Chinese collection
Experience More
Blog articles worth reading