Book of Art and Instruction for Young People by Jost Amman
Description
Book of Art and Instruction for Young People by Jost Amman
The Franconian city of Nuremberg was the most important city of the German Renaissance. This artists' paradise was a magnet for talented people, including the Swiss-German draughtsman, printmaker, and engraver Jost Amman. He had a reputation for being both extremely prolific while also possessing a great eye for detail. The textbook he created for young artirsts and published in 1580 is presented here with a marvelous survey of engravings from throughout his career.
Book of Art and Instruction for Young People by Jost Amman
Celebrated for his woodcuts, the Swiss-German artist Jost Amman (1539–91) was born in Zürich and spent his professional career in the bustling German Renaissance city of Nuremberg, where he moved and became a citizen in 1560. In Nuremberg, he worked with Virgil Solis (1514–62) a German draughtsman, printmaker, and engraver best known for the woodcuts he made to illustrate the works of Ovid (43 BC – AD 17/18). His art is distinguished by its accuracy and vivacity, depicting minute details of clothing in particular. Amman worked prolifically, with one of his pupils estimating that in a period of four years, the master had produced enough drawings to fill a hay wagon with ca. 1,500 prints being attributed to him altogether. The specimen at hand, published in 1580 is unique among the various books produced by Amman, because it was not intended for the public, but rather as a textbook for young artists and is filled with examples of his splendid engravings for them to aspire to.
Codicology
Alternative Titles

Buch der Kunst und Anleitung für junge Mensche von Jost Amman




Jost Amman: Kunst- und Lehrbüchlein

Origin

Date

1580

Epochs

Style

Language

Illustrations

Numerous full-page woodcuts
---
Available facsimile editions: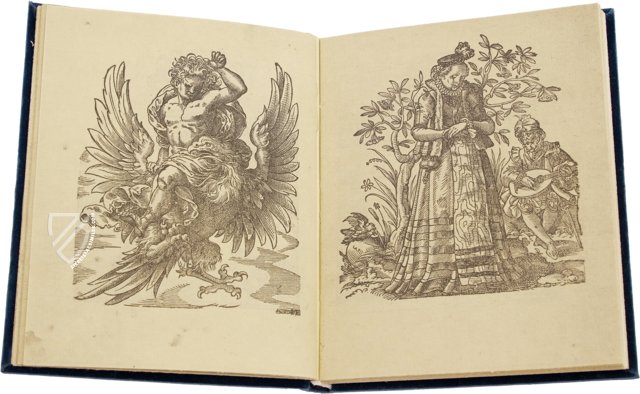 Müller & Schindler
– Simbach am Inn, 1971
Limited Edition:
1000 copies
Facsimile Editions
#1

Jost Amman: Kunst- und Lehrbüchlein

Limited Edition:

1000 copies

Binding:

Dark blue velvet binding

Commentary:

1 volume by Ruth Mettler and Sigmund Feyerabend
Language: German

1 volume: Exact reproduction of the original document (extent, color and size)

Reproduction of the entire original document as detailed as possible (scope, format, colors). The binding may not correspond to the original or current document binding.
You might also be interested in: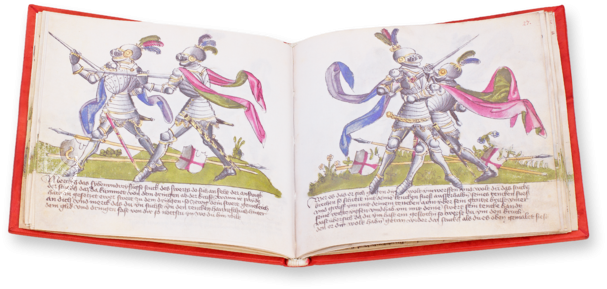 Gladiatoria
Germany – Ca. 1430
Probably the most important source on fencing in the Middle Ages: the fencing techniques of Johannes Liechtenauer, the father of the German school of fencing, with wonderful illustrations and precise descriptions on almost every page
Experience More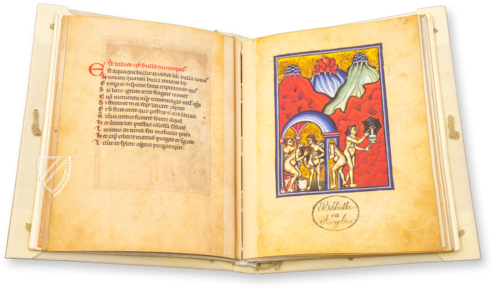 De Balneis Puteolanis
Naples (Italy) – Ca. 1250
Originally dedicated to Emperor Frederick II and the oldest surviving copy of a medieval guide to spas: Pietro da Eboli's treatise concerning the healing properties of hot springs with 18 beautiful Trecento miniatures
Experience More
Blog articles worth reading