Book of Hours of Gregory XIII
Description
Book of Hours of Gregory XIII
This book of hours is one of the finest specimens of its kind, originating from the 16th century, the last epoch of manuscript production when splendid handmade masterpieces continued to be made for high-ranking patrons in spite of the rising tide of printed books. Pope Gregory XIII was one of the greatest patrons of the arts and sciences in Renaissance Europe as well as the namesake of the Gregorian calendar, which is still in use today. It is only natural that his personal prayer book would be an exemplary manuscript filled with all of the artistic devices one could expect from Renaissance illumination.
Book of Hours of Gregory XIII
Famous for commissioning and being the namesake of the Gregorian calendar, which continues to serve as the internationally accepted civil calendar today, Pope Gregory XIII (1502–85) was also a great patron of the arts and sciences as well as an avid supporter of the newly formed Jesuits. As such, he is considered to be one of the most important popes of the modern age. The Pope's personal book of hours is one of the finest specimens of its kind to survive to the present, which has been wonderfully preserved thanks to the fact that he donated the codex to the Vatican Library on November 5th, 1578, where it has remained ever since. The décor exhibits French influences and is adorned with gold, richly colored foliage, flowers, animals, and figures. Mostly concerned with scenes from the lives of saints and the Gospels, the text is adorned with elegant initials and fantastic miniatures from a team of artists. Two documents are included in the codex, which are relevant to the patron's pontifical reign: the canon of the reform of the Gregorian calendar with the months October-December 1582 (presented in a 21x16 cm format), and the Map of the seven churches – destinations for the pilgrimage of the great Jubilee announced by Pope Gregory XIII in 1575 (presented in a 28.5x37 cm format).
Codicology
Alternative Titles

Libro d'Ore di Gregorio XIII




Uffizio della B. V. Maria

Size / Format

284 pages / 24.9 × 18.0

Origin

Date

Late 15th century

Epochs

Style

Genre

Language
---
Available facsimile editions:
Facsimile Editions
#1

Libro d'Ore di Gregorio XIII

Publisher:

ArtCodex

– Castelvetro di Modena, 2015

Limited Edition:

999 copies

Commentary:

1 volume
Language: German

1 volume: Exact reproduction of the original document (extent, color and size)

Reproduction of the entire original document as detailed as possible (scope, format, colors). The binding may not correspond to the original or current document binding. The facsimile edition contains the following two additional documents: 1) Canon of the Reformation from 1585 2) The map of the seven churches with the destinations of the Jubilee pilgrimage of 1575

Facsimile Copy Available!

Price Category: €€€€€
(over 10,000€)
You might also be interested in: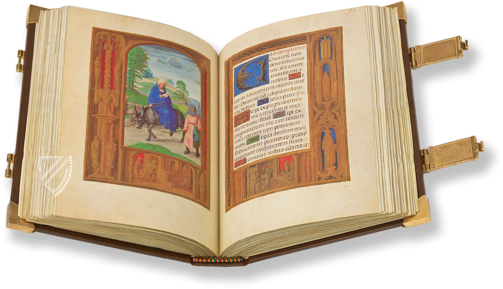 Book of Drolleries - The Croy Hours
Bruges / Ghent (Belgium) – Between 1510 and 1520
With whimsical hybrid figures of humans, animals, and mythical creatures: perhaps the most imaginative masterpiece by Gerard David, Gerard Horenbout, and Simon Bening
Experience More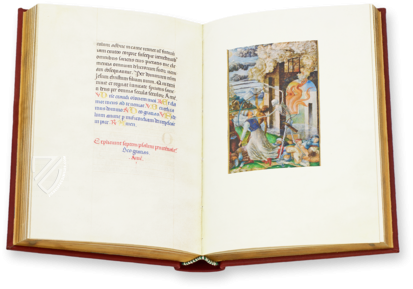 Offiziolo Alfonsino
Ferrara (Italy) – 1505–1510
Perhaps the last magnificent work from the famous city of Ferrara: Matteo da Milano's fantastically illuminated masterpiece for Alfonso d'Este, one of the great patrons of the Renaissance
Experience More
Blog articles worth reading