Hours of Benedict XIV
Description
A prayer book worthy of a wise and erudite pope: the Officium Beatae Mariae Virginis of Benedetto XIV is a splendid specimen of late-15th century illumination created by an anonymous Flemish master. It was later selected as a personal prayerbook by Pope Benedict XIV (1675-1758), who is not only celebrated as a patron of the arts and sciences, but as a distinguished scholar in his own right. In addition to the richly adorned liturgy of the hours, the small masterpiece contains a gorgeous calendar section with scenes from rural life.
Officium Beatae Mariae Virginis of Benedetto XIV
Some of the finest examples of 15th century illumination can be found in small, personalized manuscripts made for the wealthy and sophisticated. This specimen, owned by Pope Benedict XIV (1675-1758), was created at the end of the 15th century by an anonymous but highly skilled Flemish master. The dreamlike miniatures feature figures in the foregrounds with a marked pictorial character and a masterful use of perspective in the architectural backgrounds and floral elements enclosed in lozenge-shaped frames are presented in the friezes. Gorgeous labors of the months are presented in the calendar section, which feature typical proverbs and sayings alongside the scenes of agriculture and rural life. Rich primary colors and the generous use of gold leaf round out the splendor of the Officium Beatae Mariae Virginis of Benedetto XIV.
The Prayerbook of a Pope-Scholar
Pope Benedict XIV is remembered as one of the greatest scholars to ascend the throne of St. Peter and patronized Baroque works of art and scientific research – particularly the study of human anatomy. Thomism was reinvigorated during his reign, and the Pope personally studied ancient literature, the human body, and published numerous theological and ecclesiastical treatises. Horace Walpole described him as, "loved by papists, esteemed by Protestants, a priest without insolence or interest, a prince without favorites, a pope without nepotism, an author without vanity, a man whom neither intellect nor power could corrupt." As such, the fact that he would choose the manuscript at hand as a personal prayer book speaks to the sophistication of its artistry as well as a personal affinity for the liturgical texts that were so masterfully written by the scribe.
Codicology
Alternative Titles

Offiziolo di Benedetto XIV




Officium Beatae Mariae Virginis von Benedetto XIV.




Officium Beatae Mariae Virginis




Hours of Benedict XIV

Size / Format

156 pages / 19.5 × 13.0 cm

Date

Late 15th Century

Epochs

Style

Genre

Language

Script

Gothic Textura

Previous Owners

Pope Benedict XIV (1675-1758)
Facsimile Editions
#1

Offiziolo di Benedetto XIV

Imago

– Castel Guelfo, 2020

Publisher:

Imago

– Castel Guelfo, 2020

Commentary:

1 volume
Language: Italian

1 volume: Exact reproduction of the original document (extent, color and size)

Reproduction of the entire original document as detailed as possible (scope, format, colors). The binding may not correspond to the original or current document binding.

Facsimile Copy Available!

Price Category: €€€
(3,000€ - 7,000€)
You might also be interested in: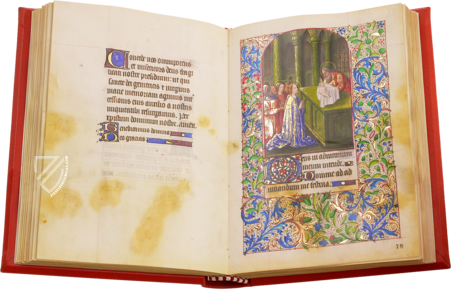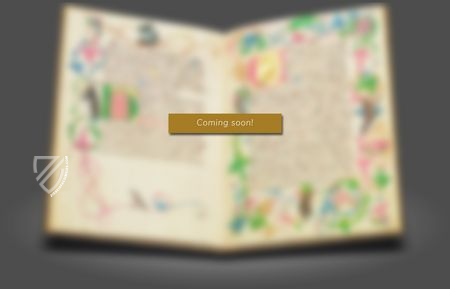 Hours of the Master of Guillebert de Mets
France – 14th Century
A lovingly realistic view in lively colors of the story of Jesus, Mary, and St. Barbara: an extremely charming masterpiece of 15th century Flemish illumination created for the court of Duke Philip the Good in Burgundy
Experience More
Blog articles worth reading