Breviari d'Amor de Matfre Ermengaud
Ms. Prov. F. V. XIV.1
National Library of Russia (St. Petersburg, Russia)
Description
Breviari d'Amor de Matfre Ermengaud
Matfre Ermengaud, about whose lives historians have little information, lived as a Franciscan monk in the 13th century. In the period of 1288–1320, the exceptionally gifted and educated monk composed a unique manuscript, which united Christian theology and historical legal doctrine with the poetry of medieval troubadours. The incomparable masterpiece by the scholar bore the title of Breviari d'Amor and is considered today to be an absolute highpoint of 12th and 13th century Occitan literature.
Breviari d'Amor de Matfre Ermengaud
A troubadour was a poet, composer, and singer of medieval courtly poetry and song. Troubadour poetry enjoyed great popularity in the 12th and 13th centuries, especially in southern France. An unusually gifted representative of this art form was the Franciscan monk Matfre Ermengaud. He composed an influential text sometime between 1288 and 1320, which cited the genre of Troubadour poetry and reinterpreted it in an unforgettable way. Today, his so-called Breviari d'Amor, which one can translate as Book of Hours of Love, is considered to be one of the most important works of Occitan poetry. It is enchantingly illustrated with 29 full-page and 192 small-format miniatures.
The Scholar Matfre Ermengaud
Today, researchers have only been able to find a small amount of information about the life of Matfre Ermengaud. He was born in the middle of the 13th century in the southern French town of Béziers. He dedicated his life to jurisprudence and poetry. He attributed particularly high worth to a comprehensive education and was a true medieval legal expert. He even obtained a law degree, which can be equated today with a master's degree in law. When he entered into the Franciscan Order is not known. He probably already started his work on the Breviari d'Amor, before he began his life as a monk. What lends Ermengaud's manuscript its unique status in the history of literature is the fact that his text combines the theological tradition with legal doctrines. There is no other medieval manuscript that can be compared with the work of Matfre Ermengaud.
A Literary Cultural Asset
The Breviari d'Amor contains ca. 34,500 verses and is composed in octosyllabic rhyming couplets. It is an extensive, multi-faceted, and didactic text, which can be compared with an encyclopedia. The Christian love of God was formulated in the manner of love poetry, which would have been performed by troubadours. In doing so, Ermengaud cited literary examples of the most-varied historical epochs. Quotations from classic troubadours like Aimeric de Peguilhan, Bernart de Ventadorn, and Peire Vidal are found particularly often in his manuscript. Quotations of his own from Ermengaud's earlier writings are equally represented as well as from texts by his brother Piere. It becomes apparent thereto, just how exceptionally well read and educated the Franciscan monk was.
A Unique Work of Book Art
The work was structured in several parts. It begins with a theological section, which bears the translated title of "Studies of God and the Creation of the World". This section addresses the Holy Trinity, angels, demons, symbols of the zodiac, and known stars and planets on each page. Thereafter follows a section with the title "Studies of Nature and the Natural Law", in which the correct modes of divine worship were discussed, the temptations of the world were reviewed, and the sins were named that good Christians should avoid at any price. In the last section, "The Love of God", the profession of faith is recorded along with a few legends of saints. Legendary miniatures in various sizes and in bright colors and before a shimmering gold background illustrate the comprehensive work and clarify Ermengaud's descriptions. Additionally, the text is furnished with a gorgeous and inventive bordure adorned with flowers and tendrils.
Codicology
Size / Format

504 pages / 35.0 × 24.5 cm

Origin

Date

Ca. 1320

Epochs

Style

Language

Illustrations

29 full-page miniatures and 192 smaller miniatures

Artist / School

Matfre Ermengau de Beziers (d. 1322) (author)
---
Available facsimile editions:
Detail Picture
Breviari d'Amor de Matfre Ermengaud
Drolleries and Other Marginalia
Aside from the fine miniatures, this manuscript also features superb marginal decorations, usually in the form of brightly colored tendrils. A smiling lion is looking out at the beholder as it lounges on the left. The medallion with a patterned red background contains a drollery with the torso and face of a bald man with a white beard, but has the body of a dog. A kneeling angel with a banderole is found between this drollery and a woman reading before a patterned blue-gold background.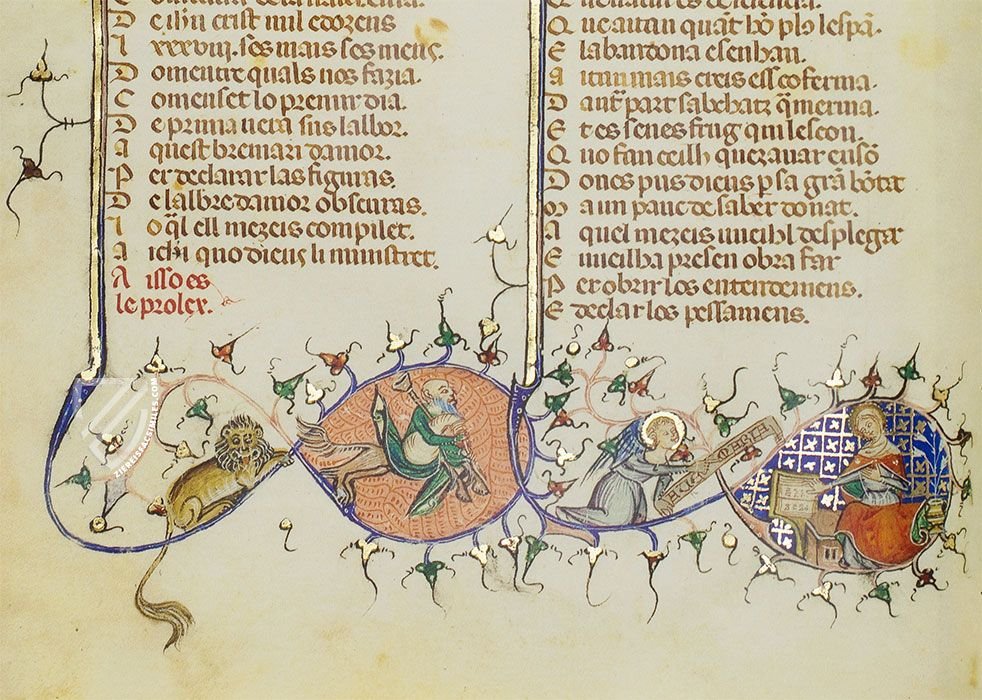 Single Page
Breviari d'Amor de Matfre Ermengaud
Jaws of Hell / Temptations by the Vices / Shipwreck
One is immediately struck by the cacophony of imagery on this page, which is masterfully rendered in the finest quality materials including plenty of gold leaf. This page is from a section titled "Studies of Nature and Natural Law" and addresses inter alia the temptations of the world and sins that Christians should avoid.
At the top of the page we see the instantly-recognizable Hellmouth, one of the most famous and terrifying images of Christian art and iconography. The smaller scenes show various vices as people are tempted by hairy demons with hideous grimaces into engaging in acts of lust, greed, and violence. In the bottom right, a shipwreck is used as an allegory for a rudderless life unguided by Christian morality and law.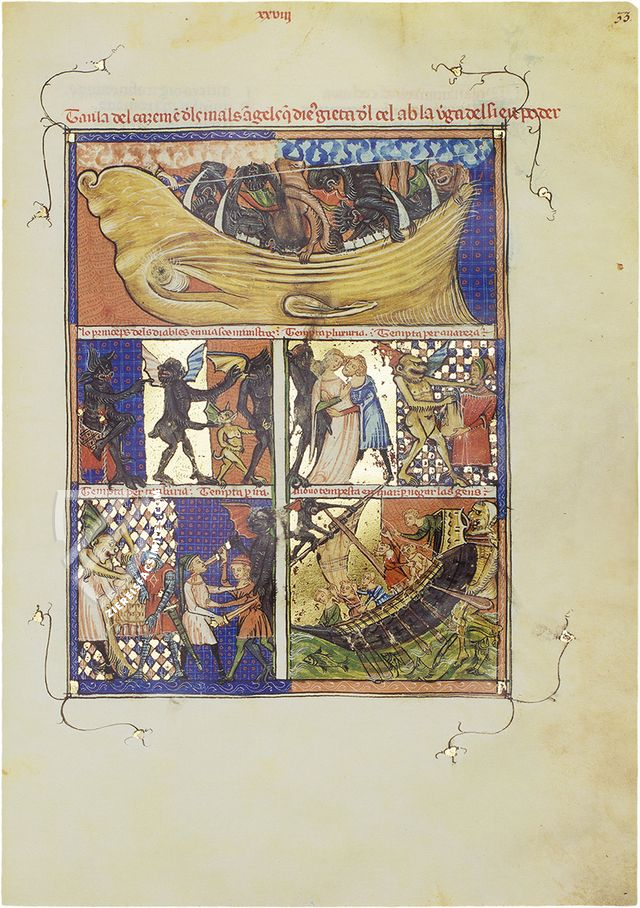 Facsimile Editions
#1

Breviari d'Amor de Matfre Ermengaud

Limited Edition:

995 copies

Commentary:

1 volume by Antoni Ferrando, Liudmila Kisseleva, and Vicent Martines
Language: Spanish

1 volume: Exact reproduction of the original document (extent, color and size)

Reproduction of the entire original document as detailed as possible (scope, format, colors). The binding may not correspond to the original or current document binding.

Facsimile Copy Available!

Price Category: €€€€€
(over 10,000€)