Briçonnet Book of Hours
Ms. 78
Teylers Museum (Haarlem, Netherlands)
Description
A true masterpiece of illumination from the early days of the French Renaissance: the Briçonnet Book of Hours was created ca. 1485 in Tours, a product of the famous workshop of Jean Poyer. Although his life dates are uncertain, Poyer was active from 1465 to ca. 1503 and enjoyed the patronage of three French kings, creating gorgeous manuscripts for them and their queens. What is more, Poyer was famous for planning various festivals, spectacles, pageants, and royal funerals. This manuscript is the first to be attributed to him and is distinguished by its 25 full-page miniatures, which are painted with trompe l'oeil decorative frames to give them the appearance of being panel paintings – a unique innovation. The incredible color palette brings scenes to life that feature life-like human figures in gorgeous architectural settings and landscapes.
Briçonnet Book of Hours
This stunning book of hours is the first manuscript attributed to the master illuminator Jean Poyer, one of the greatest artists of the French Renaissance. Produced in Tours ca. 1485, the manuscript is adorned with 25 full-page miniatures of the highest quality. Although its patron remains unknown, it was likely Guillaume Briçonnet (1445–1514), a member of the French royal court who served two kings. Regardless of who commissioned it, the pages of the work are filled with overwhelming colors and miniatures that resemble panel paintings in terms of both their artistic quality and their realism.
In the Employ of Three French Kings
Although his exact life dates are not known, Jean Poyer was active in Tours from 1465 to 1503 and was commissioned with great artworks for three kings of France and their queens: Louis XI (r. 1461–83), Charles VIII (r. 1483–98), and Louis XII (r. 1498–1515). Aside from being a painter, Poyer also planned various festivals, spectacles, pageants, and royal funerals. Anne of Brittany (1477–1514) was queen consort to both Charles VIII and Louis XII and was the recipient of one of his most splendid works, the Great Hours of Anne of Brittany. It is stylistically similar to the work at hand with full-page miniatures in golden frames and an unbelievably rich color palette. Although the precise year of his death is not known, Jean Poyer's influence continued after his death. After his workshop collapsed, some members refused to join the workshop of his rival in Tours, Jean Bourdichon, and instead moved to Paris where they continued in a "pseudo-Poyer" style. The Master of Claude de France is the only painter that is considered to be Poyer's true artistic heir.
Marvelous and Mysterious
The full-page miniatures of this manuscript are comparable in quality to contemporary panel paintings and furthermore, are intentionally presented that way using trompe l'oeil decorative frames, which is unique. Their splendid color palettes and gold leaf overwhelm the senses while the depiction of facial features and human figures, garments and architectures, interior spaces and landscapes is exemplary. The work ignores the typical structure of a book of hours so as to place the emphasis on the art – this manuscript appears to have been commissioned more as a show piece than as a practical religious devotional manuscript. Nonetheless, the presumably very wealthy and sophisticated patron of this manuscript remains uncertain, which is rare for a work of such beauty from such a famous master. A small coat of arms in a "C" initial on fol. 10v belongs to the Briçonnet family, and it is theorized that Guillaume Briçonnet, a French minister who would have been a bishop at the time, may have commissioned the book as a gift to his wife. However, it still cannot be said for sure who the patron was.
Codicology
Alternative Titles

Briçonnet Heures




Das Briçonnet-Stundenbuch




Briçonnet Hours

Size / Format

288 pages / 20.9 × 14.4 cm

Origin

Date

Ca. 1485

Epochs

Style

Genre

Language

Illustrations

25 full-page miniatures in powerful gleaming colours, decorated with gold heightening and silver, numerous gilded decorative initials with trompe l'œil precious stones and pearls, colourfully designed line-fillers on delicately painted gold grounds

Content

Book of Hours (Office of the Virgin, of the Passion of St John, of the Penitential Psalms, and of the Office of the Dead)

Artist / School

Jean Poyer
---
Available facsimile editions:
Facsimile Editions
#1

Das Briçonnet-Stundenbuch

Limited Edition:

680 copies

Binding:

Decorative red leather binding with rich gold embossing which reproduces the original 18th-century binding.

Commentary:

1 volume by Mara Hofmann, Christine Seidel and Pierre-Gilles Girault
Language: German

1 volume: Exact reproduction of the original document (extent, color and size)

Reproduction of the entire original document as detailed as possible (scope, format, colors). The binding may not correspond to the original or current document binding.
You might also be interested in: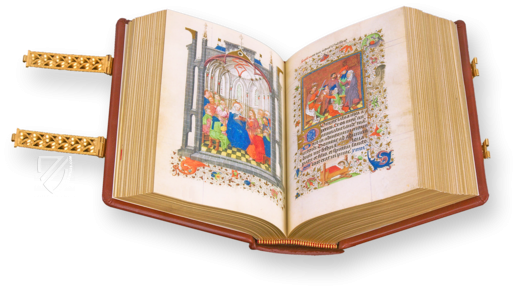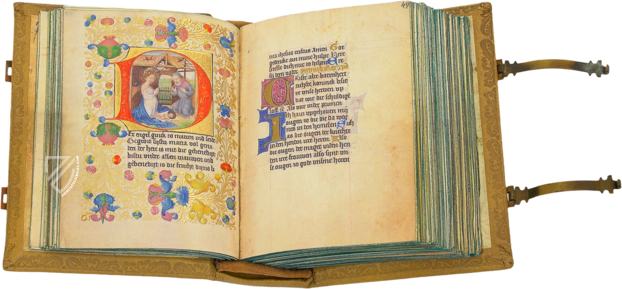 Stephan Lochner Prayer Book of 1451
Cologne (Germany) – 1451
Created in Cologne by Stephan Lochner, one of the greatest painters of his time: masterfully populated initials as a great testimony to the "Soft Style" of the International Gothic
Experience More
Blog articles worth reading