Great Hours of Anne of Brittany
Description
Great Hours of Anne of Brittany
The Great Hours of Anne of Brittany were created between 1503 and 1508 by the famous court painter Jean Bourdichon at the request of Anne de Bretagne, Queen of France, Sicily and Jerusalem. The private prayer book of the important patroness is decorated with almost 50 full-page miniatures and magnificent borders with 337 naturalistic representations of plants, which are not only book decorations but also serve as herbarium: Each plant is accompanied by its Latin name. The breathtaking miniatures, on the other hand, are reminiscent of the great panel paintings of the Renaissance due to their quality and size and are given a very special splendour by the subtle use of gold. The precious royal book of hours is considered one of the most important illuminated manuscripts of all time and captivated, among others, the Sun King Louis XIV and Napoleon III before it became part of the extensive collections of the French National Library.
Great Hours of Anne of Brittany
In the time period from 1503 to 1508, Jean Bourdichon, probably France's most famous book artist, created one of the most superb books of hours ever. Les Grandes Heures der Anne de Bretagne, translated in English as The Great Hours of Anne of Brittany, was commissioned by the Queen of France for her private prayer and devotion and is garnished with 49 full-page miniatures, as well as over 300 ornamental bordures. This work numbers among the most beautifully illuminated manuscripts of the Middle Ages. The book treasure is found today in the French National Library in Paris.
Anne of Brittany and Jean Bourdichon
The French Queen Anne of Brittany was known as a pious person who loved art and luxury. She acted as patron of several artists and writers, among whom the illuminator Jean Bourdichon was closest to her. Bourdichon was one of the most famous artists of the Early French Renaissance and directed the Tours school. He not only made Anne's exquisite book of hours, but also a famous primer for her daughter Claude. His illuminated manuscripts are characterized by an unmistakable style and the greatest technical refinement. His miniatures are as impressive as the great panel paintings of the Middle Ages.
An Impressive Variety of Depictions
The book of hours contains 49 full-page, luminously-colored paintings against a black-colored background, which are contained in golden frames. The images are breathtakingly realistic and convey a convincing sense of spatial depth. Bourdichon laid out especially luminous accents with his purposeful brushstrokes of gold. Some of the fantastic scenes are reminiscent of the works of great painters like Leonardo Da Vinci. Each miniature can be regarded as a small, independent work of art. Unique marginal depictions of plants and insects lend the work an unusual flavor. The frames of the codex manifest a complete treatise about botany, which includes over 330 plants with their scientific names. Therefore what we have here is simultaneously a prayer book and a natural encyclopedia. The lively frames further emphasize the beauty of every single miniature.
One of France's Greatest Book Treasures
Les Grandes Heures der Anne de Bretagnecast its spell on other French princes after the death of the Duchess in the year 1514. Louis XIV had it included in the cabinet of curiosities in the palace of Versailles. Its beauty later conquered Napoleon III, who had it exhibited from 1852 to 1872 in the Museum of the Art Treasure of the Kings and Nobility in the Louvre. Today it is one of the most valuable treasures of the French National Library in Paris. The codex played an important role in the history of book art and is judged by art historians as one of the most exceptional and valuable books of hours of all time.
Codicology
Alternative Titles

Les Grandes Heures d'Anne de Bretagne




Las Grandes Horas de Ana de Bretaña




Grandes Heures der Anna von der Bretagne




Gran Libro d'Ore d'Anna di Bretagna




Grandes Horas de Ana da Bretanha

Size / Format

476 pages / 30.5 × 20.0 cm

Origin

Date

1503–1508

Epochs

Style

Genre

Language

Illustrations

49 full-page miniatures, 12 calendar pages and 337 marginal illuminations with plants, insects and small mammals

Patron

Anne of Brittany (1477–1514)

Artist / School

Jean Bourdichon (illuminator)

Previous Owners

Louis XIV
Napoleon III
---
Available facsimile editions: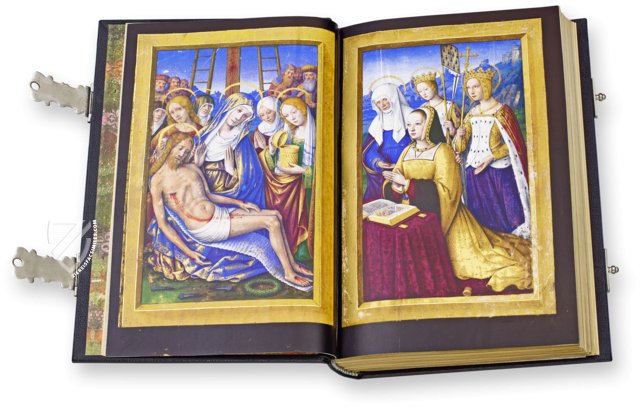 M. Moleiro Editor
– Barcelona, 2008
Limited Edition:
987 copies
---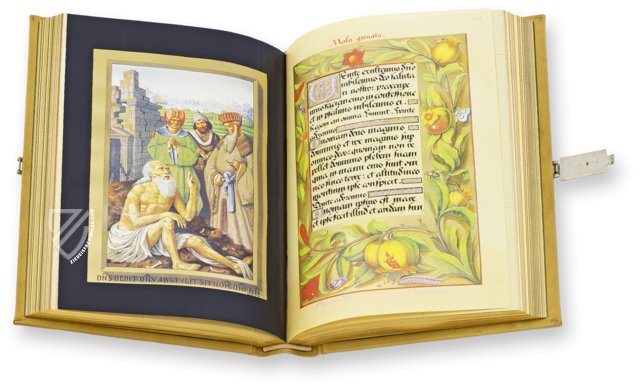 Club Bibliófilo Versol
– Madrid, 2003
Limited Edition:
575 copies
Detail Picture
Great Hours of Anne of Brittany
September – Wine Pressing
This is an exemplary calendar page with important feast days written in red, blue, and gold ink surrounded by a scene showing the wine crush. A young man is thigh-deep in grapes as a woman wearing a pink hat and blue dress fills up casks. The interior space is portrayed with stone walls, a wooden roof, and a wonderful sense of perspective that draws the eyes to a hooded monk who appears to be observing the scene – perhaps these laborers are in the employ of a monastery.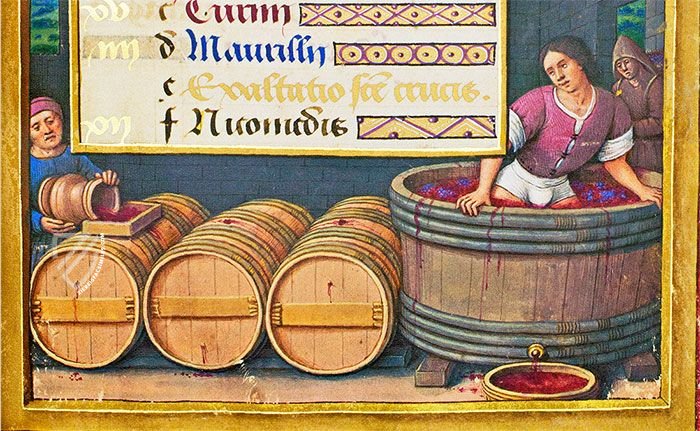 Single Page
Anne of Brittany
Portrait of Anne of Brittany
Here we see the Queen of France at prayer accompanied by her patron saints (from left to right): St. Anne, St. Ursula, and St. Catherine. Queen Anne faces a Pietà scene on the verso page. She is depicted kneeling on a lavish damask of rich burgundy brocade with a pomegranate motif symbolizing the union of the Kingdom of France and the Duchy of Brittany.
The Queen wears a dress made of fine Dutch cloth of gold tailored in the contemporary French style with a square neckline and long, oversized sleeves. A manuscript with gold clasps is laid out before her, opened to a half-page miniature, letting us know it cannot be the specimen at hand, because it only has full-page miniatures. This is an exemplary masterpiece of the French Renaissance.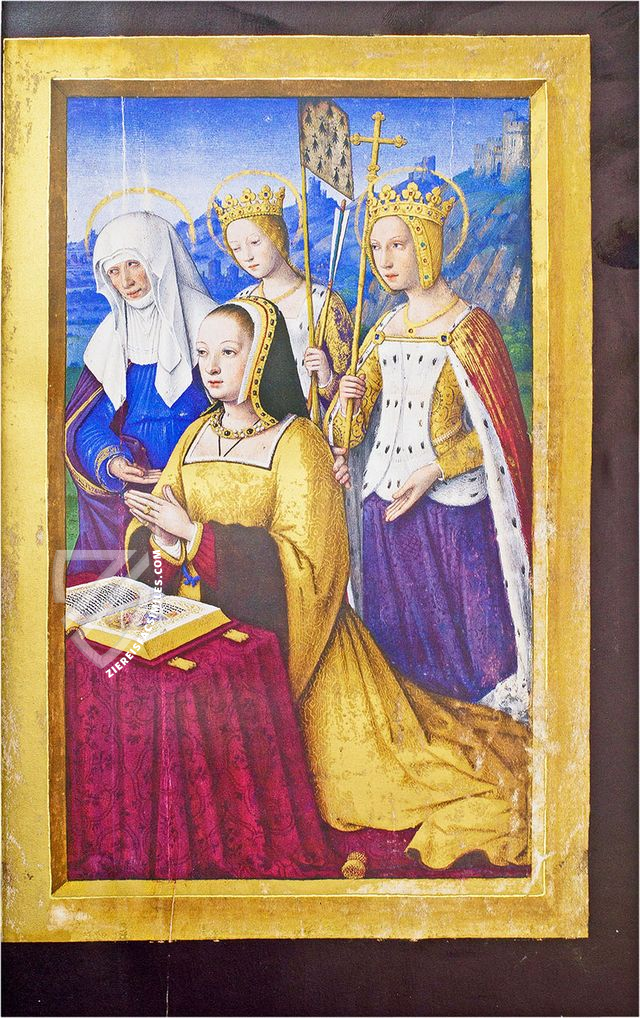 Facsimile Editions
#1

Las Grandes Horas de Ana de Bretaña

Limited Edition:

987 copies

Binding:

Dark brown leather with generous tooling and metal clasps

Commentary:

1 volume (400 pages) by Marie-Pierre Laffitte (Curator in the department of Manuscripts, Bibliothèque nationale de France)

Anne of Brittany
Georges Minois (Historian of Brittany)

The plants in the Great Hours of Anne of Brittany
Michèle Bilimoff and Carlos Miranda García-Tejedor
Language: Spanish

1 volume: Exact reproduction of the original document (extent, color and size)

Reproduction of the entire original document as detailed as possible (scope, format, colors). The binding may not correspond to the original or current document binding.

Facsimile Copy Available!

Price Category: €€€€€
(over 10,000€)
---
#2

Libro de Horas de la Reina Ana de Bretaña

Limited Edition:

575 copies

Binding:

Light leather with metal emblem on the front cover and with book clasp

Commentary:

1 volume
Language: Spanish

1 volume: Exact reproduction of the original document (extent, color and size)

Reproduction of the entire original document as detailed as possible (scope, format, colors). The binding may not correspond to the original or current document binding.

Facsimile Copy Available!

Price Category: €€
(1,000€ - 3,000€)