Champollion's Notebook
Description
This precious artefact from the French National Library in Paris grants a singular insight into the golden age of enthusiasm for Egypt in the 19th century. Jean-François Champollion was the first to succeed in flawlessly deciphering the Egyptian hieroglyphs. His personal notebook retraces this groundbreaking discovery and is evidence of the hour in which modern Egyptology was born.
Champollion's Notebook
It was a true scientific contest: the deciphering of the hieroglyphs. Numerous possessed researchers busied themselves with this riddle surrounding the letters of the ancient Egyptians and presented more or less successful solutions. Yet, it was Jean-François Champollion who first succeeded in flawlessly looking through the system of the hieroglyphs and offered an unambiguous approach for their translation. After a long and intensive study, Jean-François Champollion presented his method for deciphering the hieroglyphs. This considered to be the hour of the birth of modern Egyptology!
Deciphering a Long-Researched Cipher
Jean-François Champollion (1790–1832) was enthusiastic about languages since his early childhood and continued with this enthusiasm through the study of exotic languages. He learned Latin and Greek, inter alia, but also Hebrew, Arabic, Syrian, Aramaic, Coptic, and Persian. This was the time of fascination with everything Egyptian. The first discoveries and accounts of Egypt loosed a true Egypt mania and not only in France, and so it was that Champollion came into contact with this theme. He finally found his life's work in deciphering the hieroglyphs of the ancient Egyptians. This occupation and its successes made him famous, and today he is considered to be one of the greatest orientalists overall.
The Way to a Spectacular Discovery
The language-enthusiast Jean-François Champollion immersed himself in a decades-long study of the hieroglyphic texts. The famous Rosetta Stone was among the objects of study that he found in addition to papyrus scrolls. He was successful in tracing the developments in this was and as such, was one of the first among the ambitious Egyptologists to present a truly flawless system for the translation of hieroglyphs. Champollion recorded these transcripts and copies of the hieroglyphs – inscriptions from graves and mummies – and his own translations, but also notes and musings in his own hand. These records make Champollion's spectacular discovery impressively comprehensible.
Codicology
Alternative Titles

Cuaderno de notas de J. F. Champollion




Champollions Notizbuch

Type

Size / Format

84 pages / 22.0 × 17.0 cm

Origin

Date

1822

Epochs

Style

Language

Illustrations

Drawings in ink and colour

Content

Notebook about hieroglyphic inscriptions of tombs, mummies and stele.

Artist / School

Jean–François Champollion (1790–1832)
---
Available facsimile editions:
Facsimile Editions
#1

Cuaderno de notas de J.F. Champollion

Limited Edition:

995 copies

Binding:

Consists of a parchment paper spine and painted paper covers.

Commentary:

1 volume by José R. Pérez-Accino and Elisa Ruiz
Language: Spanish

1 volume: Exact reproduction of the original document (extent, color and size)

Nothing about Champollion's notebooks has ever been published before.

Facsimile Copy Available!

Price Category: €€
(1,000€ - 3,000€)
You might also be interested in: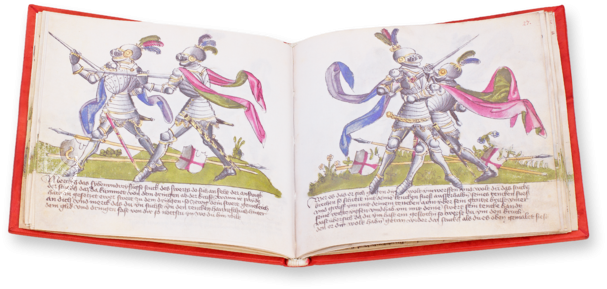 Gladiatoria
Germany – Ca. 1430
Probably the most important source on fencing in the Middle Ages: the fencing techniques of Johannes Liechtenauer, the father of the German school of fencing, with wonderful illustrations and precise descriptions on almost every page
Experience More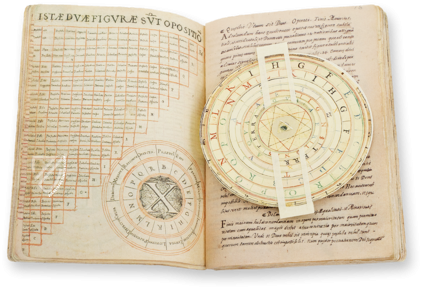 Ars Magna
Spain – 16th century
Two centuries on the index of banned books: a scientific treatise with a machine that can distinguish truth from lies
Experience More
Blog articles worth reading