Christianus Prolianus Astronomia
Description
Christianus Prolianus Astronomia
This astrological treatise completed in Naples in 1478 is one of the finest illuminated manuscripts of its kind and is adorned with shimmering golden planets and other heavenly bodies. Many of the text pages are adorned with bianchi girari frames – featuring splendid white branch-work on red-blue-green grounds that were typical of 15th century Italian Humanist manuscripts. Although it remains debated who the original owner was, it is likely that the person was associated with the royal family in Naples, which was then part of the Crown of Aragon. The treatise appears to be instructive in nature and is believed to have been written by a court astronomer, Cristiano Proliano, who was also employed as a tutor at court. It is believed to have been illuminated at the workshop of Gioacchino di Gigantibus de Rottenburg (fl. ca. 1453–1485), a German illuminator in Naples.
Christianus Prolianus Astronomia
A splendid astronomical manuscript with shimmering golden planets and gorgeous decorative frames full of symbolism: the Astronomia by Christianus Prolianus is a fine specimen of the Neapolitan Quattrocento. Although the identity of its original patron and owner has been debated, they were a member of the Aragonese royal family in Naples. Various diagrams attempt to explain the movements of the planets and celestial phenomena like eclipses, and the instructive text is presented in gorgeous bianchi girari frames –featuring splendid white branch-work on red-blue-green grounds that were typical of 15th century Italian Humanist manuscripts. Despite its debated provenance, it is one of the finest astronomy manuscripts ever created.
Golden Heavenly Spheres
The most eye-catching feature of the manuscript are its glimmering golden circles, which represent the Sun and planets of the solar system with the significant exceptions of Earth and the Moon, which are represented by a T and O map and a (now tarnished) silver circle, respectively. They likely originated along with the rest of the manuscript at the workshop of Gioacchino di Gigantibus de Rottenburg (fl. ca. 1453–1485), a German illuminator in Naples. As for the text itself, it was likely composed by a tutor for the children for the court secretary Petrucci named Cristiano Proliano, about whom little is known aside that he was born in Balvano in Basilicata. It was likely a teaching aid and consists of thirteen chapters divided into five parts beginning with Aristotle's concept of the four elements that make up the celestial sphere before moving on to the solar system, astronomical geography, and even an attempt to explain eclipses in a geocentric model. Finally, there are tables covering the movements of celestial bodies and notes on eclipses beginning in 1478, all specifically referring to the "Meridian of Naples".
A Glimpse of Contemporary Italian Politics
After being ruled by various French dynasties since the late–13th century, the Kingdom of Naples was conquered in 1442 by King Alfonso V of Aragon (1396–1458), who established a new dynasty as Alfonso I of Naples. Aside from being a warrior, Alfonso was also a patron of the arts and established a humanist court there with a particular focus on classical literature. With papal consent, he was able to name his illegitimate son Ferdinand his heir in Naples, while his brother John succeeded him in Spain as John II of Aragon. It would appear as though the crowned coat of arms found on the first page belongs to Ferdinand I of Naples (1423–94), but upon closer examination it is actually a mirror image of it. The prevalence of parakeets, which are associated with Naples, and butterflies, associated with Florence, are additional clues from the manuscript's adornment concerning its origins. The two cities were at war during the 1470's and the King's son, Giovanni d'Aragona (1456–1485), played a key role in peace talks and was made a cardinal in the same year as the manuscript. Therefore, the coat of arms was Giovanni's and probably had a cardinal's hat originally. Giovanni died before his father, who inherited his son's library, at which the red cap was painted over by a golden crown when it became royal property.
A Centuries-Long Journey
Between the 15th and 19th centuries, the manuscript first made its way to England before passing through various libraries in France. It was owned by the ruling household of the Duchy of La Vallière and was acquired by Bernard Quaritch (1819–1899), a German-born British bibliophile known as the "Napoleon of Booksellers". He then sold the manuscript for around £20 to William Morris (1834–96), a contributor to the British Arts and Crafts Movement, who had a professional interest in the aesthetics of illumination. Morris later lamented selling the manuscript, which he estimated was worth £300-400 but had been acquired by James Ludovic Lindsay (1847–1913), 26th Earl of Crawford for only £42. The Astronomia was finally bequeathed to the John Rylands Library in 1908 after it was purchased for the last time in 1901 by Enriqueta Rylands (1843 – 1908), widow of the library's founder.
Codicology
Alternative Titles

Astrologiae Compendium di Cristiano Proliano




Astronomia di Cristiano Proliano

Size / Format

144 pages / 21.2 × 14.0 cm

Origin

Date

1478

Epochs

Style

Genre

Language

Script

Humanistic

Illustrations

Illustrated with diagrams and ornamental borders with floral and zoomorphic details

Content

Studies of the solar system and solar and lunar eclipses

Patron

Probably Cardinal Giovanni of Aragon

Artist / School

Probably Gioacchino di Gigantibus de Rottenburg (fl. ca. 1453–1485)

Previous Owners

Antonello Petrucci, known as Antonello d'Aversa, Baron and secretary to King Ferdinand I of Naples
William Morris
Lindsay family, Earls of Crawford and Balcarres
---
Available facsimile editions: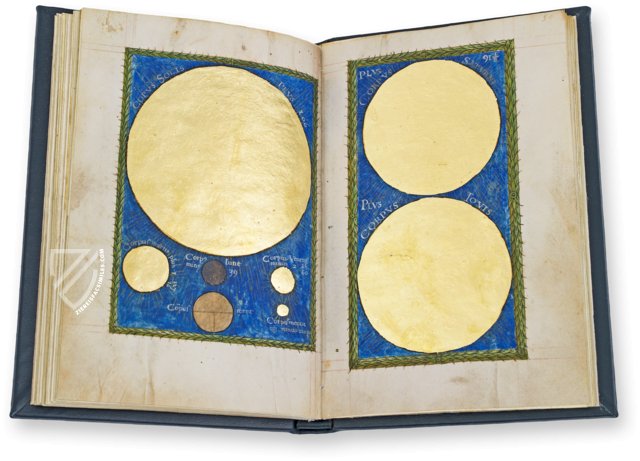 Imago
– Castel Guelfo, 2019
Limited Edition:
300 copies
Detail Picture
Christianus Prolianus Astronomia
Incipit Page with "C" Initial
Aside from the splendid gold leaf "C" initial adorning the work, the text pages were also written with by a masterful scribe and presented in wonderful decorative frames with golden edges, tangled tendrils, and a color palette of red, blue, and green. The text of the incipit is itself written in gold, red, and blue ink. In the right margin, blue cranes and green parrots are shown in pairs, as is a pale putto who appears to be climbing through the vines.
Single Page
Christianus Prolianus Astronomia
The Sun and Four Closest Planets
This miniature is intended to show the comparative size of the Sun, Moon, Mars, Venus, Mercury, and Earth. The largest golden circle is obviously the sun, labelled SOLIS, while Mercury, Venus, and Mars are also golden, all with fine golden rays. Identifiable by the T shape that medieval mappa mundi often took, Earth has a pale color while the Moon is silver, which has tarnished and turned black over the centuries.
Set against a deep blue background, the miniature is framed by a wreath of green leaves. Even before Copernican heliocentrism, medieval astronomers already noted problems with Ptolemy's system and their empirical observations that the sun does not seem to move, which may be suggested by the size and position of the sun here.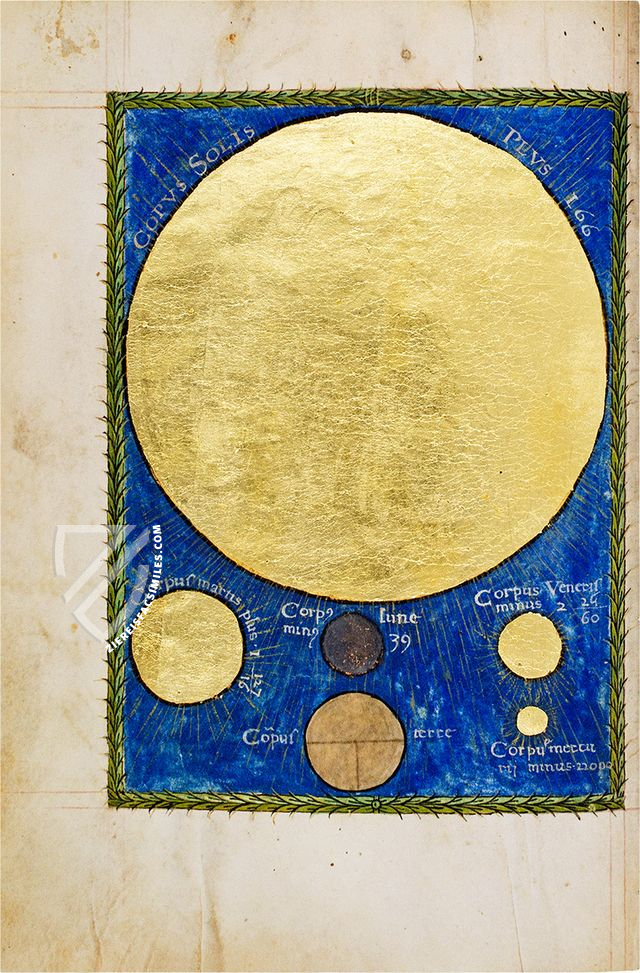 Facsimile Editions
#1

Astrologiae Compendium di Cristiano Proliano

Imago

– Castel Guelfo, 2019

Publisher:

Imago

– Castel Guelfo, 2019

Limited Edition:

300 copies

Binding:

Dark blue leather with blind tooling

Commentary:

1 volume
Language: Italian

1 volume: Exact reproduction of the original document (extent, color and size)

Reproduction of the entire original document as detailed as possible (scope, format, colors). The binding may not correspond to the original or current document binding.
You might also be interested in: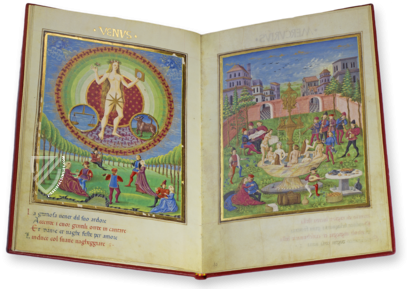 De Sphaera
Milan (Italy) – Ca. 1470
Renaissance everyday life and astrology in beautiful paintings by Cristoforo de Predis, the painter of the Sforza and Visconti: one of the most beautiful astrological works of all time, created for a member of the Sforza court
Experience More
Blog articles worth reading