Acerba by Cecco d'Ascoli
Description
A bitterly contested work, resolutely contended by its author, firmly judged by the church and the public as godless: the allegorical poem titled Acerba by Cecco d'Ascoli. The theories and statements on themes such as astronomy, physics, theology, and biology that were presented in five chapter were considered to be so outrageous by his contemporaries, that their author was burnt at the stake as a result. Today however, we know that some of his theses were correct!
Acerba by Cecco d'Ascoli
Cecco d'Ascoli (1269–1327) was a famous and controversial Italian poet, mathematician, and astronomer who was active as a professor at the University of Bologna inter alia. Due to his radical views – e.g. belief in demons and open criticism of great minds during his time such as Dante and his Divina Commedia – Cecco d'Ascoli continuously came into conflict with authorities and the church. Thus, he fled from Bologna and the punishment of the Inquisition to Florence. Nonetheless, there he was also steadfast in his controversial views and was finally condemned for godlessness. His fate was sealed on September 26th, 1327, when he was burnt at the stake in Florence.
An Allegorical Hymn to Creation
Ceccoli's magnum opus, which finally sealed his fate, bears the name Acerba aetas and was first published in the year of his death, 1327. Divided into five books, the allegorical poem is concerned with questions of natural science and ethics, for example, it deals with the characteristics of animals or stones and describes natural phenomena in a bizarre and wonderful mixture of natural and fantastical elements. Aside from astronomy and meteorology, the subjects discussed include philosophy and psychology, ethics and theology, and much more.
A Lovingly Designed Manuscript
Originating from the second half of the Trecento at the behest of a wealthy patron and stored in the Biblioteca Medicea Laurenziana in Florence, the gorgeous manuscript's text is illustrated with numerous miniatures. Large format depictions are integrated into the text and adorn it on many pages. Be they fantastic creatures, people, animals or other elements of the medieval universe, the book presents a handsome overview of the wonders of the cosmos! The colored miniatures of outstanding quality were complimented by elaborate initials with the finest ornamentation and colorful design.
Fought Against by Contemporaries, Admired by Successors
Yet, the picture of Cecco d'Ascoli and his scientific activity, which he bitterly defended to the end, has completely changed with the passing of the centuries. Early on, he recognized the function of numerous scientific processes, which were inexplicable to his contemporaries, e.g. the formation of fossils or blood circulation. Therefore, his work Acerba gives a testimonial to his unique and turbulent destiny!
Codicology
Alternative Titles

Liber Acerbe Etatis




Acerba di Cecco d'Ascoli




Acerba Etas




L'Acerba




The Acerba




Acerba von Cecco d'Ascoli

Size / Format

168 pages / 27.5 × 19.0 cm

Origin

Date

Second half of the 14th century

Epochs

Style

Genre

Language

Script

Gothic Textura Rotunda

Illustrations

1 full-page heraldic depiction, 90 illustrations and diagrams, 102 fleuronnée initials

Content

Allegorical poem about nature, psychology and theology

Artist / School

Cecco d'Ascoli

Previous Owners

Giovanni Mazzuoli da Strada
---
Available facsimile editions: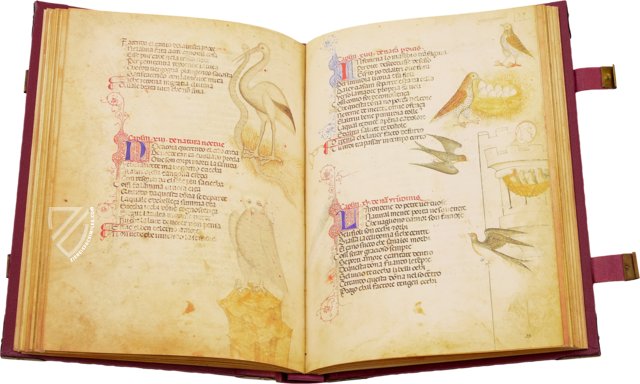 Istituto Poligrafico e Zecca dello Stato
– Rome, 2006
Limited Edition:
520 copies
Facsimile Editions
#1

Acerba di Cecco d'Ascoli

Limited Edition:

520 copies

Binding:

Dark red canvas with half leather binding, adorned with five decorative fittings on each of the front and back covers.

Commentary:

1 volume by Giordana Mariani Canova and Ida Giovanna Rao
Language: Italian

1 volume: Exact reproduction of the original document (extent, color and size)

Reproduction of the entire original document as detailed as possible (scope, format, colors). The binding may not correspond to the original or current document binding.
You might also be interested in:
Blog articles worth reading