Codex Sforza
Description
Francesco I Sforza laid the foundation for a new dynasty in the Duchy of Milan, which was to play a decisive role in Italian politics in the future, when he married Bianca Maria Visconti, the last descendant of the previous dynasty. When his son Ludovico Sforza unexpectedly took power after the assassination of his elder brother Galeazzo, Ludovico proved to be a skilled ruler thanks to the foresight of his mother Bianca, who ensured he received a first-rate education from the Italian Renaissance Humanist Francesco Filelfo. The present document is an elaborate learning portfolio for the young prince and consists of a commentary on the ancient text Rhetorica ad Herennium, which was written by him and then decorated by a talented group of illuminators. These framed the text with portraits of his family members as well as coats of arms and scenes from ancient Greek and Roman history.
Codex Sforza
This compendium of eight pages represents an elaborate booklet that was created to demonstrate to Bianca Maria Visconti (1425-1468), wife of the famous condottiero and founder of the Sforza dynasty Francesco I Sforza (1401-66), how her son and future Duke of Milan Ludovico was doing as a student. It consists of a commentary on the Rhetorica ad Herennium, a work by an anonymous author originating from the late 80's BC and the oldest surviving Latin treatise on rhetoric, which was a popular textbook during the Renaissance and continues to be used for the study of rhetoric and persuasion today. After passing through various hands, the manuscript was purchased in London in 1860 by marquis Vittorio Emanuele Tapparelli d'Azeglio (1816-90), who in turn gifted it to King Victor Emmanuel II of Italy (1820-78).
A Princely Progress Report
Despite the fact that Ludovico Maria Sforza (1452-1508) was not expected to ever rule, being a fourth son, his mother Bianca wisely chose to have him receive a proper education befitting any prince of the Italian Renaissance. As such, he was educated in the art and letters as well as methods of government and warfare. This commentary was written on November 27th, 1467 by Ludovico when he was a 15-year-old student under the tutelage of the prominent Italian Renaissance Humanist Francesco Filelfo (1398-1481). It was then handed over to a team of illuminators who created elaborate frames with portraits of Ludovico's family members, coats of arms, and bas-de-page miniatures showing battle scenes on land and at sea from the ancient Greeks and Romans. Deep primary colors and both gold and silver leaf were employed to help ensure that his mother was impressed with her son's academic progress.
Codicology
Alternative Titles

In Rhetoricam ad Herennium Commentaria




Codice Sforza

Size / Format

8 pages / 19.2 × 14.3 cm

Origin

Date

November 27, 1467

Epochs

Style

Language

Script

Humanistic minuscule

Illustrations

Illuminated borders

Content

Commentary on the Rhetorica ad Herennium

Artist / School

Ludovico Maria Sforza (author)

Previous Owners

Sforza Family
Vittorio Emanuele Tapparelli d'Azeglio
Victor Emmanuel II of Italy
---
Available facsimile editions:
Detail Picture
Codex Sforza
Emperor Vespasian
The disastrous civil war known as the Year of the Four Emperors ended when Vespasian defeated the army of the rival general Vitellius, sacked Cremona – where young Ludovico was educated – and marched on Rome. Cassius Dio claims 50,000 people died in the fighting before Vitellius was captured and executed. What this gruesome bas-de-page miniature gets wrong is that Vespasian was in Egypt at the time securing Rome's vital grain supply, which he knew would be critical for restoring order.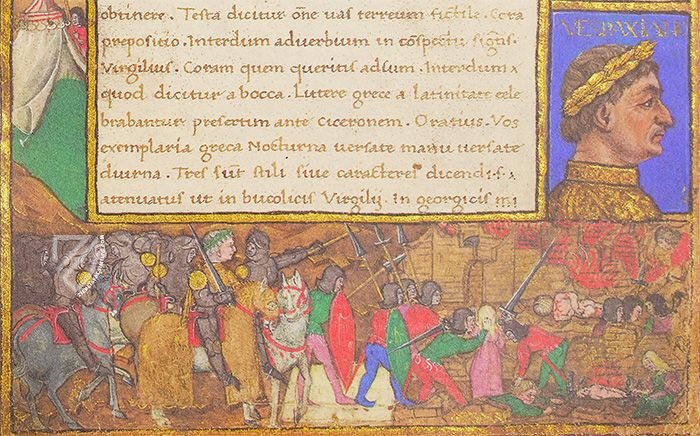 Single Page
Codex Sforza
Ludovico Sforza and Francesco Filelfo
The humanist Francesco Filelfo served as the private tutor to Ludovico Sforza when he was just a young prince with no expectation of ever becoming one of the most famous princes and art patrons of the Italian Renaissance. Student and teacher are depicted on the last page of this manuscript, which states it was completed in Cremona on November 27th, 1467.
In the upper-left corner, Ludovico is magnificently dressed in a red hat, golden tunic, and green tights as he writes at his desk, which is adorned with the Sforza coat of arms. Dressed in purple academic robes, Filelfo gestures as though giving a lecture from the other side of the page. The two of them are depicted in profile with their initials facing one another at the bottom of the page.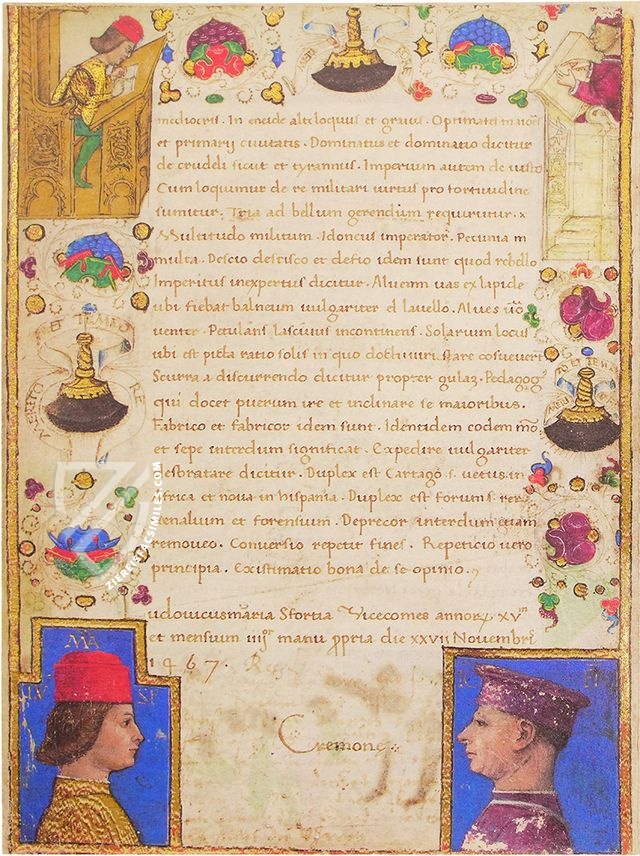 Facsimile Editions
#1

Codice Sforza

Limited Edition:

200 copies

Commentary:

1 volume by Rossana Rummo, Giovanni Saccani, Gianfranco Malafarina, Alessandro Brovarone Vitale, Milvia Bollati, Luca Di Palma, and Paolo Crisostomi
Language: Italian

1 volume: Exact reproduction of the original document (extent, color and size)

Reproduction of the entire original document as detailed as possible (scope, format, colors). The binding may not correspond to the original or current document binding.
You might also be interested in:
Blog articles worth reading