Travel Notebook of Vincenzo Scamozzi
Description
Travel Notebook of Vincenzo Scamozzi
Vincenzo Scamozzi is regarded as one of the greatest architects in Italian history and left behind dozens of surviving buildings as well as various texts on the subjects of his expertise. Much to the delight of art historians lovers of architecture, a travel notebook belonging to Scamozzi was rediscovered in 1959. This fine manuscript is a mixture between an architectural sketchbook and a travelogue, which takes the reader on a journey from Paris to Venice. It is essentially a visual survey of life in Western Europe ca. 1600 and a sample of the genius of one of Renaissance Venice's greatest architects. The sketches are exceptionally detailed and exhibit both Scamozzi's architectural genius and his skills as an artist.
Travel Notebook of Vincenzo Scamozzi
While returning from a long Parisian sojourn in 1600, the architect Vicentino Vincenzo Scamozzi (1548-1616) described and illustrated the wonderful architectural features he saw along his route to Italy. His sketches, mostly depicting churches and cathedrals, consist of both floor plans and blueprints as well as gorgeous depictions of the buildings' façades and interiors. They also reveal Scamozzi's talents as an artist with a wonderful eye for depicting perspective and interior spaces. This notebook, which is currently stored in the Civic Museum of Vicenza, long lay undiscovered and did not surface until 1959. It is counted among the important discoveries of historic manuscripts made during the 20th century and gives a precious glimpse into the thoughts and idea of one of the most important architects of the Renaissance.
A Pillar of Renaissance Architecture
Scamozzi was a native of Vicenza and was active there and in the Republic of Venice for most of his career. His education as an architect began when he was a child and he learned his trade from his father who was a surveyor and builder. The numerous architectural monuments for which he is responsible mark him as the most important figure of Venetian architecture, second only to the great Andrea Palladio (1508-80). The two architects are connected by the Teatro Olimpico, a theater in Vicenza. Its construction was begun under Palladio, but he died only six months into the theater's construction, and thus it had to be finished under a young Scamozzi between 1580 and 1585. In fact, this was only one of a number of unfinished projects that Scamozzi "inherited" from Palladino. Scamozzi also wrote several treatises on architecture and structural engineering that served to promote himself to potential clients in his lifetime before going on to influence the emerging Neoclassical style alongside Palladio.
Codicology
Alternative Titles

Das Reisenotizbuch von Vicenzo Scamozzi




Diario di viaggio di Vincenzo Scamozzi

Type

Origin

Date

1599–1600

Epochs

Style

Language
Detail Picture
Travel Notebook of Vincenzo Scamozzi
Cross Section of a Church Interior
This detailed sketch depicts the interior view of the narthex or entrance lobby of a church with a large rose window over the main portal, which would typically be west facing so that the altar is pointed towards Jerusalem. A row of columns separates the central nave from the aisles on each side and also supports the windows of the clerestory – the upper level of the nave designed to provide additional light and ventilation that is often supported by flying buttresses.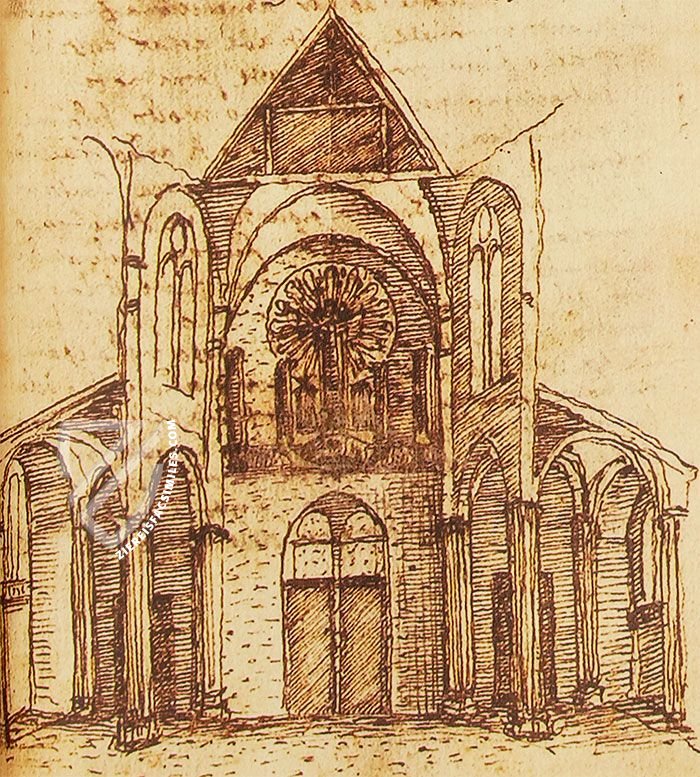 Single Page
Travel Notebook of Vincenzo Scamozzi
Foundations of a Stone Bridge
The construction of stone bridges during the Middle Ages was one of the most complicated feats of engineering at the time but was well worth the effort due to the economic advantages a city would enjoy. This was not only due to the flow of trade that would be directed toward that location, but armies were usually forced to pay tolls for the luxury of crossing over a river with ease.
The piers or upright supports of the bridge are constructed by first driving wooden pylons into the riverbed to create a so-called cofferdam, which allows the water in the enclosed area to be pumped out, exposing the muddy bottom. Once it is dry, the stone piers of the bridge can then be built inside of these structures with the help of cranes.

Facsimile Editions
#1

Diario di viaggio di Vincenzo Scamozzi

Commentary:

1 volume
Language: Italian

1 volume: Exact reproduction of the original document (extent, color and size)

Reproduction of the entire original document as detailed as possible (scope, format, colors). The binding may not correspond to the original or current document binding.
You might also be interested in: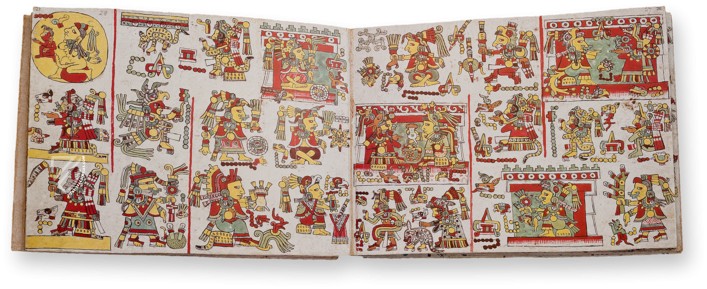 Codex Zouche-Nuttall
Mexico – 15th century
An 11-meter-long leporello, now part of the famous Borgia Group of Mayan manuscripts: one of the most comprehensive sources on the history, art, and religion of Pre-Columbian America
Experience More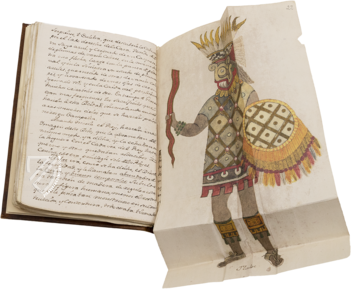 Codex Veitia
Mexico City – 1755
The calendars, counting methods, and festivals of a past culture: a rare and wonderfully illuminated testimonial to the disappearing culture of the Aztecs
Experience More
Blog articles worth reading