Codex Veitia
Description
The Spanish conquest of Mexico brought many woes to the indigenous people, most died from disease, more died from war, and their culture was systematically destroyed as a part of efforts to convert them to Christianity. However, there were those among the colonizers who sought to preserve as much of the indigenous culture for posterity as possible. The disappearing culture of the Aztecs is recorded in this 18th century document that was commissioned by the Spanish nobleman Don Mariano Fernándex de Echevarría y Veytia.
Codex Veitia
Countless manuscripts attesting to the Pre-Columbian culture of Old Mexico were destroyed in the course of Spanish colonialization, largely at the direction of Catholic clerics seeking to eradicate all vestiges of the indigenous, pagan religion. The Codex Veitia is one of the few to have survived to the present, and is the last and youngest of the Mexican codices collectively known as the Magliabecchiano Group, which also includes the Magliabecchiano, Tudela, and Ixtlilxochitl codices. The paper manuscript was completed in 1755 and is named after its patron, the Spanish nobleman Don Mariano Fernándex de Echevarría y Veytia, who commissioned it as a testament to the disappearing culture of the Aztecs. The Spanish text is adorned by 22 pages of detailed, wonderfully colored illustrations. In it, the Mexican system of counting is explained, as is their calendar, and the manner in which they celebrate their festivals. Similarly, details about the founding and history of Mexico City, formerly Tenochtitlan, as well as its gods and main temple, are also given in the text. As such, this codex is prized for the rarity and informative nature of both its text and its imagery.
Codicology
Alternative Titles

Codice Veitia




Codex Veytia

Type

Size / Format

276 pages / 21.6 × 15.0 cm

Origin

Date

1755

Epochs

Style

Language

Script

Secretary

Illustrations

22 illustrations

Content

Chronicle of daily life

Patron

Lorenzo Boturini Benaduci
Don Mariano Fernández de Echevarría y Veytia
Detail Picture
Codex Veitia
Huītzilōpōchtli
Holding a shield adorned with balls of eagle feathers, Huītzilōpōchtli is a deity of stone, war, sun, human sacrifice, and the patron of the city of Tenochtitlan, home of the Mexicas, the rulers of the Aztec Empire. They sacrificed captives and slaves to him so that he would protect them from infinite night with his weapon, the fire serpent. His name comes from the word "hummingbird"; warriors and women who died during childbirth were transformed into hummingbirds upon death and went to join him.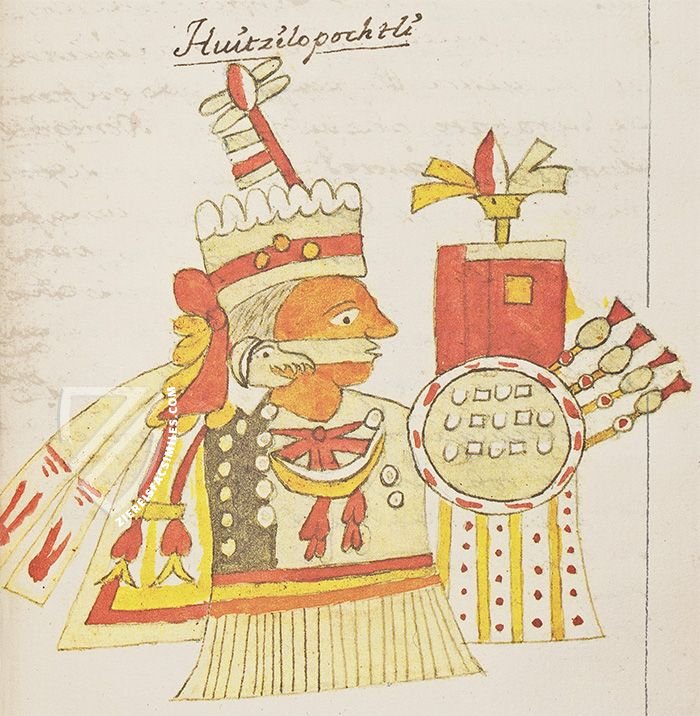 Single Page
Codex Veitia
Gladatorial Sacrifice
A prisoner is seated and tied to a sacrificial stone on the left as an armed warrior dressed in a jaguar skin approaches. This is a representation of the Tocoxtle Festival, celebrated on March 21 in honor of Chalchiuhtlicue, whose name translates to "Jade her skirt". She is an Aztec deity of water, rivers, seas, streams, storms, and baptism who is also the patroness of childbirth.
Five of the twenty largest celebrations of the Aztec calendar were dedicated to Chalchiuhtlicue and her husband/brother Tlaloc. Occurring during the month of Tlacaxipehualiztli, many children were to be sacrificed along with an adult woman who was groomed to look like Chalchiuhtlicue herself, commonly known as a ixiptla, a representative, image, or idol of a god.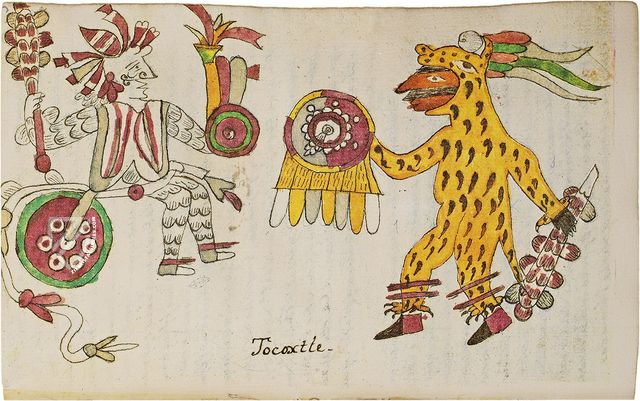 Facsimile Editions
#1

Códice Veitia

Commentary:

1 volume
Languages: English, Spanish

1 volume: Exact reproduction of the original document (extent, color and size)

Reproduction of the entire original document as detailed as possible (scope, format, colors). The binding may not correspond to the original or current document binding.
You might also be interested in: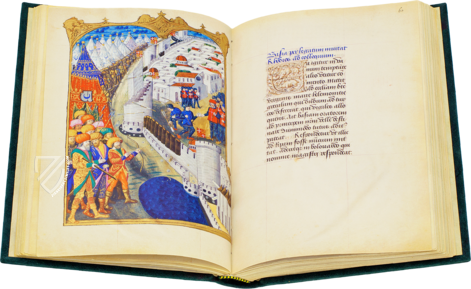 The Crusades: The Siege of Rhodes
Paris (France) – 1482–1483
Written by the Grand Master of the Order of Saint John and illustrated with 52 full-page miniatures: a pictorial account of the successful defense of Rhodes against the Turks in 1480
Experience More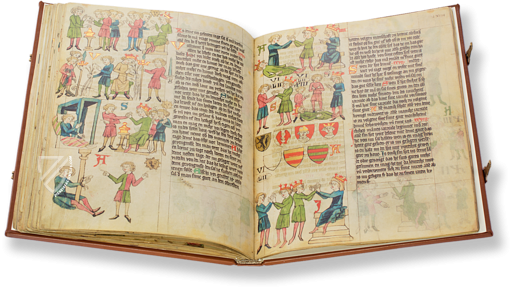 Wolfenbüttel Mirror of Saxony
Upper Saxonia - Germany – Third quarter of the 14th century
Everyday medieval law and the oldest German-language prose: the "predecessor of Basic Law", adorned with no less than 776 Gothic miniatures
Experience More
Blog articles worth reading