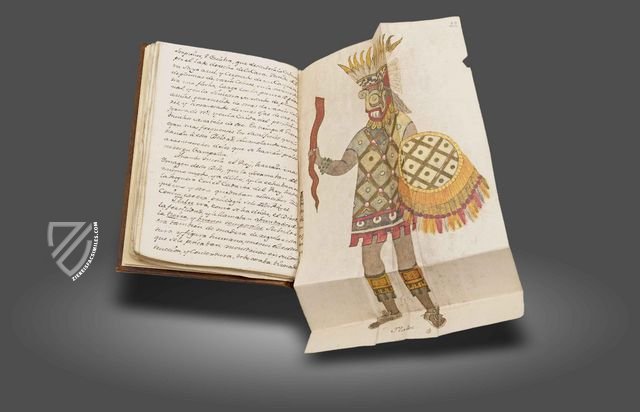 Codex Veitia
Countless manuscripts attesting to the culture of Old Mexico were destroyed in the course of Spanish colonialization

This was largely the result of efforts by Catholic clerics to eradicate all vestiges of the indigenous, pagan religion

Some, like Don Mariano Fernándex de Echevarría y Veytia, sought to preserve the indigenous culture for posterity
Codex Veitia
Short Description
The Spanish conquest of Mexico brought many woes to the indigenous people, most died from disease, more died from war, and their culture was systematically destroyed as a part of efforts to convert them to Christianity. However, there were those among the colonizers who sought to preserve as much of the indigenous culture for posterity as possible. The disappearing culture of the Aztecs is recorded in this 18th century document that was commissioned by the Spanish nobleman Don Mariano Fernándex de Echevarría y Veytia.
Codex Veitia
Countless manuscripts attesting to the Pre-Columbian culture of Old Mexico were destroyed in the course of Spanish colonialization, largely at the direction of Catholic clerics seeking to eradicate all vestiges of the indigenous, pagan religion. The Codex Veitia is one of the few to have survived to the present, and is the last and youngest of the Mexican codices collectively known as the Magliabecchiano Group, which also includes the Magliabecchiano, Tudela, and Ixtlilxochitl codices. The paper manuscript was completed in 1755 and is named after its patron, the Spanish nobleman Don Mariano Fernándex de Echevarría y Veytia, who commissioned it as a testament to the disappearing culture of the Aztecs. The Spanish text is adorned by 22 pages of detailed, wonderfully colored illustrations. In it, the Mexican system of counting is explained, as is their calendar, and the manner in which they celebrate their festivals. Similarly, details about the founding and history of Mexico City, formerly Tenochtitlan, as well as its gods and main temple, are also given in the text. As such, this codex is prized for the rarity and informative nature of both its text and its imagery.
1 available facsimile edition(s) of "Codex Veitia"
Códice Veitia Facsimile
Códice Veitia Facsimile
1 volume: Exact reproduction of the original document (extent, color and size)
Publisher

Testimonio Compañía Editorial – Madrid, 1986

More Information

Reproduction of the entire original document as detailed as possible (scope, format, colors). The binding may not correspond to the original or current document binding.
Matching Background Articles
Chronicles

Take a deep dive into history with a medieval chronicler, trace the history of the world or focus on the history of a...

Experience more

Astronomy / Astrology

Do the constellations capture your imagination the way they did the imaginations of medieval star-gazers? These beautiful...

Experience more